Meet the Pups
Their faces break out in furry grins, their tails wag mightily, and they offer people a joyful, wiggly welcome. That is the magic of a therapy dog from the OSU Pete's Pet Posse.
Get to know a little more about the Pete's Pet Posse pups you might see around campus.
A, B, C, D, E, F, G, H, J, K, L, M, N, O, P, R, S, T, W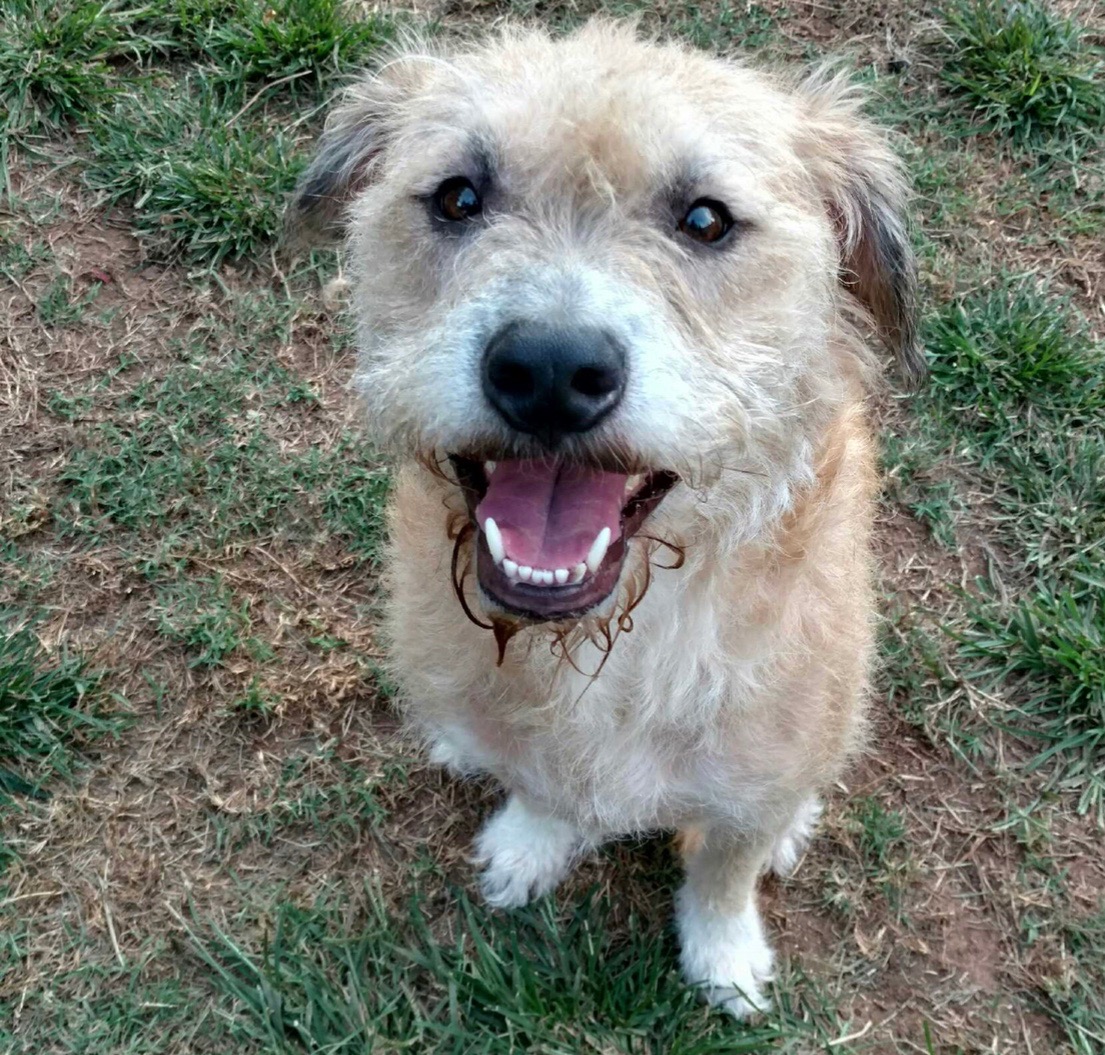 Benny was born in March 2015. He is a pit-bull and terrier mix with lots of love and a big smile to share. He's never shy about asking for a belly rub!
Benny was adopted by his dad when he was four-months old after a shelter dogs and puppies adoption day in Norman, Oklahoma. Benny's dad saw him a month prior to his adoption but didn't take him home right away. Then, a few weeks later when they met again at the very same location, Benny walked right toward him with his happy smile and wiggling tail after he was called. As Benny's dad said, "I was intrigued that this little fur thing remembered me! How very interesting." As Chinese people believe, "A dog coming to you with his own free will is a good dog." He is a master at quietly getting his dad to do things like take him to walk at Boomer Lake twice a day so that his dad will not be a professional couch potato.
Benny absolutely loves the attention of being a therapy dog. He is so proud to serve Pete's Pet Posse with his peers, knowing that he successfully contributes to the university's designation as America's HEALTHIEST Campus®.
You can visit Benny in his dad's office in University Assessment and Testing during the mid-term and final exam weeks, and at other locations around campus. Benny has earned the AKC Canine Good Citizen award and is certified with the Alliance of Therapy Dogs.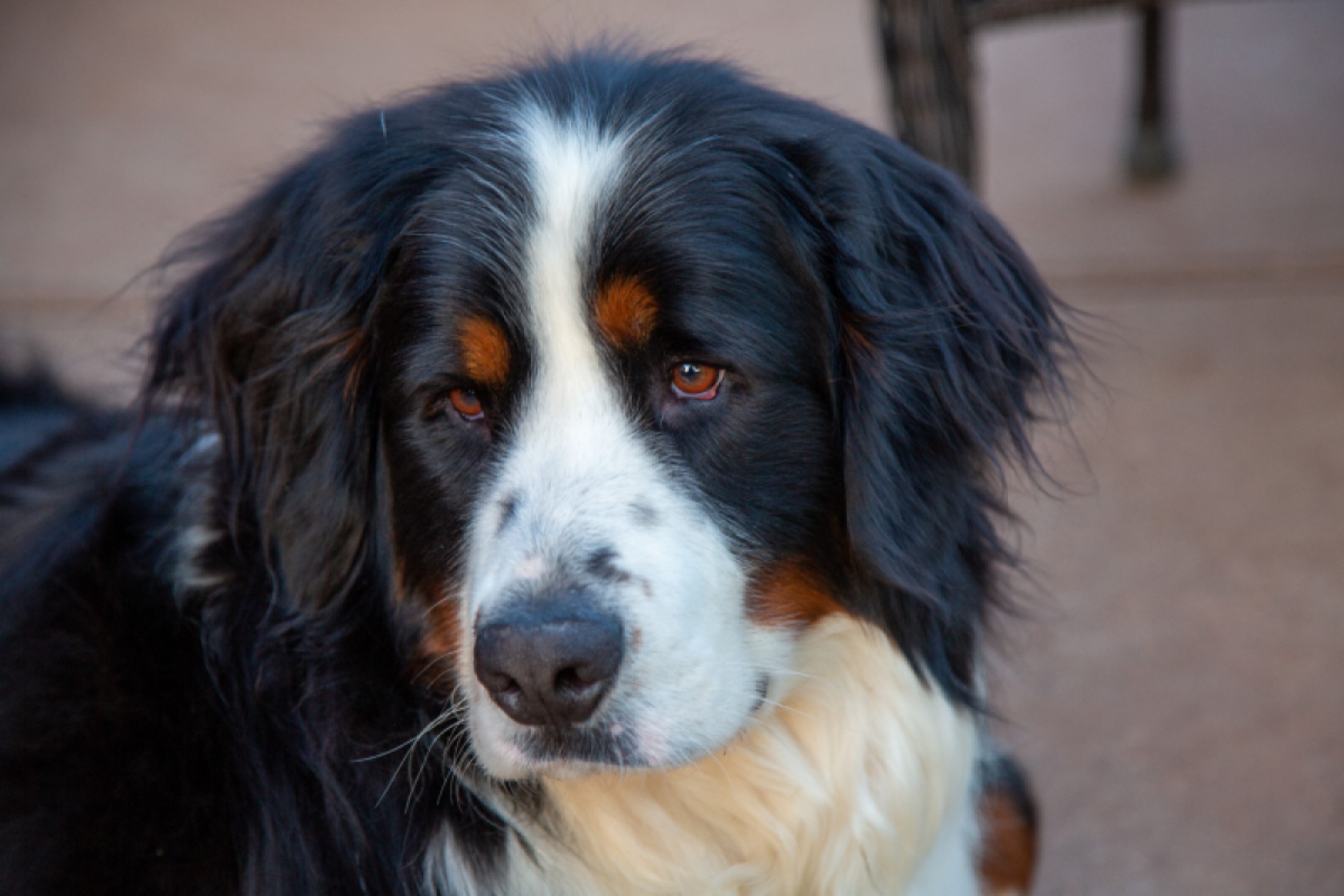 Bear Jordan is a Bernese Mountain Dog who is part of Pete's Pet Posse at Oklahoma State University. He was born February 14, 2016, and his favorite human in the whole world is his mama. He found his family on April 8, 2021, and as a rescue dog, he loves the fact that he finally has a forever home filled with love! Bear works with his mom in Institutional Research and Analytics, and you can visit him in office 219 PIO. He has earned the AKC Canine Good Citizen award, and is certified with Alliance of Therapy Dogs.
Bob has a loving and goofy disposition, a zest for life (every day is his favorite day!), and just wants to be close to (ahem…touching, preferably) his humans. In true Golden Retriever fashion, he brings endless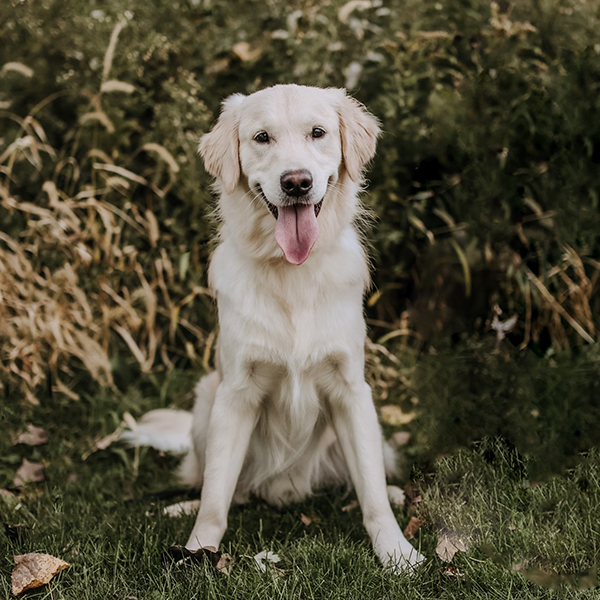 happiness and joy to his family – mom, dad, a human brother and sister, and an adopted canine brother, Mose. At home, he is always seeking out connection, often lying close to mom as she works or sidling up to the couch where someone's foot is dangling over the side, in perfect position to give him some rubs. He loves homemade almond butter, fresh fruits and veggies, lap naps, read-alouds, and mom's socks. Most days you can find him proudly carrying two toys around the house – a 'twofer' – or politely trying to be included in whatever his human siblings are doing. Fun fact: Bob was born on a Christmas tree farm in Illinois and he loves the snow! Bob works with his mom in Educational Psychology and will happily accept all the love you have to offer while giving you all of his. He has earned the AKC Canine Good Citizen award and is certified with Alliance of Therapy Dogs.
Hi there! My name is Bobby, and I am a Miniature Australian Shepherd. I take my heritage very seriously, and my humans often tell me that I embody all the best traits of an Aussie. I am blue-eyed, full of fuzz, love, and adventure.
When I'm not chasing squirrels or corralling my two cat brothers, I like to hang out and relax. I've been told I'm pretty laid-back and chill - I enjoy evenings by the fire and long naps during the day. But don't let that fool you - I'm also quite the adventurer! I've lived in several states across the U.S., including Wyoming, California, and Arizona, and I love nothing more than exploring new places.
When I'm not lounging around, you can find me exploring the great outdoors. There's nothing quite like a good hike up a tall mountain or playing in the fluffy snow! One of my favorite things to do is go on road trips with my humans. There's something about hitting the open road and seeing new sights that really gets my tail wagging.
Despite all my travels, I always come back to my roots. I was born right here in Oklahoma, and I'm excited to be coming home to be part of Pete's Pet Posse. I can't wait to share my love and affection with this incredible community. I work with my mom in Center for Global Learning. I have earned the AKC Canine Good Citizen award and am certified with Alliance of Therapy Dogs.
Hi friends! I was born on January 10, 2018 in Arkansas. My mom picked me up on a warm March day. It was a long drive home but I love to sleep so I enjoyed the ride! As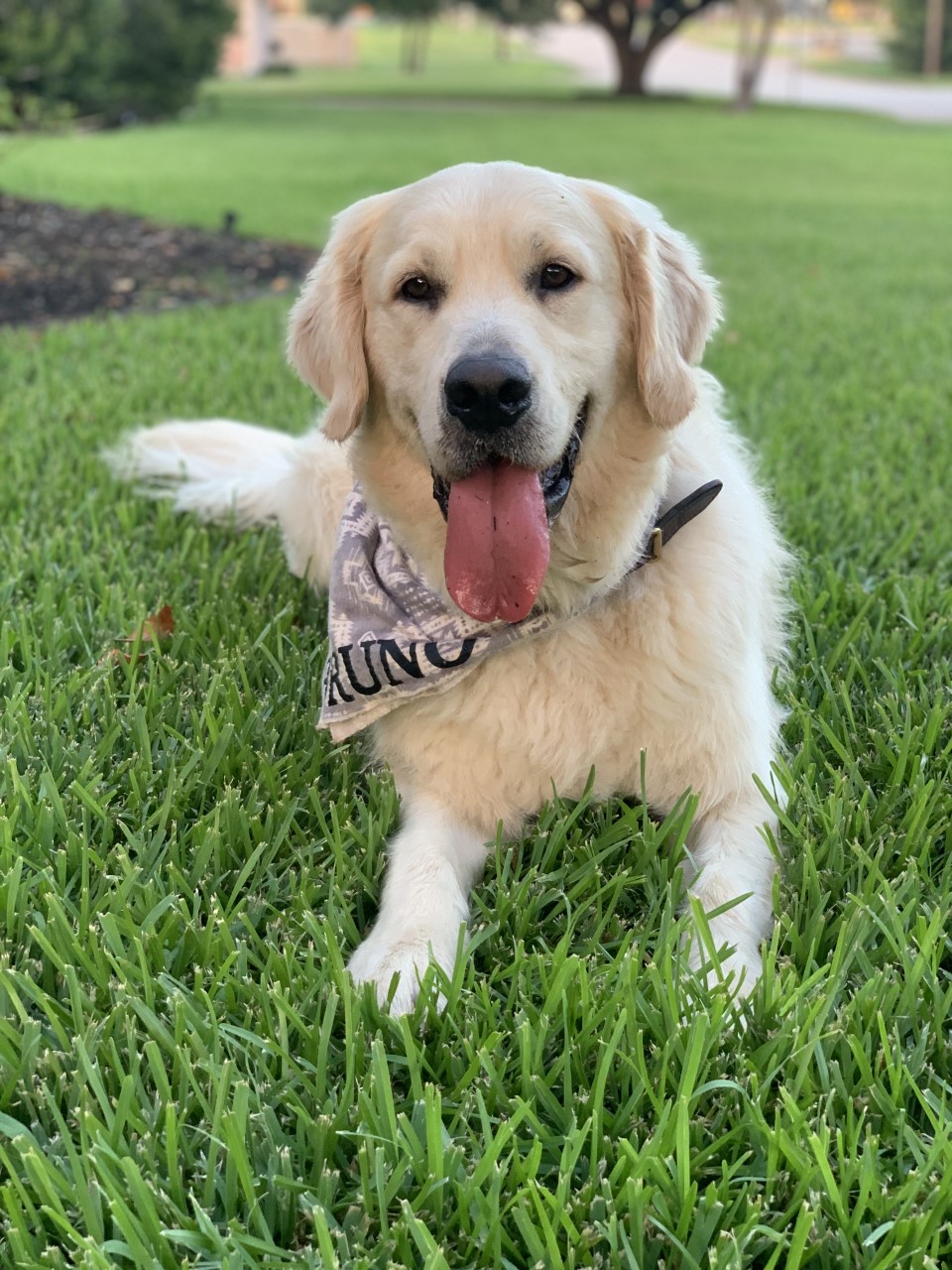 soon as I had my booster shots, I started traveling with my mom and her horses to all the horse shows! Anywhere with my mom is my favorite place to go. I'm sort of like gum stuck to my mom's shoe… I'm not going anywhere!
If we aren't with our horses, I like to play with my dog and human siblings. I love to carry my human sister's squishmallows all over the house…when she's not looking, of course. Sometimes she even gives me one to keep.
I'm always looking for new friends to add to my family… my inner circle is a big one!
I have earned the AKC Canine Good Citizen award and am certified with the Alliance of Therapy Dogs so come see me in my mom's department, Environmental Science! Don't be shy!
---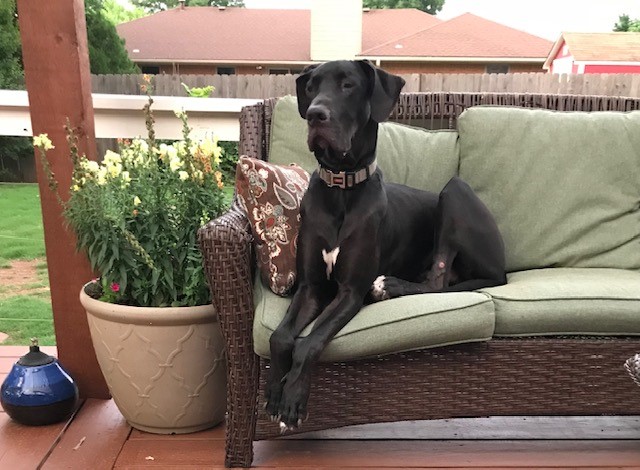 Caldwell is a big dog with a big heart! This sweet boy was born in October 2016. He was just too big for his owners, so this Great Dane had to be re-homed. Caldwell joined his forever home in Stillwater on July 16, 2017. He found true love with Dad and Mom, Kyle and Rebecca Eastham, and his pup-siblings, Tucker and Phoebe Dee.
This big fella weighs in at 120lbs and stands about 5'11" on his hind legs. He loves to wrestle and play chase with Phoebe Dee. He likes green beans, fortune cookies, and Starbuck's Puppuccinos. You can often find him sleeping upside down on the couch!
Caldwell is a big OSU fan and thought he should be considered for the next Bullet. When that wasn't a possibility, he looked for other ways to be part of the Cowboy family. After he learned he could share some love, provide affection, and get lots of petting, he knew that Pete's Pet Posse was perfect for him! He is excited to help positively enhance physical and emotional health and contribute to the success of being America's HEALTHIEST Campus®.
Caldwell is proud to announce that he earned his Canine Good Citizen award and is certified with the Alliance of Therapy Dogs.. He is the first Great Dane in the Posse! You can find this big guy hanging with mom in the Spears School of Business and maybe even sharing a "great" idea at the Genius Bar on the first floor.
Carson is a double blue eyed, Pomeranian/Husky mix. He was the last of his litter at a breeder and no one wanted him. When Carson was just a few weeks old, his mom saw a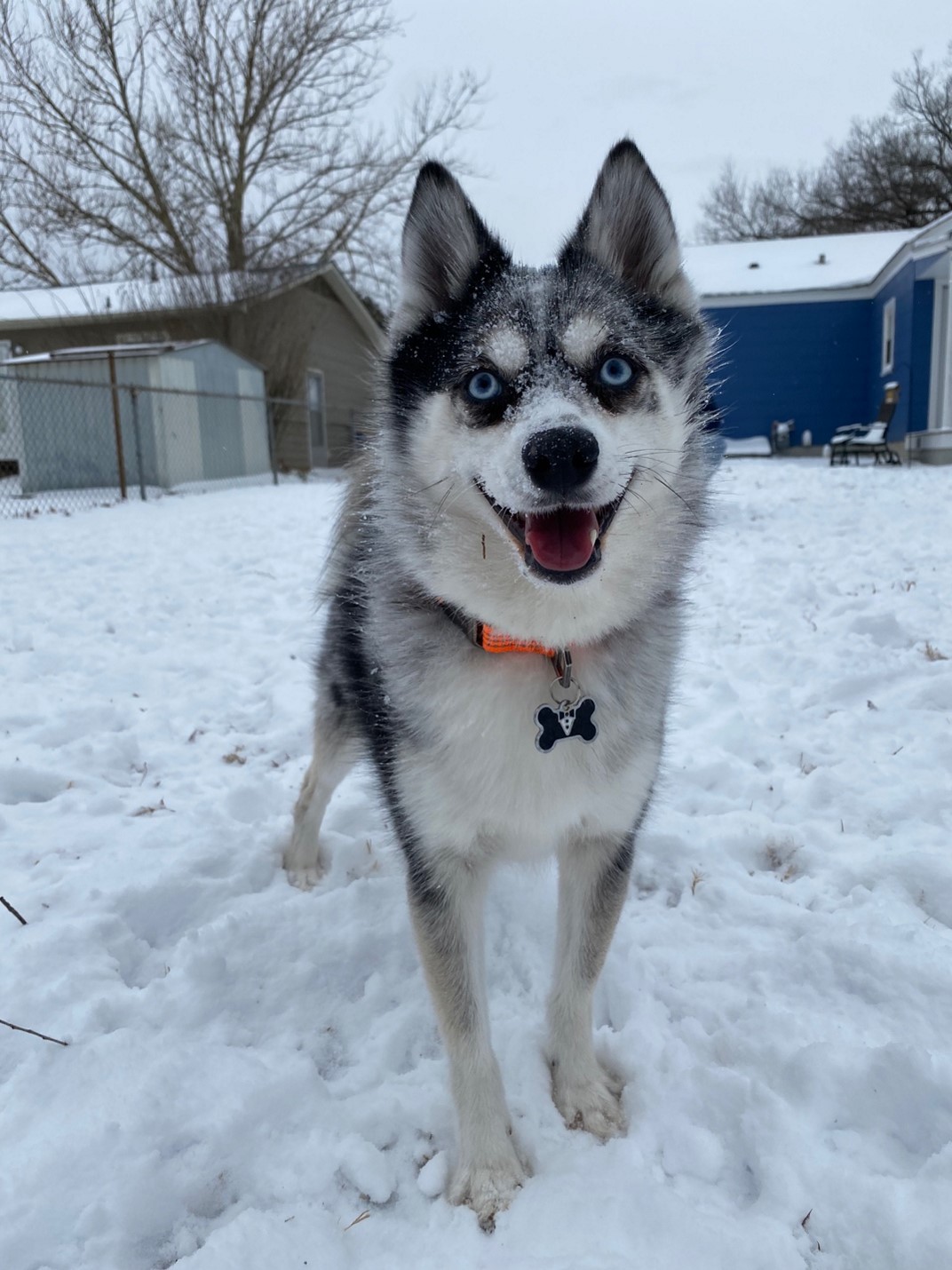 picture of him on Facebook and instantly fell in love. At that time, his mom was going through a hard time mentally and just wanted a 4-legged best friend for herself. And she found him! That next morning, he was picked up and has been spoiled since. Carson and his mom moved to Stillwater, Oklahoma, from a small town in New Jersey.
Since he was brought home, Carson shows both sides of his personality on the daily. He loves to go on long walks with his sister, to play in the snow, dig holes and roll around in mud any chance he gets. He likes to go on Jeep rides with his mom, go swimming, though that is not his favorite, and play hide and seek with his favorite toy, his monkey. Carson regularly goes to work with his mom at the Oklahoma State Veterinary Teaching Hospital to help veterinary students learn before they become doctors. But Carson also has a very cuddly side and loves lying in bed curled up with a blanket. He also knows when someone needs extra love and attention after a long, mentally draining day.
As soon as Carson sees his bookbag and Pete's Pet Posse vest, he knows he is going to work to make someone's day.
Carson has earned the AKC Canine Good Citizen award and is certified with the Alliance of Therapy Dogs.
Charlie is a shepherd mix with lots of love to share. He's a big fan of belly rubs and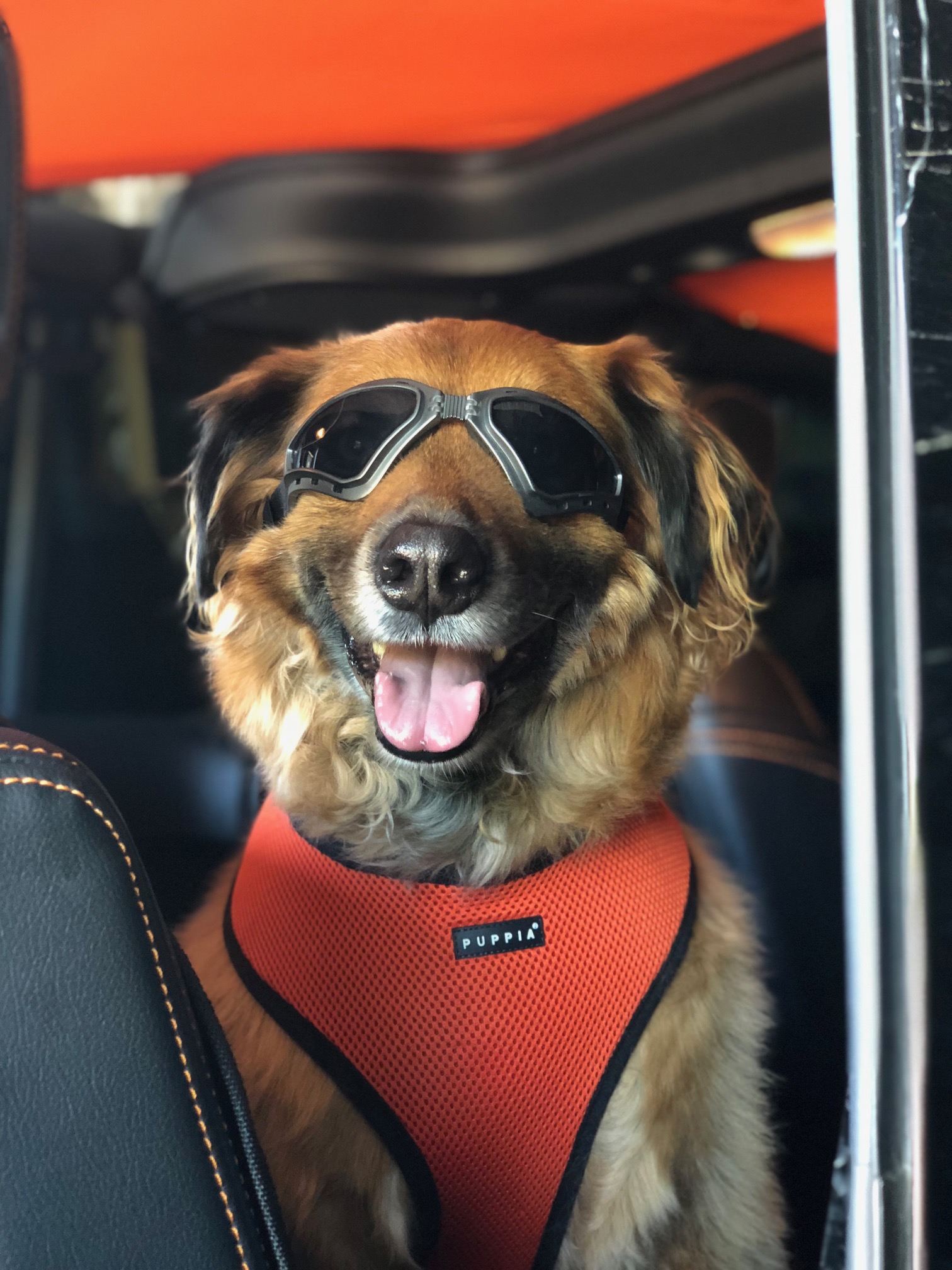 ear scratches and he simply loves the attention of being a therapy dog. He was part of the 2013 inaugural class of Pete's Pet Posse and he is so proud to wear America's BRIGHTEST Orange!
Charlie rescued his humans in April 2013. He was hungry, lost and wandering around a lake outside of Tulsa, Oklahoma. He found a dog loving Cowboy family and was nursed back to health. His family never planned to keep him, but numerous attempts to place him in rescue and find a home for him failed. In the end, it couldn't have worked out any better. His rescue parents say he was meant to be part of the family and they couldn't love the big guy more if they tried.
Charlie lives with his parents, Brad and Kendria Cost, and his three rescued canine siblings, his bossy older sister Annie (heeler mix) and his oldest but tiniest brother Scooter (a deaf and blind Maltese), and his new furry new sister, Sutton. Charlie works with his mom in the Ann Hargis OSU Center for Pet Therapy and focuses on all areas of the university.
Charlie is a Canine Good Citizen and is also nationally certified with the Alliance of Therapy Dogs. He and his mom are proud to be part of Pete's Pet Posse and to give back to the Cowboy family.
Charlie Brown is one in a litter of three Miniature Dachshunds. One day, he was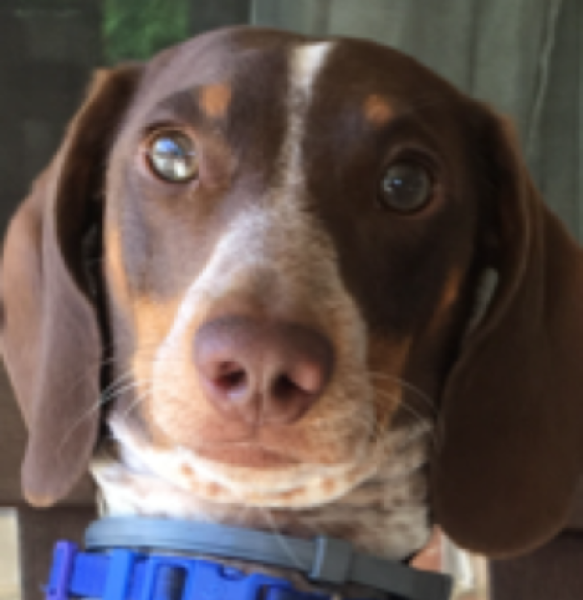 introduced to his human Mom at a local veterinarian's office. Two days later this sweet, handsome, spotted puppy came home to befriend an aged Australian Terrier, Katie, and his human family of four. A year later, Lucy, a dappled Miniature Dachshund joined him. Charlie Brown is a wonderful "big brother."
Charlie loves chasing squirrels in his backyard. And he loves to chew…toys, dog treats, leashes, harnesses, his seat belt, another seat belt… Toys usually survive an hour or less. Luckily, he's outgrown the "shoe issue" he had as a puppy. Charlie Brown loves belly rubs and to snuggle under the covers while he's sleeping. He's pretty relaxed, unless there is a squirrel nearby… or a lawn mower.
Charlie Brown has earned the AKC Canine Good Citizen award and is certified with Alliance of Therapy Dogs. Charlie hangs out with his friends in the Office of the Vice President for Administration and Finance, 208 Whitehurst. He loves to meet new friends at Pete's Pet Posse events or while he's walking (chasing squirrels?) around the beautiful OSU Campus.
Chewbacca is a shaggy Old English Sheepdog. He was born in Mexico in July and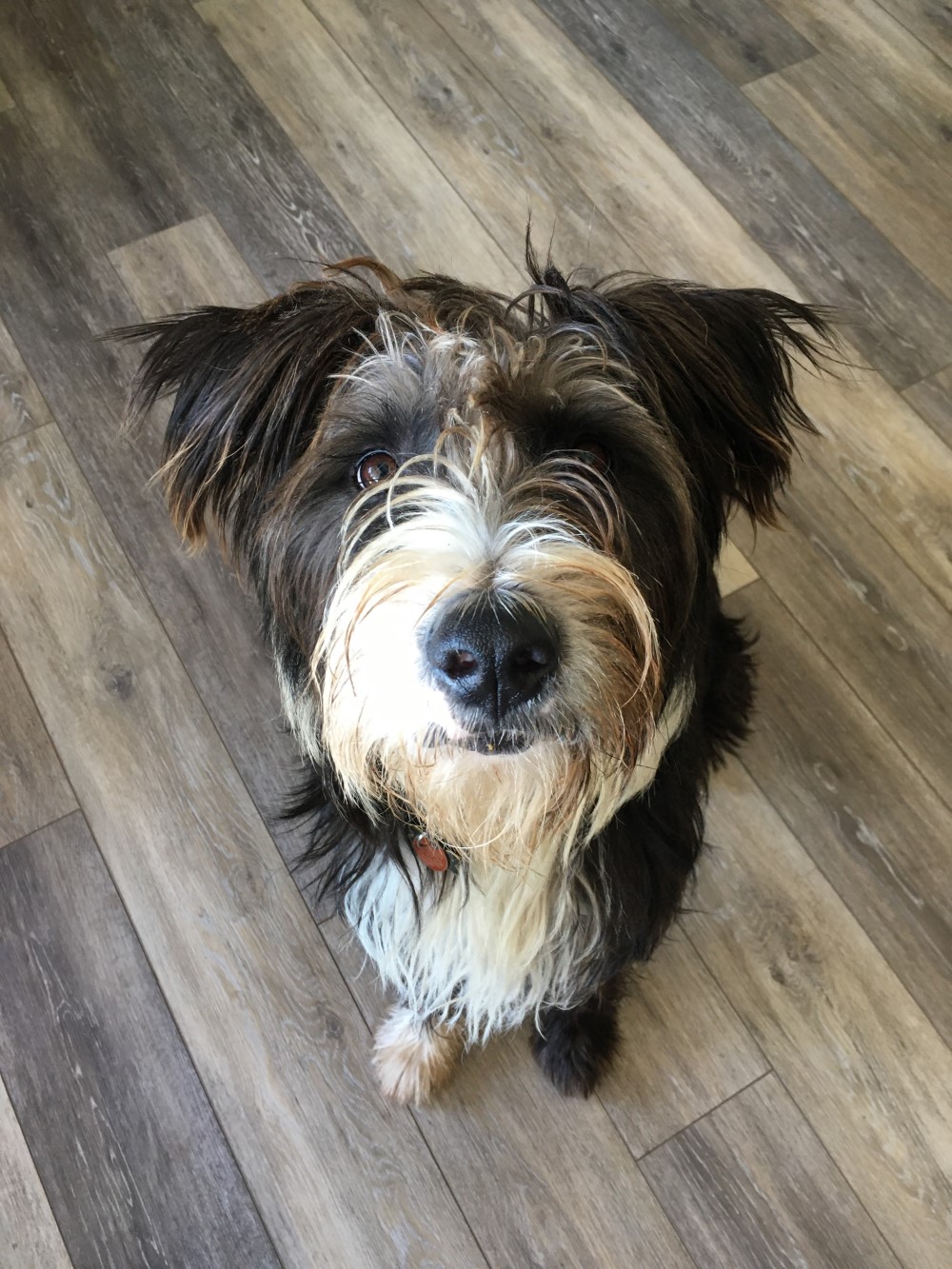 adopted in October 2018. He is a very friendly, high spirited dog and loves to be around humans. His excitement and funky personality make all those around him happy when they see him. His favorite treat is cheese and he will run from anywhere as soon as he hears the package being opened.
Chewbacca loves the outdoors and really enjoys the water and swimming. He often travels with his humans between Oklahoma, Texas, and Mexico and loves to sleep in the back seat or let the AC or window air hit his face. One of his favorite pastimes is running around the backyard chasing squirrels. When he is calm he loves belly rubs and will lay as long as you are willing to rub his belly.
His mom works in the Division of Institutional Diversity as Director of OK-LSAMP. Chewbacca has earned the AKC Canine Good Citizen award and is certified with Alliance of Therapy Dogs. He gets super excited when meeting all the OSU cowboys and cowgirls on campus!
Colt is a Labrador Retriever who was born on March 9, 2017.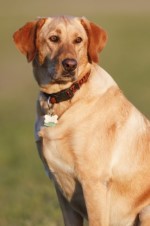 He lives with his human parents, Robert Raab and Bruce Waterfield. Colt's desired way to spend his time is chasing a ball or playing tug of war. Like most labs, he loves playing in the water and runs for the pond at the house as much as he can.
He is happy to be part of the P3 program at OSU and loves attention, being petted, dog kisses, and hugs.
You can meet Colt in the First Year Success office (427 General Academic Building) where his handler, Robert, is the Assistant Director of First Year Success. Colt has earned the AKC Canine Good Citizen award and is certified with the Alliance of Therapy Dogs. He is excited to meet you on campus!
Daisy Mae is more like a teddy bear than a typical miniature poodle.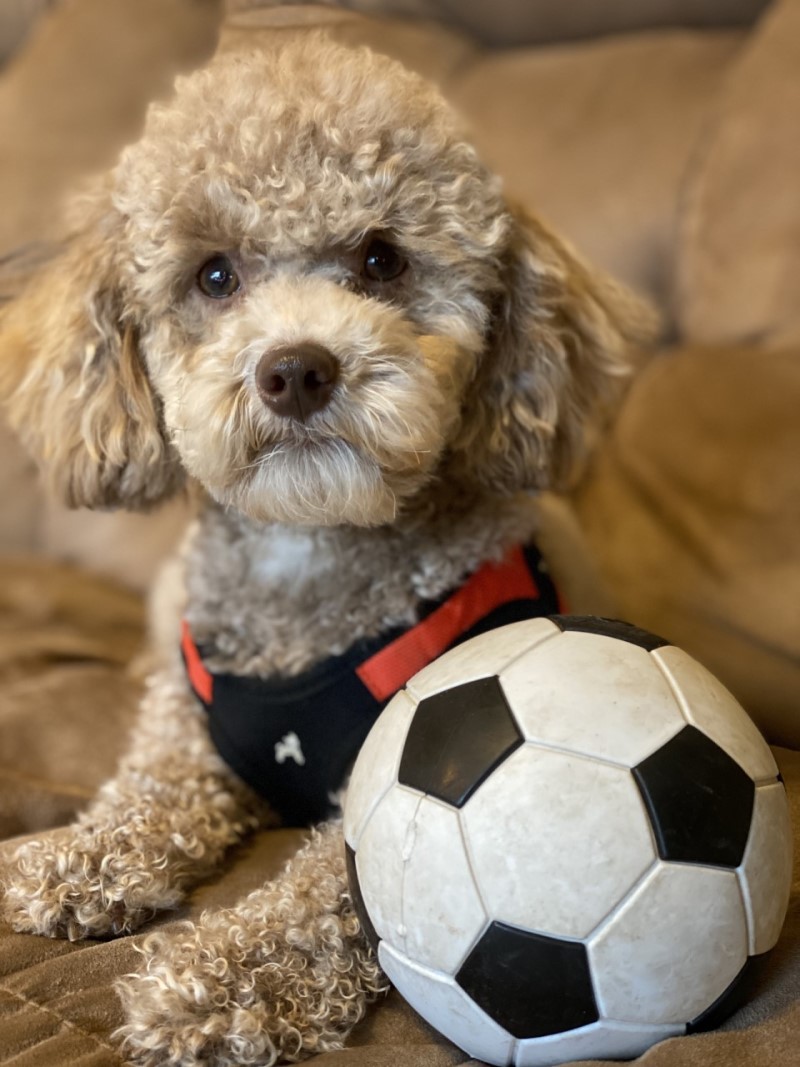 She's more interested in snuggles and snacks than grooming or sitting pretty. Her favorite game is playing puppy soccer with her litter-mate sister, Petunia. Daisy Mae lives for ALL the cuddles and ALL the treats. She is so patient and chill, even when riding with her mom on their Segway around campus. Because Daisy Mae is a poodle, she doesn't shed and is less likely to trigger allergies. You can visit Daisy Mae in the College of Arts and Sciences at 213 Life Sciences East. Daisy Mae has earned the AKC Canine Good Citizen award and is certified with Alliance of Therapy Dogs.
Darwin is a gentle and friendly small yellow Labrador, who loves being with people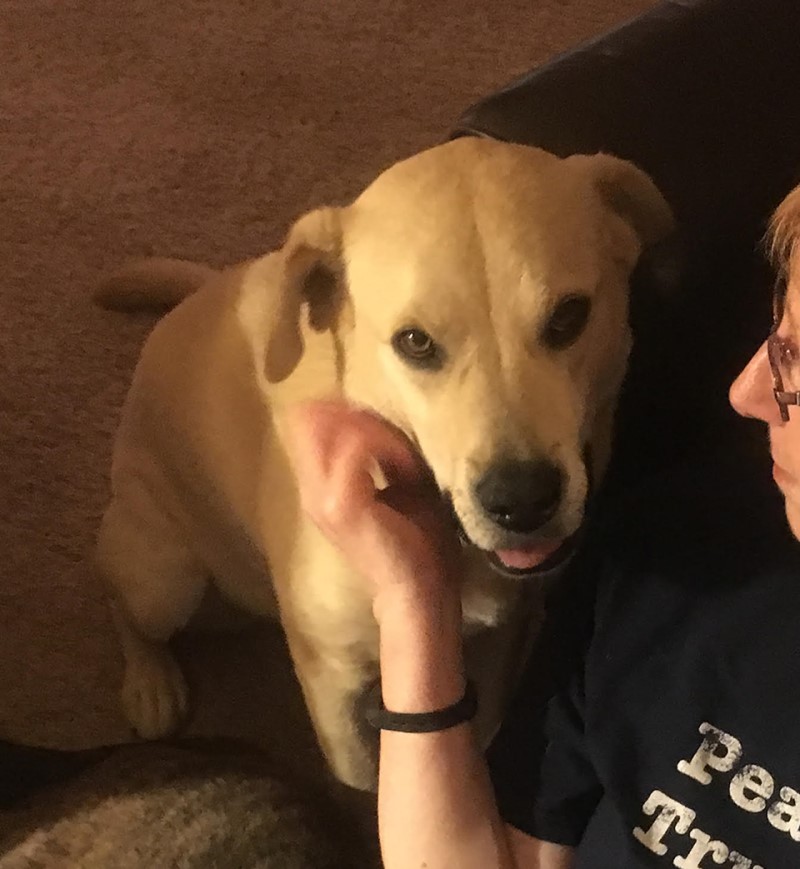 and being petted. He has an outgoing personality and will poke you VERY gently with his nose if he feels you are not petting him enough. He was found October 2015 running free on a farm east of Stillwater. The farmer tried to find the owner of the dog but had no success. While we initially intended just to pick him up and take him to the Humane Society, it did not take us long to realize that this beat-up looking animal was a gentle, friendly dog who, when introduced to Huxley our other therapy dog, very quickly bonded with him. Initially he would not come into the house; however, with a little coaxing he came into the kitchen and ultimately discovered the joys of soft beds and warm fires and has adapted quickly to his new environment.
Now Darwin lives happily as part of the family . He learned well from Huxley, and has adopted a friendly and reasonably laid-back approach to life. He loves Posse events and thinks the Student Union is the best place in the world - he tries to wag his whole body when he realizes we are going there.
Darwin works with his Dad in Old Central on the "Honors beat", https://honors.okstate.edu/, and spends time with his Mum in Stout Hall.
Darwin is a Canine Good Citizen and is nationally certified with Alliance of Therapy Dogs.
Dexter was born on December 14th, 2018. He had a tough start, as he was kept in a puppy mill in Missouri for the first three years of his life. Luckily, Cavalier Rescue USA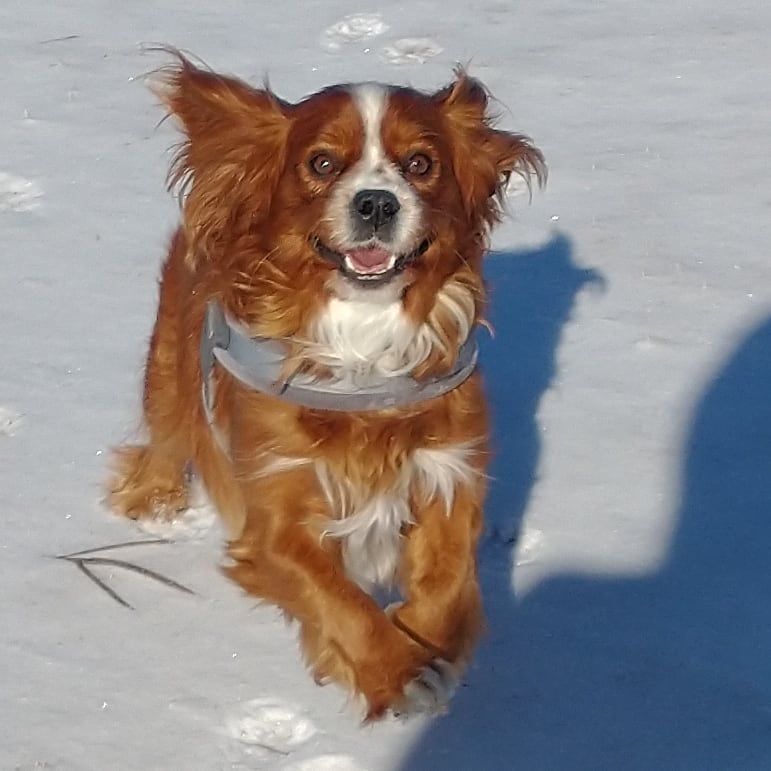 stepped in and found him a foster family. His furever family picked him up in St. Louis in December of 2021. He was SO excited to finally have a yard to run and sunbathe in! He melted his owners' hearts with his puppy dog eyes and sweet personality. They soon learned, though, that Dexter has a darker side: he loves to destroy any plush toy he can get his paws on, so plushies beware! All things considered, Dexter was named after the hit TV show about a serial killer, so there's some poetic justice here. Since joining his family, he has loved hiking, playing with his puppy pals, lounging on every couch in his house, and lazy days at the beach (including a visit to the Gulf of Mexico!). He loves pets of all kinds and is thrilled to be a therapy dog. Dexter works with his parents in the departments of History and Philosophy. Dexter has earned the AKC Canine Good Citizen award and is certified with Alliance of Therapy Dogs.
Little Ms. Disco is a miniature Australian Shepherd who came into the lives of a
local Stillwater family in May 2013. She is full of energy and loves to be with her family at all times. Her two sisters, both Calico cats, are still adjusting to Disco's zest for life and her eagerness to play, play, play every chance that she gets.
Disco's ambition in life is to be the world's most amazing female superhero dog, and she begins by mesmerizing people with her beautiful blue eyes. She is determined in her search for truth and justice, as evident by her attentive focus when she is presented with new situations. However, she realized that by combining forces with other domesticated crusaders, the strength of their individual vigilance will only be more effective. She was accepted into Pete's Pet Posse as the youngest member of the inaugural group and has spread joy and happiness throughout the universe. (Well, at least on campus.)
Her owner, Rick Eggers, says "Disco loves to meet new people and is always eager to prove just how wet her tongue is. She never speaks in anger and is even perfectly willing to wear any outfit my daughters pick out for her." Disco spends time at the Institute for Teaching and Learning Excellence, as well as at various events on campus.
Disco has earned the AKC Canine Good Citizen award and is certified with Alliance of Therapy Dogs.
Every morning Dolly Parton tumbles out of bed and gets her mom to pour herself a cup
of ambition before singing her way to campus to see everyone! Dolly Parton is a 2-year-old Miniature Poodle who got her name because everyone knew she was the star of the show right away and can't wait to be a part of your life too. Because Dolly Parton can be a mouthful, she will also listen to Dolly, DP, or really anything you want as long as you pet her while saying it. DP will always have a happy face and will probably be singing her happy sounds and showing off her spinning moves when she sees everyone around campus because she is so excited to be there!
You can visit Dolly Parton in her office, which is located in Gallagher-Iba in the Men's Basketball offices. In order to go to her job every day, DP is a Canine Good Citizen award and is nationally certified with Alliance of Therapy Dogs.
When you can't find Dolly in her office, it is probably because she is enjoying the outdoors and hanging out with her big best friends over at the Pedigo-Hull Equestrian Center. Dolly Parton is so excited to see you around and meet so many new friends because if DP were to live her life by a true Dolly Parton song, then it is probably 'Better Get to Livin.'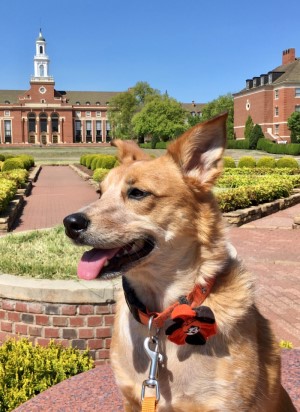 Evie is a rescued dog. She was originally taken into the municipal shelter in Oklahoma City when she was about 6 months old. She was sick at the time.
The Central Oklahoma Humane Society took her into their adoption program, but first they placed her into foster care for a month so she could receive medical treatment and get ready for adoption. Her mom saw her picture online and immediately headed for Oklahoma City. It was love at first sight when she met this happy, energetic, friendly girl, and she adopted Evie that day.
Evie has earned the AKC Canine Good Citizen award and is certified with Alliance of Therapy Dogs. She loves spending time with student athletes and can regularly be found visiting Gallagher Iba Arena.
Findley has always known his true calling was to spread love to humans. Born into a loving home May 25, 2021, he started his mission early. Once his eyes were open as a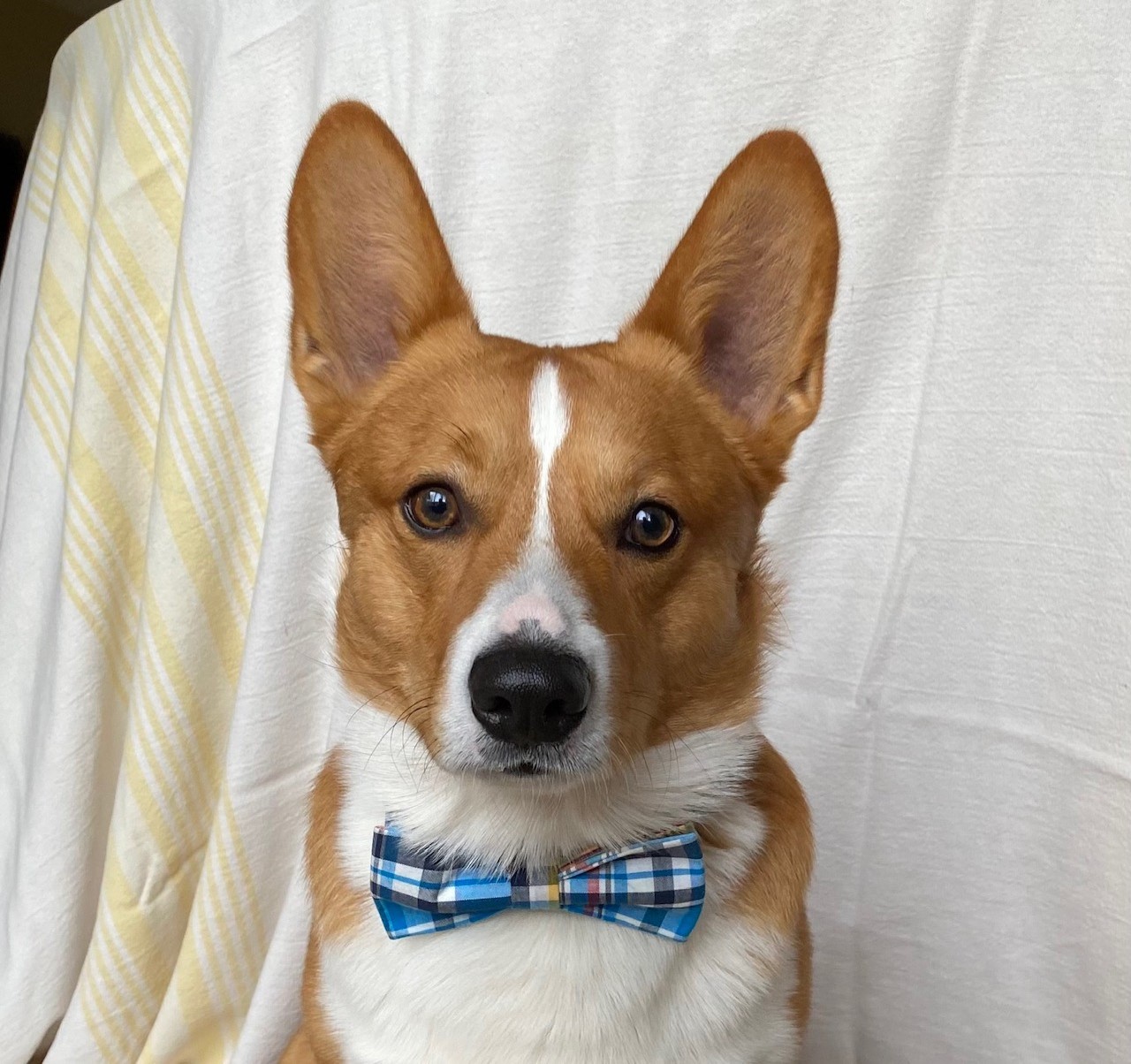 tiny puppy, he would leave his siblings and come tottering over for scritches whenever he saw a person. His mum and dad's Human believes in keeping tails and encouraging healthy bodies. So Findley has a TAIL! His mum is from an older line of working corgis, and Findley has her athletic build.
As an Academic Corgi, Findley enjoys meeting students on campus. However, he also knows the importance of curling up on the couch to comment on students' papers—or at least to sleep on them. Findley has many undergraduate BFFs in the English Club and the Medieval Studies Group. While primarily a love muffin in these encounters, he also has a variety of tricks he likes to show off— "high five," "roll over," and "twist & spin." An avid outdoors dog, he loves swimming, sniffing, and watching the sun go down with friends at Lake McMurtry. He has several BDFFs (Best Dog Friends Forever) and appreciates a good game of chase and wrestling.
Findley worked hard and earned the AKC Canine Good Citizen award and is certified with the Alliance of Therapy Dogs. He is excited to be in the 10th class of Pete's Pet Posse and hopes to meet you on campus! Findley works with his human in the English Department.
Finnley is an English Cream colored Golden Retriever whose goal in life is to become friends with every two legged and four legged creature in the world! Since his big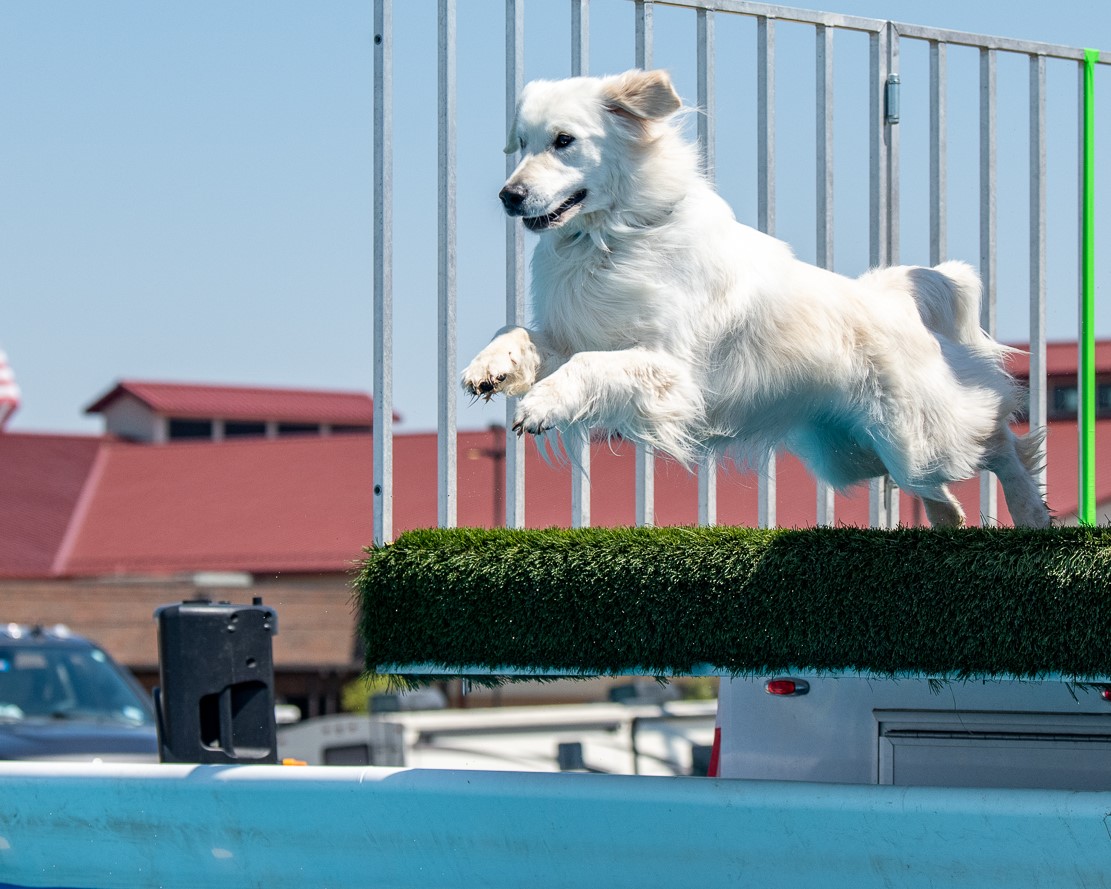 brothers Toby and Jackson were P3 Pups, and his two human siblings are both OSU grads, he wanted to be a Cowboy too! Being a "Covid puppy" he didn't realize for a while that Jackson was anything other than his plaything, but once Jax started putting on his P3 vest again and coming home smelling of lots of people, Finn was very jealous!
When he isn't playing with Jackson or chasing bugs, he's a big couch potato who loves watching OSU football games and anything with lots of running and balls being thrown. If there are dogs on the screen, it's even better! He loves hiking and burrowing in the snow, and although he loves swimming and dock diving, he needs warm water for that sport! Traveling with his human siblings' pups, Bentley and Jolene, and hanging out in hotels with them is cool too. Together they all enjoy raw carrots and green beans topped off with a good helping of pizza bones (crust), after tracking and chasing rabbits, moles and other critters! Finnley's mom, Susan, is retired so takes him to visits all over campus, and he can also be found hanging out in the Geology Department with his dad, Mike. Finn has earned the AKC Canine Good Citizen award and is officially certified with the Alliance of Therapy Dogs.
Ghost is a miniature Australian Shepherd who was brought to Oklahoma State University's Veterinary Medical Hospital (OSUVMH) in May 2016. He jumped out the back of a moving truck bed and broke his left front leg.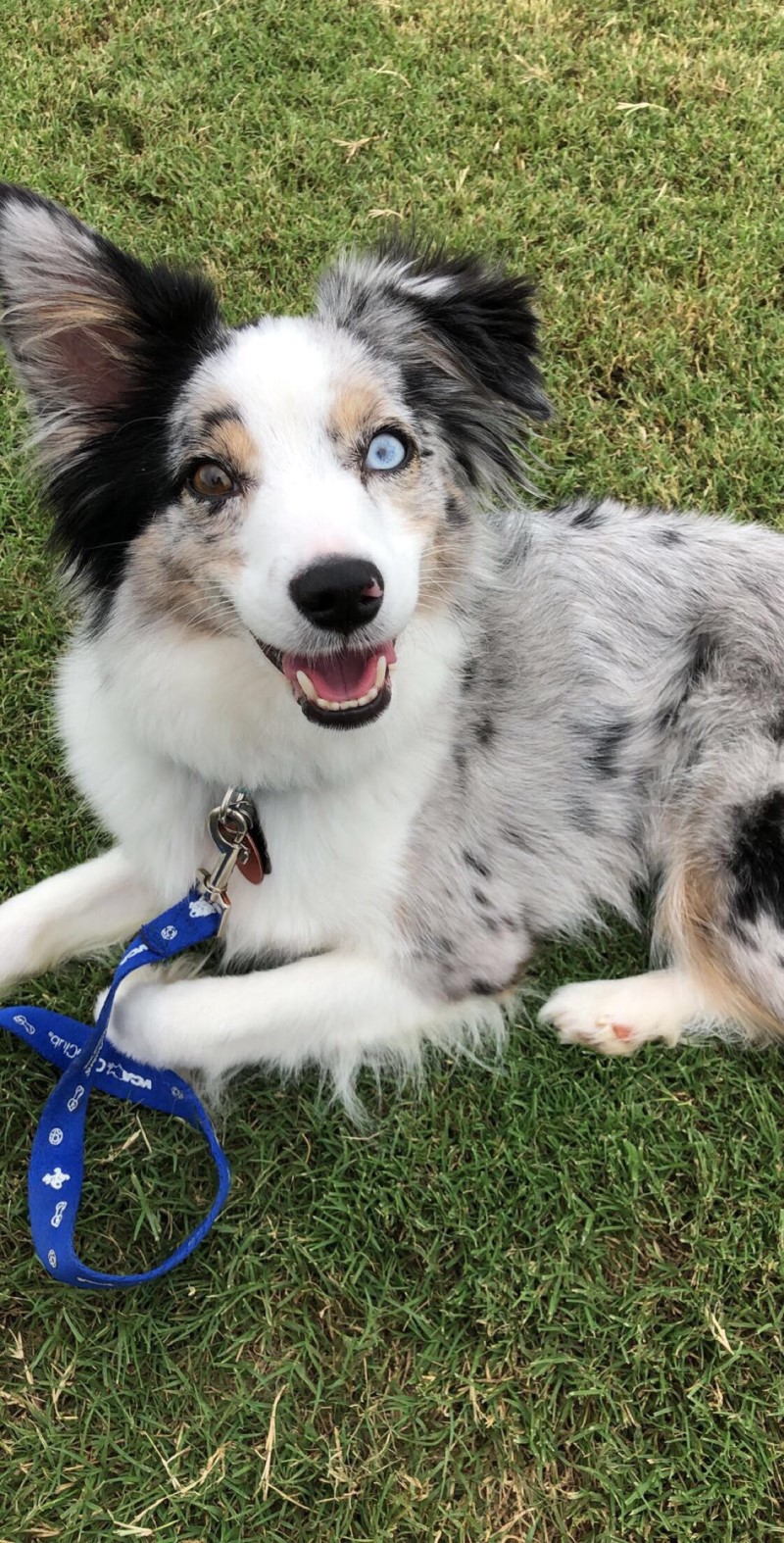 His previous owner couldn't afford to pay for the surgery and discussed euthanizing him. After some discussion, the previous owner relinquished him to the hospital. Miranda Maschek, a Registered Veterinary Technician at OSUVMH, fell in love with Ghost when she saw him in the intensive care unit that morning. When Miranda heard about his story, she agreed to adopt him and pay for the surgery to repair his broken leg. After weeks of cage rest and physical therapy, Ghost is walking like a normal dog.
He is one of the sweetest dogs and absolutely loves getting all the attention. His favorite treat is cheese, but he loves anything edible. His favorite activity is going on walks around Boomer Lake with his mom. He loves to visit and help veterinary students learn at OSUVMH.
Ghost is super excited to be part of the pet therapy program. You can find Ghost around campus at events. So, keep an eye out for Ghost in his Pete's Pet Posse vest. He loves making new Cowboy friends.
Ghost has earned his AKC Canine Good Citizen award and is certified with Alliance of Therapy Dogs.
Guac (when he is a good boy, Guacamole if not) is a miniature Schnauzer that will steal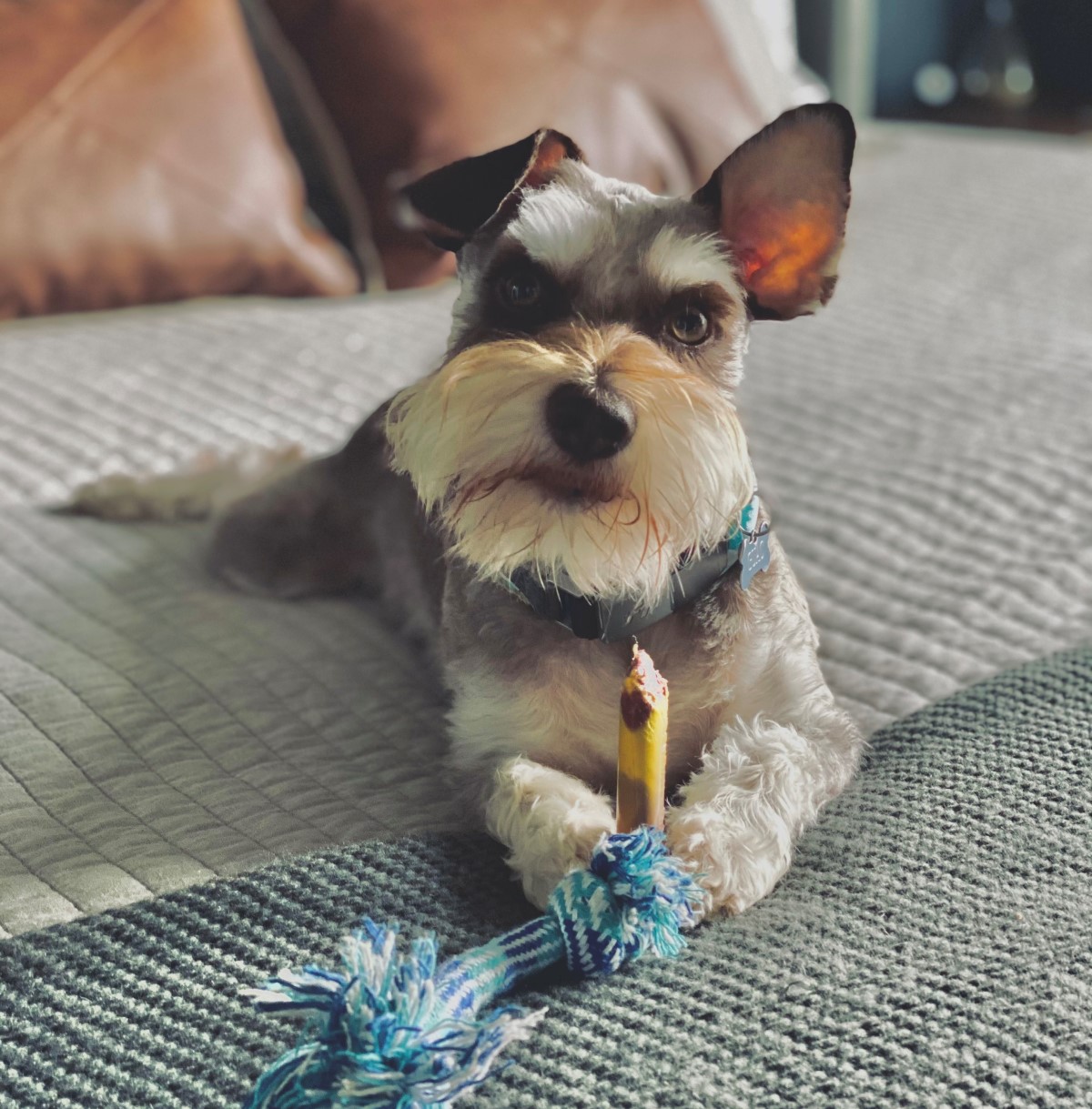 your heart in seconds. Guac came home early October 2019 and little his dad knew, months later they were isolated due to the pandemic. That was a unique opportunity to create this amazing bond while both Guac and his dad navigated rough waters with so much uncertainty out there. His dad owes his sanity to Guac during these times and rest assured, both have seen each other at their very best and their very worst, but that is life and that is what this human-dog bond is all about. Probably this is what inspired Guac's dad to apply for the P3 program. Guac has so much love to give and spread that his presence on-campus will be instrumental for him and his mission. Guac loves socks (especially those fresh out of the laundry) and it is definitely his favorite toy. He also could spend hours chewing a Nylabone. Just like any other dog, he loves to sleep but also when it is play time, he takes it seriously. Weather permitting, he loves to go out for walks around the neighborhood and explore around. Guac loves to jump on the car for a ride but once the car starts moving, he decides to take a nap. His excitement for riding the car lasts a few minutes which is extremely cute. Guac is also bilingual so do not be surprised if you interact with him and responds to a very basic word in Spanish like 'vamos' (let's go) or 'oye' (listen). You can visit Guac in his dad's office at Spears School of Business. Guac has earned the AKC Canine Good Citizen award and is certified with Alliance of Therapy Dogs.
Hazel Jane is a Bernese Mountain Dog who is part of Pete's Pet Posse at Oklahoma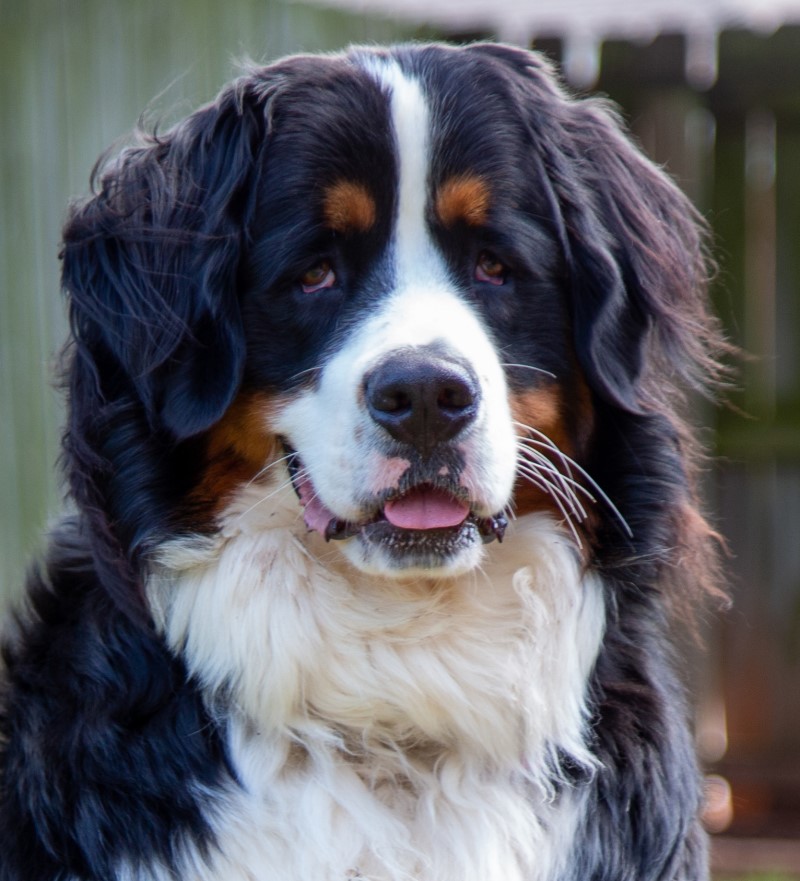 State University. She was born March 9, 2020, and came to live with her family eight weeks later. Hazel loves fruits, vegetables, and every squeaky toy on the planet. She also loves to play show-n-tell: When her humans get home, she runs through the house looking for something to show the family (normally shoes). Hazel works with her dad in the Spears School of Business, and you can visit her in office 277 Business. She has earned the AKC Canine Good Citizen award, and is certified with Alliance of Therapy Dogs.
Jackson is a Golden Retriever whose goal in life is to sit on the lap of every person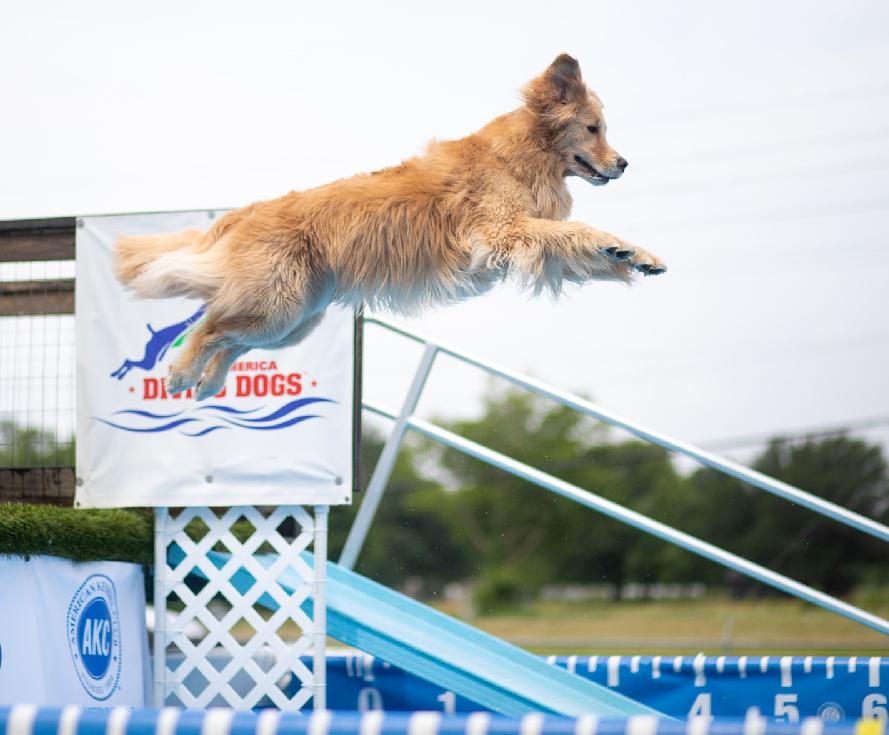 he meets. Since his big brother Toby was a P3 Pup and his two human siblings are both OSU grads, he wanted to join The Posse so the whole family could bleed orange. In 2016, as a puppy, he started visiting campus on Fridays at lunchtime when his big sis was a first year veterinary student and big brother was an architectural engineering student and, since he was cuddled constantly by students there isn't a Cowboy/Cowgirl he doesn't love. He was very jealous when Toby got to put on his orange Posse uniform and go inside the buildings so joining P3 was just his passion!
When he isn't sitting on someone's lap or wrestling with his new brother Finnley, Jackson's very favorite thing to do is water sports. He loves to paddle board and kayak with his human sister, and compete in dock diving events with his mom. He also loves being the "big dog" at the lake teaching Finnley and his human siblings' puppies Bentley & Jolene the art of fetching toys and balls in the water.
Jackson's mom, Susan, is retired so takes him to visits all over campus, and he will often be found hanging out in the Geology Department with his dad, Mike. His favorite hobbies (besides water sports) are playing ball and tracking the deer and rabbits who pass through his yard, and, just like his brother Toby, his favorite treat is "pizza bones". Jackson has earned his Canine Good Citizen and is officially certified with the Alliance of Therapy Dogs.
Leo is a Golden Retriever who is happiest when he is around people who will pet him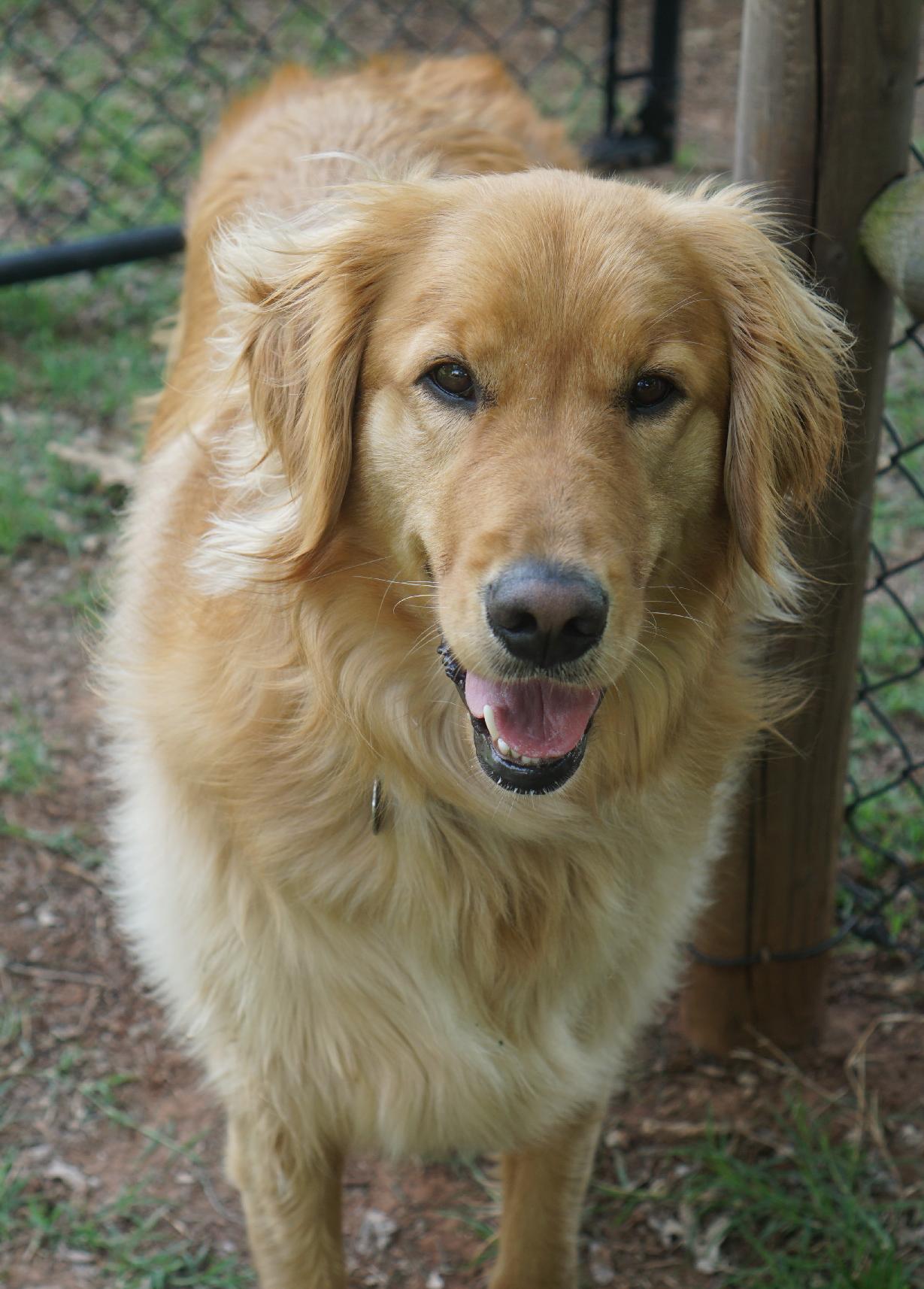 and rub his belly. He loves to run in circles, chase balls & sticks and jump into any old water puddle (to get smelly). Leo lives a pampered life with his five cat friends and small Corgi and enjoys playing with them - and occasionally teasing them. He is well loved by his family and can be found wrestling with his "boy" often. Although he is a bit large for a retriever, he is very gentle and affectionate.
Leo has earned the AKC Canine Good Citizen award and is certified with Alliance of Therapy Dogs. He can be found with his mom, Donita, at special events on campus.
Leona joined our family at 5 years old in Dec. 2019. For a dog it was a great time to get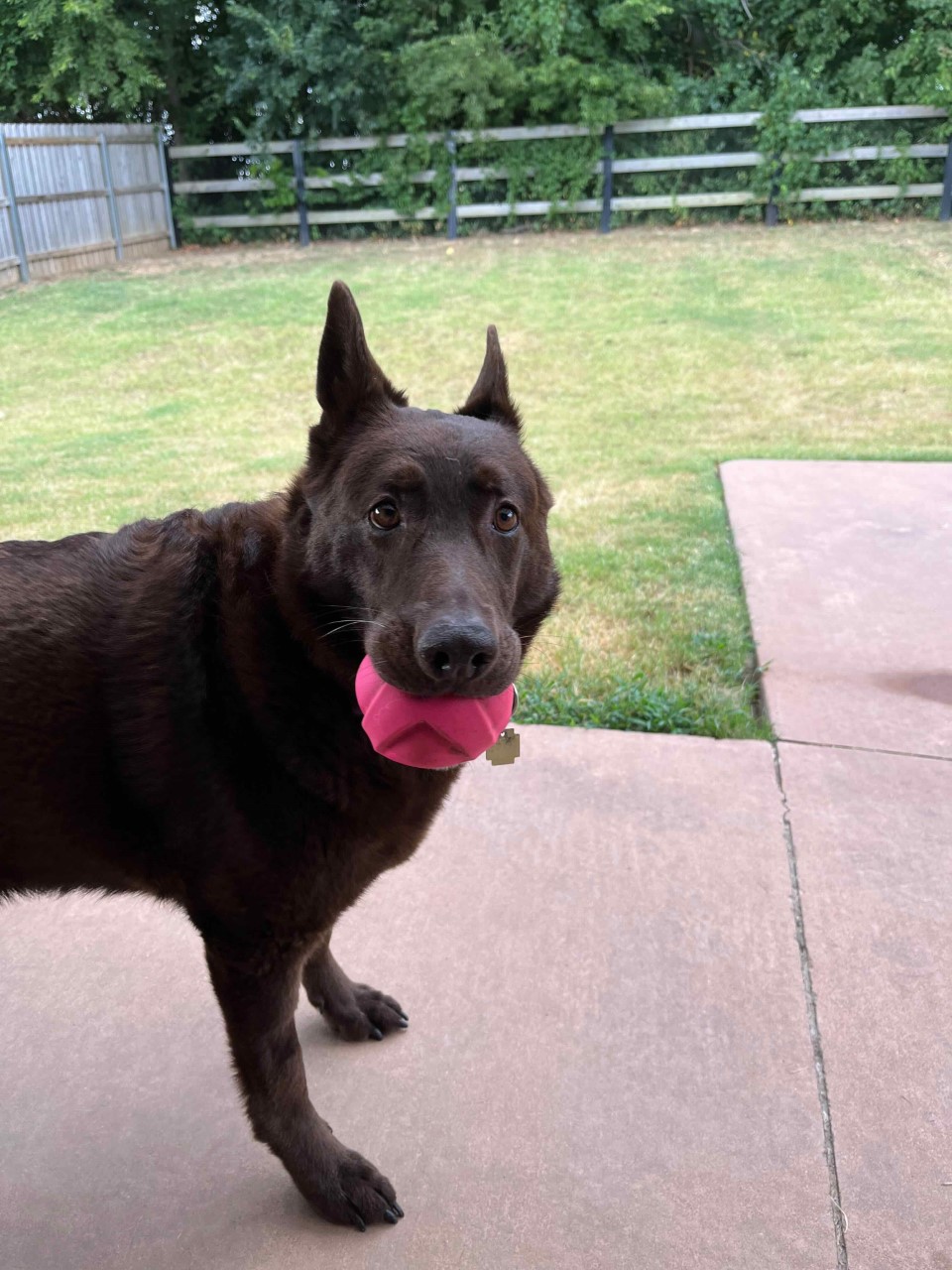 adopted, because of the "Covid stay home with your dog order" the following March. Many training classes were also closed to stay home with their dogs, so Leona got a late start in training classes. Once she started training, Leona also started gaining confidence and her true personality started to shine. She has been a kitchen helper and is always hopeful for dropped morsels. She also loves garage trips with her people. Leona loves walks and her brother, Bubba. Leona and Bubba train together and have earned the AKC Canine Good Citizen award and CGC-Advanced awards. Leona is certified with Alliance of Therapy Dogs and looks forward to her next goal, the CGC-Urban Award. She loves people and does not know what a stranger is. Leona will always sit for pets as that is her favorite hobby. She loves chasing squeaky balls in the yard, but prefers something fluffy for night time cuddles. Her favorite toys have a spot for a treat, but even better are the toys her brother has! Leona likes to have a dog bed in every room, so she can keep an eye on her people while also having a rest from her busy days. Leona works with her person in Construction Engineering Technology.
Lilo holds the title of "rescuer" in her story when she rescued her mom after losing her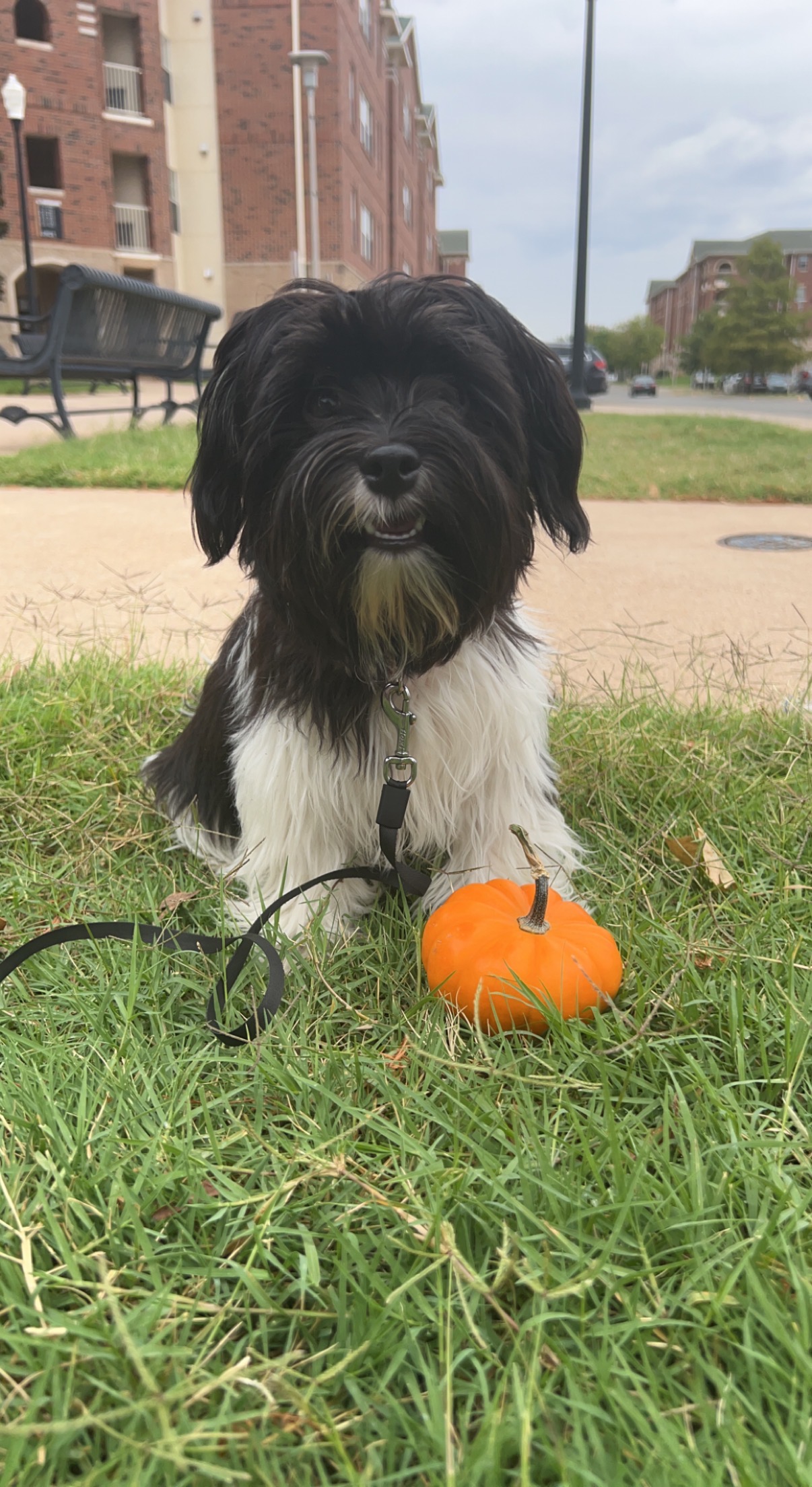 childhood dog. Lilo is a spunky little Havanese born in March 2022 in Kansas and traveled through winds and hail in April to Stillwater. From the moment Lilo danced her way into her mom's life as a small little bean, she knew she was going to make a big impact on people. Lilo absolutely loves anything that breathes and will cuddle up to a fluffy chinchilla (her old brother Chico), or into your arms when you meet her!
In Lilo's free time she occupies herself with essential tasks: throwing her bone for her mom to fetch and arguing with the referees on the TV who just called a bad play for her favorite teams. Although small, don't be fooled by the amount of energy and spunk stored in her. Lilo loves to talk and will kindly remind you when you haven't shared a french fry or to pet her again. Lilo loves being on campus and finding a new friend to lie on top of.
Lilo works with her mom in Orange Power Studios where her mom, Kayla, is a graphic designer. Lilo has earned the AKC Canine Good Citizen award and is certified with the Alliance of Therapy Dogs.
Lou was rescued by her human dad, Matt as a tiny puppy and lived a quiet life in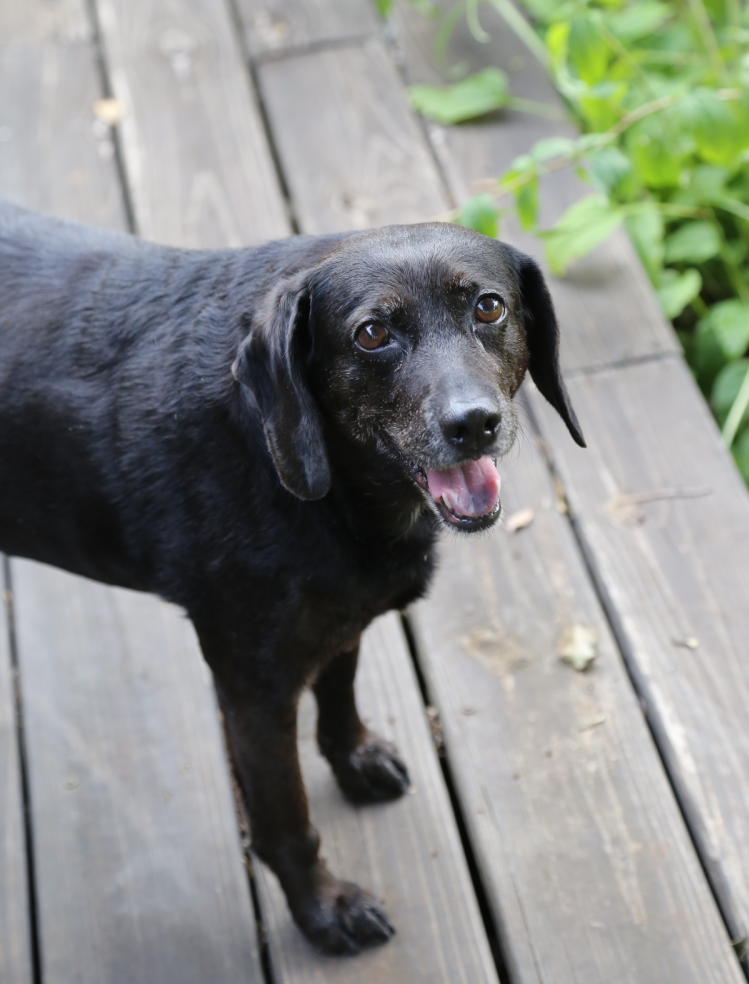 Stillwater with him and her furry sibling, Belle (Lhasa Apso/ Shih Tzu) until 2015 when her human mom Carisa and furry sibling Archie (Great Dane/ German Shorthaired Pointer/ Hound) came into the picture. It took a few years of patience and subtle hints before Carisa finally realized Lou's potential as a therapy dog and applied at ages 12 and (redacted). Lou is living her best life when on campus and whoever said that you can't teach an old dog new tricks hasn't met Lou! Lou loves naps, pets, treats, walks, and car rides. But, don't confuse her for a lap dog – she prefers all four feet on the ground (or the couch).
You can visit Lou and her mom in the CEAT dean's office or in their favorite place, Parker Hall.
Lucy is a medium Golden doodle, a golden retriever/poodle mix. She is hypoallergenic and does not shed, which is great around the home and office! When she was little, her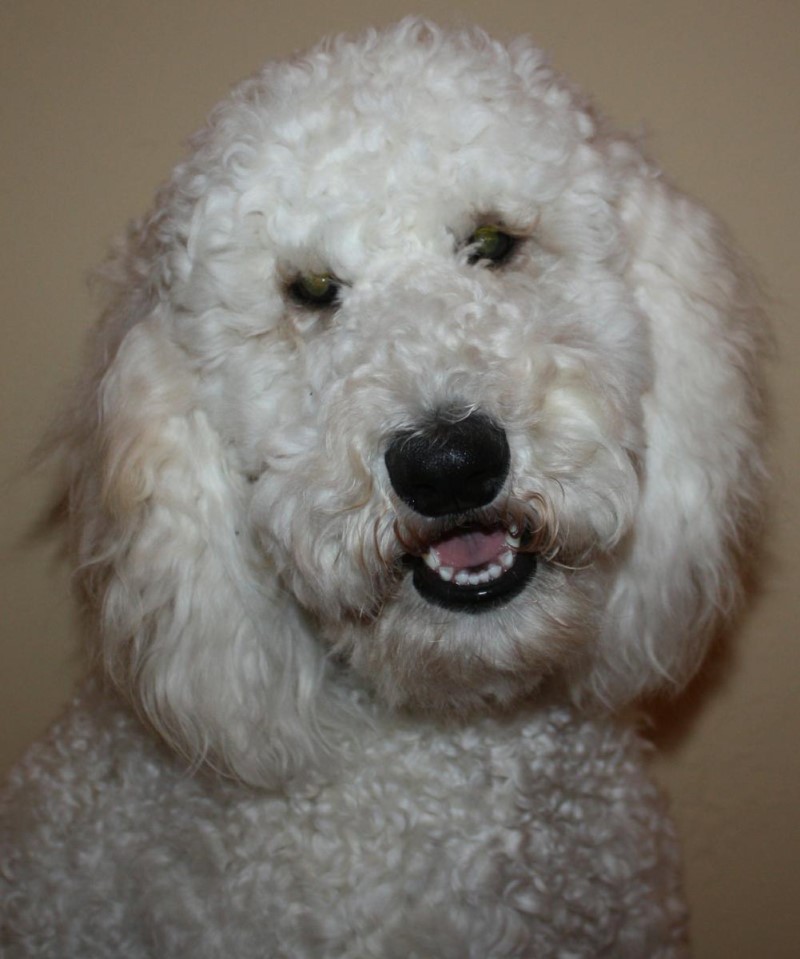 fur had a bit of a red tint, so she was named after Lucille Ball.
Lucy is convinced that every person she encounters wants to pet her. She loves to be around people and is excited to be wearing America's BRIGHTEST orange. Her favorite game is tug and she guarantees that you will wear out before she does.
Lucy was born February 2015 in Kansas. When she joined Pete's Pet Posse she was the youngest member of the Posse, at 16 months of age. Because she was so young, Lucy began training when she was seven months old so that she would be ready for pet therapy training.
Her parents are Karen and Kevin Clark. Lucy and her mom can be found in The Child Development Lab, in the College of Human Sciences, 110 Human Sciences West.
Lucy has earned her Canine Good Citizen award and is certified with Alliance of Therapy Dogs.
Lucy Schmitz is a proud Miniature Schnauzer with a lot to say to the world! In her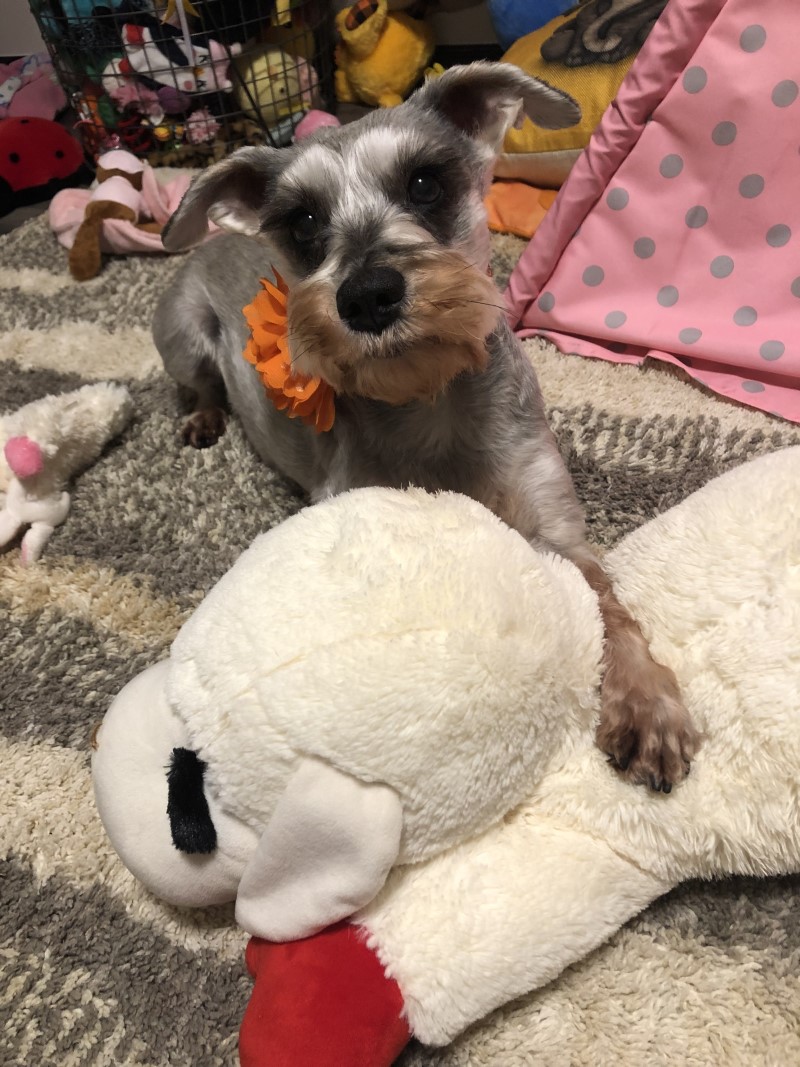 everyday adventures, Lucy is eager to greet new people she meets and takes great pride in her position in Pete's Pet Posse. Lucy values student health and well-being and is excited to enrich the lives of OSU students through pet therapy.
Lucy was adopted in 2013 from Nebraska No Kill Canine Rescue after she found herself displaced and in need of a new home. Initially, Lucy was a foster dog, but we quickly fell in love and became the best type of failure – a "foster failure." Lucy quickly became a beloved family member and has moved with us, along with one dog sibling and two cat siblings, from Nebraska to Texas, and now Oklahoma. In our family, Lucy provides balance with her sweet, mild-mannered demeanor and her zest for life that she shares with us through her love of playing with toys (her favorite is her Lamb Chop XL!), playing keep-away in the backyard, and going on road trips. Lucy loves to smile, and her joy is infectious!
Lucy and her pet parent, Dr. Rachel Schmitz, can be found on the 4th floor of Murray Hall, in the Sociology Department. Stop by and meet Lucy – she loves to get to know new people and share her love of life with them.
Lucy has earned her AKC Canine Good Citizen award and is certified with the Alliance of Therapy Dogs.
Luke is a Great Pyrenees mix who was found in the oilfields of West Texas with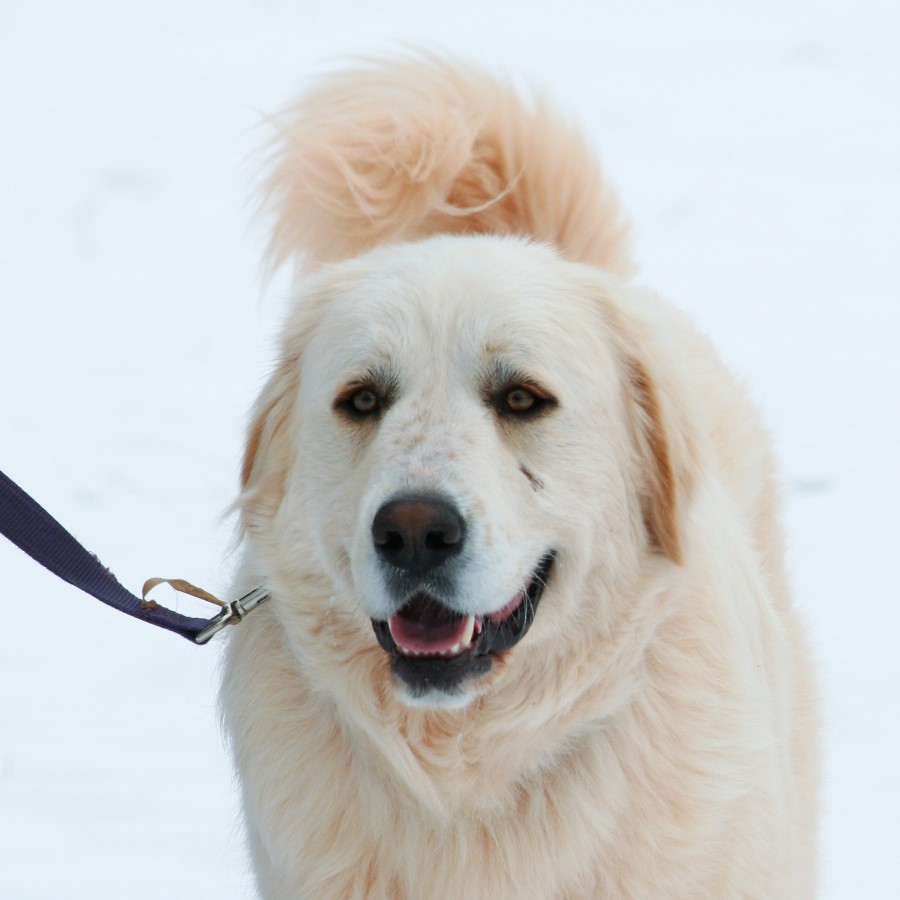 his brother, Han. His future dad brought them home to San Antonio to be loved on by his three other brothers (Hutch, Ranger, and Chewbacca) and one sister (Kallibow). In September of 2018, Luke and his family moved back to Stillwater, his mom's hometown. He's excited when it snows, not too excited when it rains – he turns pink from digging in the Oklahoma red dirt when he's outside – but loves the nice weather and sunshine.
Luke loves to be loved on by anyone and everyone. His favorite things to do in the day are to lay in the sun, bark at birds that fly over, and play with his brother, Han. He has learned to sit, shake, speak, and will stand up on his hind legs to give you a hug.
His mom, LeAnne, works in the Office of First Year Success and Luke would love for you to visit him there! Luke has earned the AKC Canine Good Citizen award and is certified with Alliance of Therapy Dogs.
My name is Lumos Maxima. I was named after a Harry Potter wand spell for light,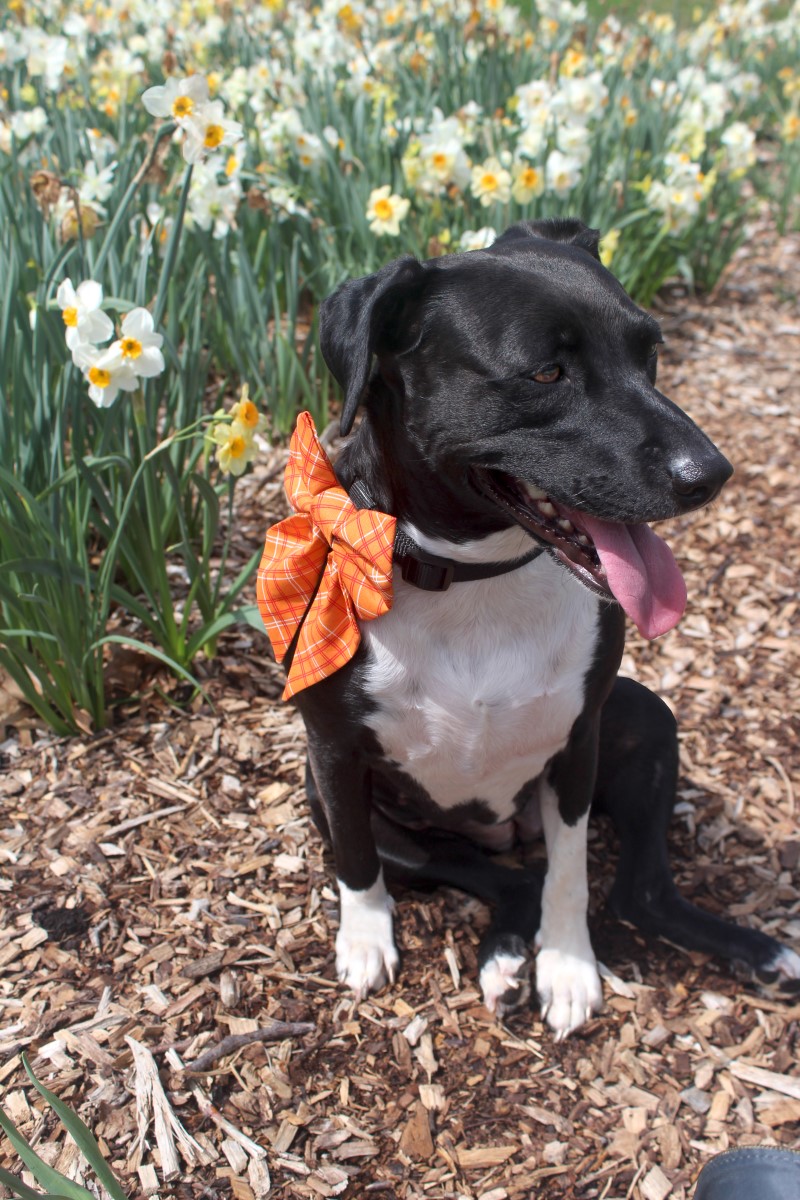 because my mom says I am, "a light in the darkness". When I was about three years old, I adopted my mom (June 30, 2018). My mom had a coworker who was killed in the OSU Homecoming Parade. So, when she saw I greeted every human before playing with the other dogs at the dog park, she knew I would be a perfect candidate to help her give back to the organization that helped her during that time. I am also very good at finding that person in a crowd that needs me most.
Long before I was adopted, my back leg broke and I was not taken to a veterinarian to make sure it healed correctly. Now I tend to either squat or sit on my hip. It looks pretty funny, but it doesn't bother me. When I'm super excited, my tail goes round and round a mile a minute. My mom teases me that I might just take flight with my propeller on the back. After the 2020 lockdowns, my mom was worried I'd be lonely when she returned to work. Knowing I love cats, she got me a little feline brother named Severus. Cuddling with him is my favorite, but I could definitely lose all the biting when he's "just playing." We like to go for excursions and car rides together. My favorite includes a trip to a drive through with puppy snacks, but I also like to ride past the OSU pig barns and fields with horses and cows - with the windows down of course. The air smells so good to me, even if mom is holding her nose the entire time (what's her problem anyway?!). I am also quite smart. I use AAC buttons in my mom's office to tell her when I want to go out to potty, need attention, water, or a treat. We build more buttons as I use the closest button (or two) to what I'm trying to tell her I want. For instance, "Outside" and "Water" means I want to go to Theta Pond and watch the ducks and squirrels.
You may see me with my legs dyed colorfully to bringing awareness to things such as suicide prevention, autism, cancers, and other issues that affect my friends and family. Be sure to stop and ask anytime you see me. I'd be so excited to meet a new friend!
If you see me on campus, be sure to stop and say hello! I'm proud that I've earned the AKC Canine Good Citizen award and I am nationally certified with Alliance of Therapy Dogs.
Marlee is a lowkey English bulldog that loves to see people smile. She enjoys sleeping,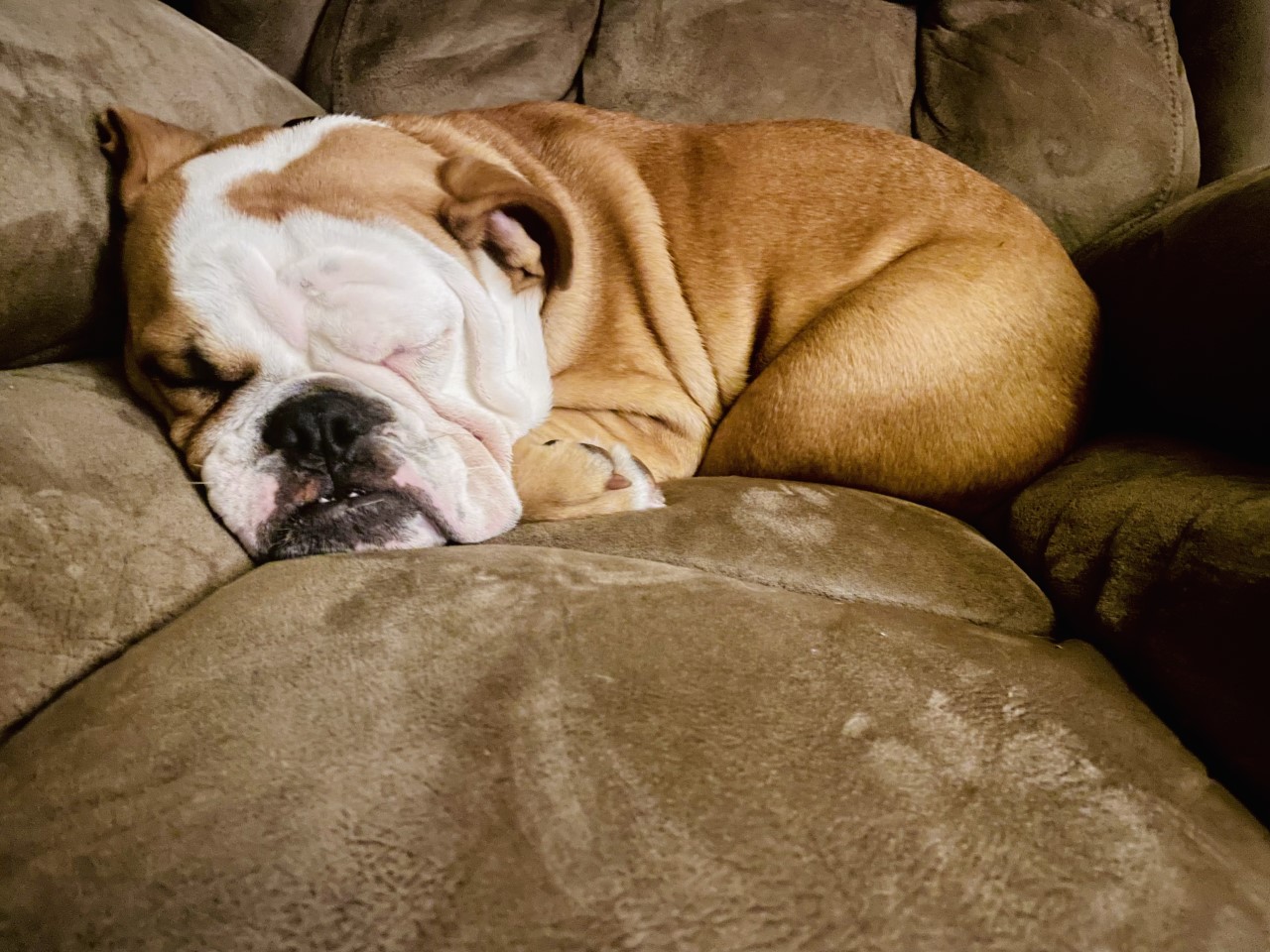 visiting schools, nursing homes and is always excited to practice riding her skateboard. Her 2 favorite things to do are sleeping and eating, sometimes at the same time. Marlee spends time lounging on the 3rd floor in Career Services, where she also helps students choose a career, fill out a resume and write a cover letter. Marlee has earned the AKC Canine Good Citizen award and is certified with Alliance of Therapy Dogs.
I was a stray dog that found my way to an Arkansas shelter in the spring of 2022 with an embedded collar and some scars. That was no life for me, and I didn't give up hope. The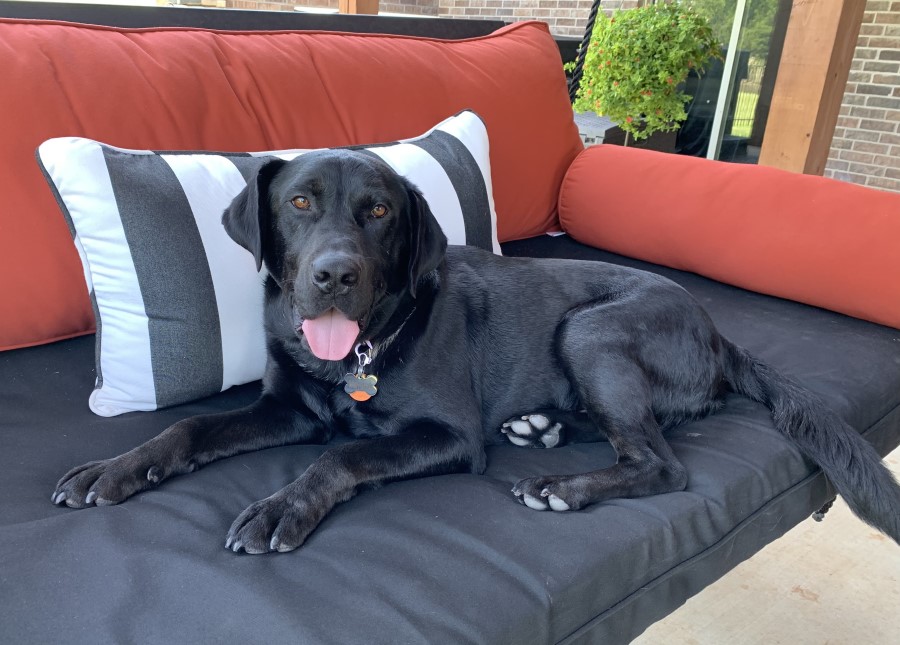 good people at the shelter saw something special in me and I was rescued by Lab Rescue of Oklahoma.
My transport volunteer gave me a ride for two hours to my foster home and sensed something special in me. I didn't say much, yet he felt my gratitude and a connection. Sometimes, connections can't be explained. He thought about me a lot. He told his wife, "He is the one and I can't explain why." When she met me, she knew too. I found my forever home. I am living my best life. They had big plans for me.
My new family tells me that I have what it takes to love others. I'm easy going and don't need too much. I am a lover. I like walks, chewing on bones and an occasional game with a tennis ball. I'm a gentle boy who loves pets and may lean into those who accept me. My favorite place is in your lap if you'll let me. I enjoy our walks but ultimately, I'd rather hang out and love on humans. Then I'll take a nap. LOL.
Maverick works with his dad in Fire Protection & Safety Engineering. Maverick earned the AKC Canine Good Citizen award and is certified with Alliance of Therapy Dogs.
Maxx is proof that it's never too late to learn new tricks! This lovable golden retriever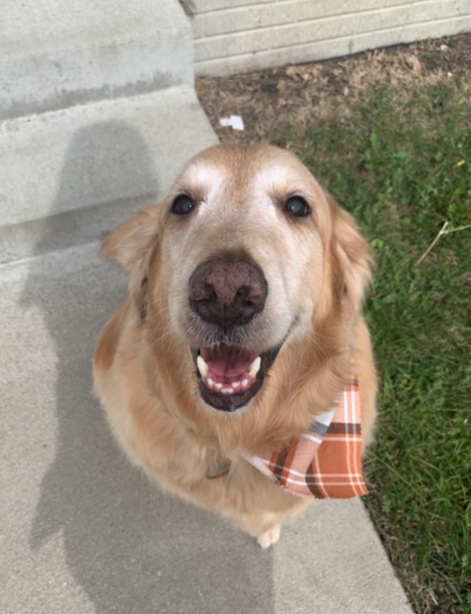 joined P3 right after he turned 9 years old. When he's not visiting with cowgirls and cowboys on campus, Maxx enjoys his time around water. He gets most excited to take boat rides, and share some fresh snacks like apples, peppers, and carrots. Even though Maxx loves swimming and fishing, he loves cuddling his humans most of all.
Maxx has lived in seven states and brought joy to people across the country. When he was five, he joined his mom in graduate school. A year later, they both fell in love with his dad. He's happy that both his parents settled at OSU, and now they are all part of the Cowboy Family! Maxx works with his mom in Civil and Environmental Engineering. Maxx has earned the AKC Canine Good Citizen award and is certified with Alliance of Therapy Dogs.
Minnie was rescued from an animal shelter in Illinois when her mom was finishing her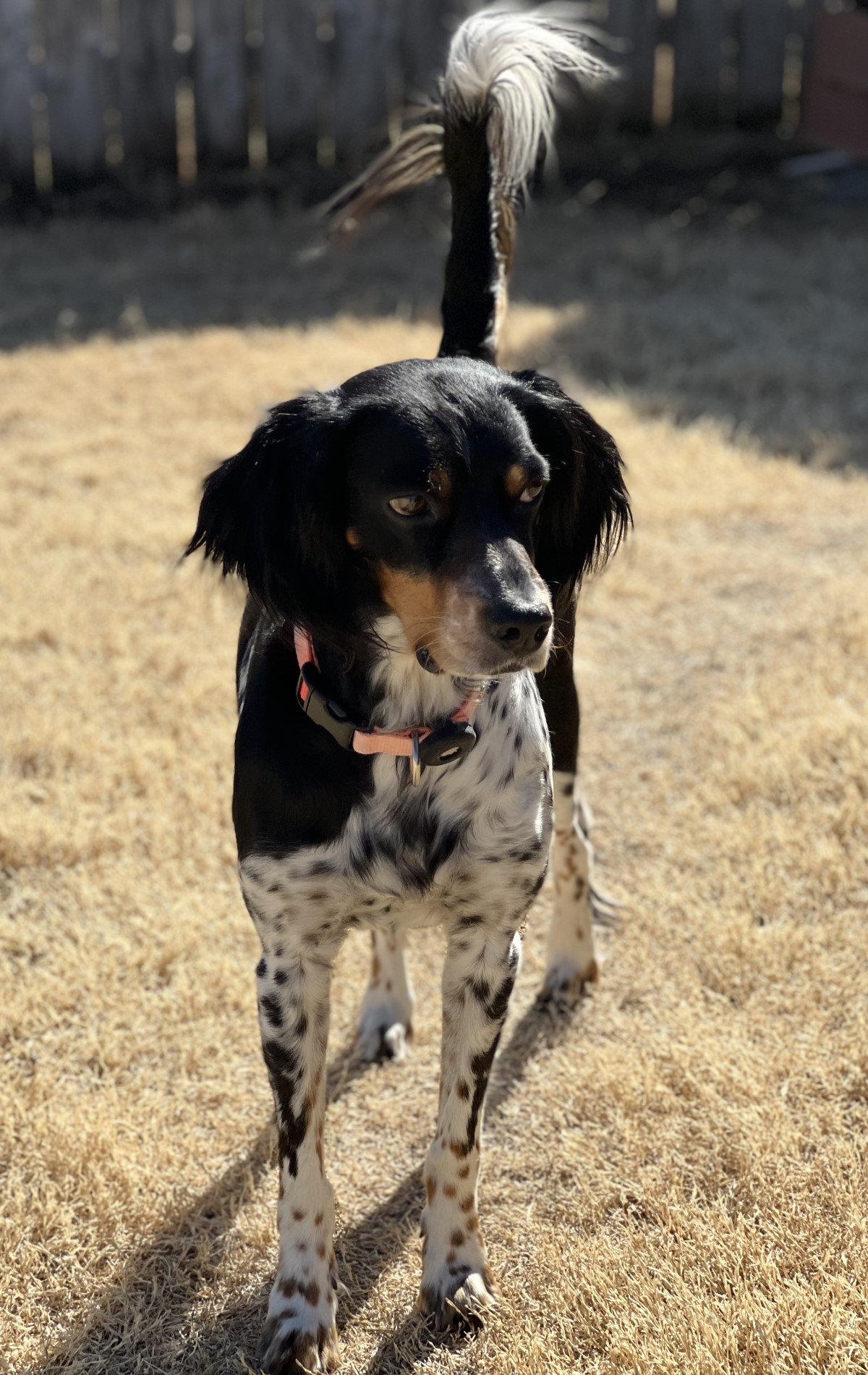 PhD. When first rescued, the shelter said she was three years old. When Minnie went from 30lbs to 50 and grew taller it was clear she was much younger. Minnie is an English setter and loves patrolling and pointing at birds in the backyard- even hummingbirds! When not playing with her two dog siblings she loves to snuggle on the couch with a blanket. Minnie loves learning new tricks and meeting new people. She has her AKC novice trick dog title and is working towards the intermediate level. Her favorite thing about joining Pete's Pet Posse is getting to go to campus. You can visit Minnie in her mom's office in Agricultural Hall 529. Minnie has earned the AKC Canine Good Citizen award and is certified with Alliance of Therapy Dogs.
Murphy's parents weren't sure Murphy could steal their hearts, but he alleviated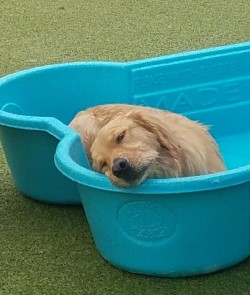 those fears the minute they met him. Ever since that moment, he has proven that he is something special. Murphy is an only child who loves being the center of attention and the playtime he gets with OSU students who come over for dinner. His parents have to warn everyone to be ready, because he loves to sit on people's feet so they can't go anywhere while petting him. He gives love by putting his paw on anyone who pets him – sort of like he's petting you back!
There are some days Murphy's energy is overwhelming, but a few minutes chasing the laser pointer, taking a good swim, chasing a soccer ball, or enjoying a long adventurous walk can wear him out. Just be prepared to follow through with serious playtime if you use the word "ball," and expect to work hard to get the ball back, because he will protect the ball from you like the world's best goalie! When he's tired, Murphy's favorite place to nap is in his dad's leather chair or on the sofa with his parents. Murphy's mom loves to cook and he knows if he is patient and keeps a tight watch over the kitchen, that something might fall to the floor accidentally. Sometimes, he tries to sneak a little taste from the counter and can't understand why that's frowned upon!
Murphy has earned the AKC Canine Good Citizen award and is certified with Alliance of Therapy Dogs. He is so excited to be part of Pete's Pet Posse, and uses his amazing people skills to help his mom as she welcomes new students to OSU! You can find Murphy encouraging students to be their best in University College Advising or First Year Success.
Ned Pepper was born on a cold February day in the small Northwest Alabama town of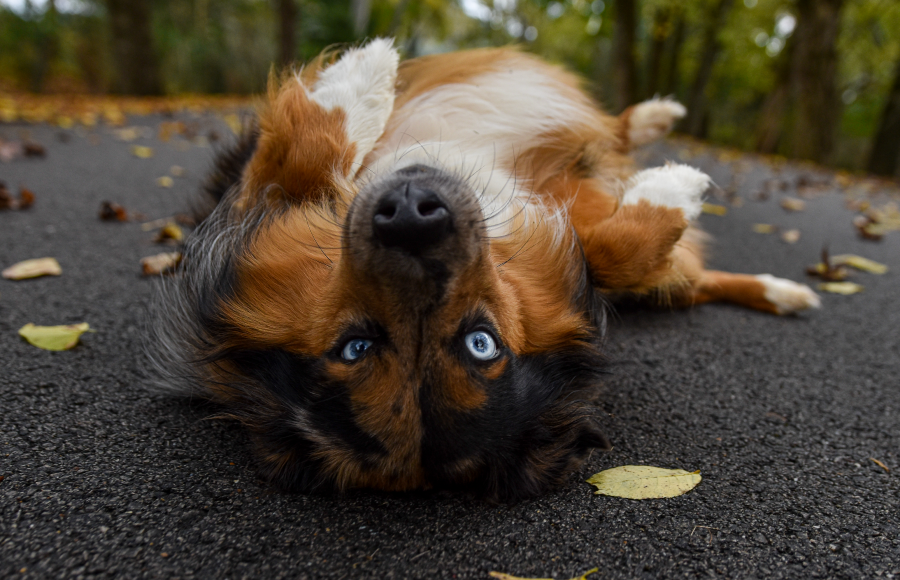 Cloverdale. He came to reside with adoptive dad after a chance meeting. His dad worked as an extension agent and met Ned while on a farm visit. Ned Pepper is named after an antagonist in the western film True Grit. Besides some rambunctious puppy and teenage antics such as "digging up the carpet" and "eating sheetrock", Ned has done little to live up to his bad guy namesake. While Ned chose to continue his education at Oklahoma State University, he is a proud graduate of Ringling Bros. and Barnum & Bailey's Clown College. He regularly demonstrates humorous antics, but this makes each day feel a little less like a circus. While bred to be a herding dog he prefers to keep his distance from the bovine species, preferring instead to chase birds and various insects. To date, he has failed to catch a bird, although he has not relinquished his efforts and his spirit has been undiminished. Ned's favorite activity is eating, and his tastes are far from refined. Ned has a good heart, never meets a stranger, and provides the purest forms of love and loyalty in existence. Ned has earned his the AKC Canine Good Citizen award and is certified with Alliance of Therapy Dogs. He works with his dad in the Oklahoma Quality Beef Network.
Hi! Meet OAKLEY. This lovable Golden Retriever was born on October 25, 2016, and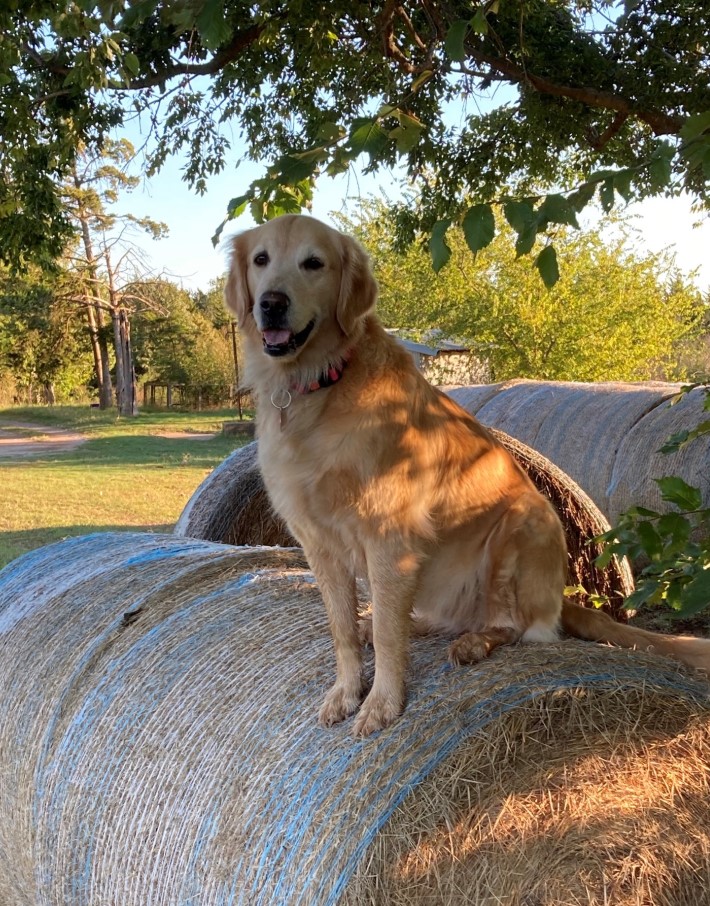 adopted by Rick and Marla Mahar on Christmas Eve that year. And, oh, what a gift she is!
Oakley is a lovable ranch gal. Although she is not much of a cattle wrangler, the baby calves love to follow her around. With five ponds on the ranch, it is very hard for Oakley to stay out of the water. So, walking near Theta Pond might prove to be a challenge.
Please come and visit Oakley and his mom in the BCOM office at Spears Business School. She loves a good hug, and she might even talk to you.
Oakley has earned the AKC Canine Good Citizen award and is certified with the Alliance of Therapy Dogs.
Oakley is a Bernedoodle (Bernese Mountain Dog and Poodle mix) who won her family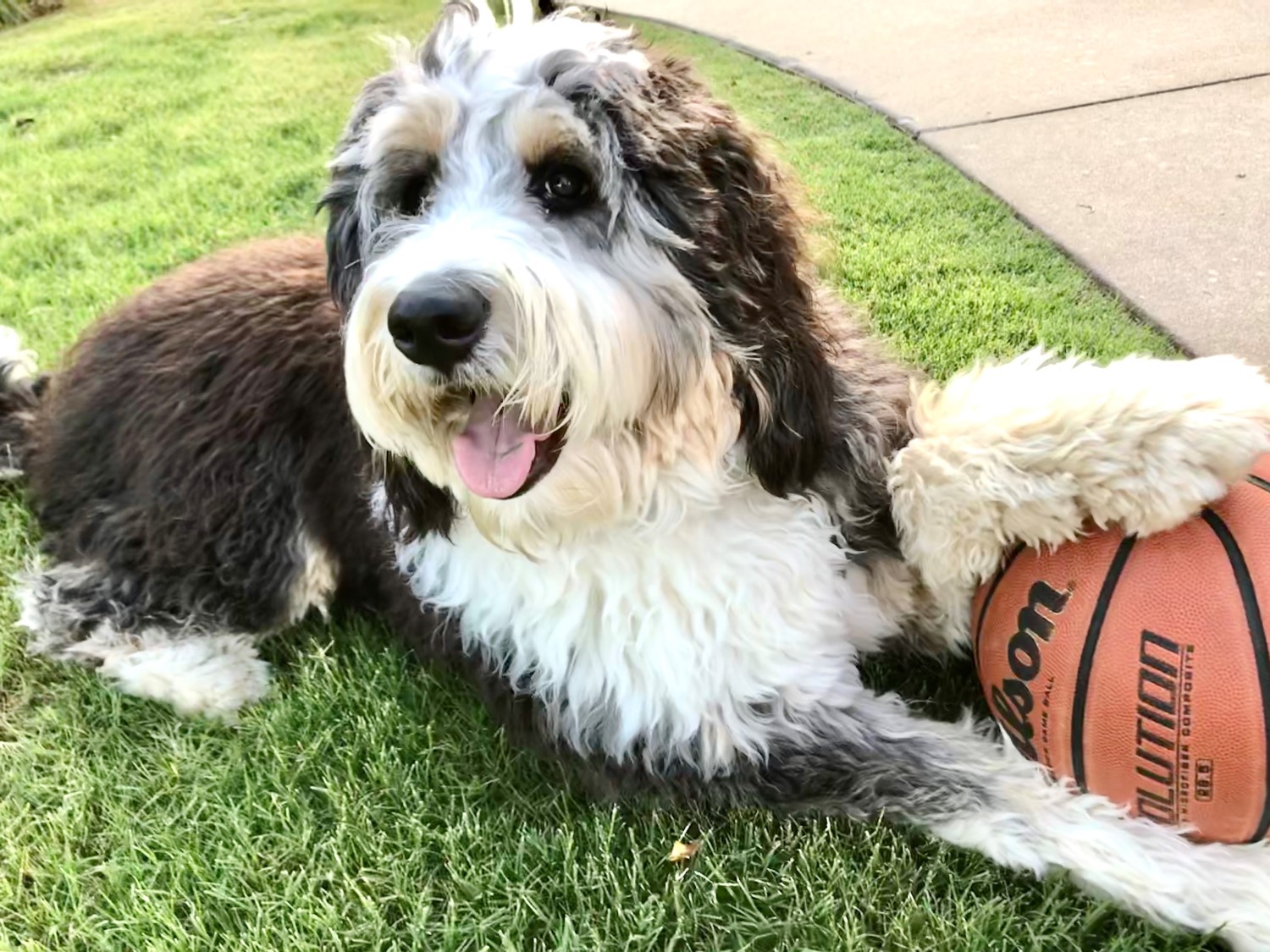 over from the first time they saw her big, brown, human-like eyes. You can see in her eyes if she is happy, sad, or scared. Most of the time she's extremely happy, tail and tongue wagging, but is working on overcoming her fears of thunder and balloons. Oakley is hypoallergenic, which makes it nice for those in her home and on campus who have dog allergies!
Oakley really loves a good lazy day on the couch, but occasionally gets a playful burst of energy. She absolutely loves food, and will do just about anything for a morsel, including batting her long eyelashes at you. Her love of food has led her on a weight-loss journey that has been tough, but successful (somewhat).
Oakley thrives on meeting new people and thinks that everyone is her best friend. Her favorite pastime is being petted and loved on! She looks forward to meeting you at campus and sporting events! She is so excited to be a therapy dog for the greatest university with the best students, and loves to wear her Brightest Orange! She has earned the AKC Canine Good Citizen award and is certified with Alliance of Therapy Dogs. You can frequently find her spending time in Gallagher Iba Arena with the OSU Men's Basketball team.
We rescued Oscar when he was about 8 weeks old. He was in a bad place for an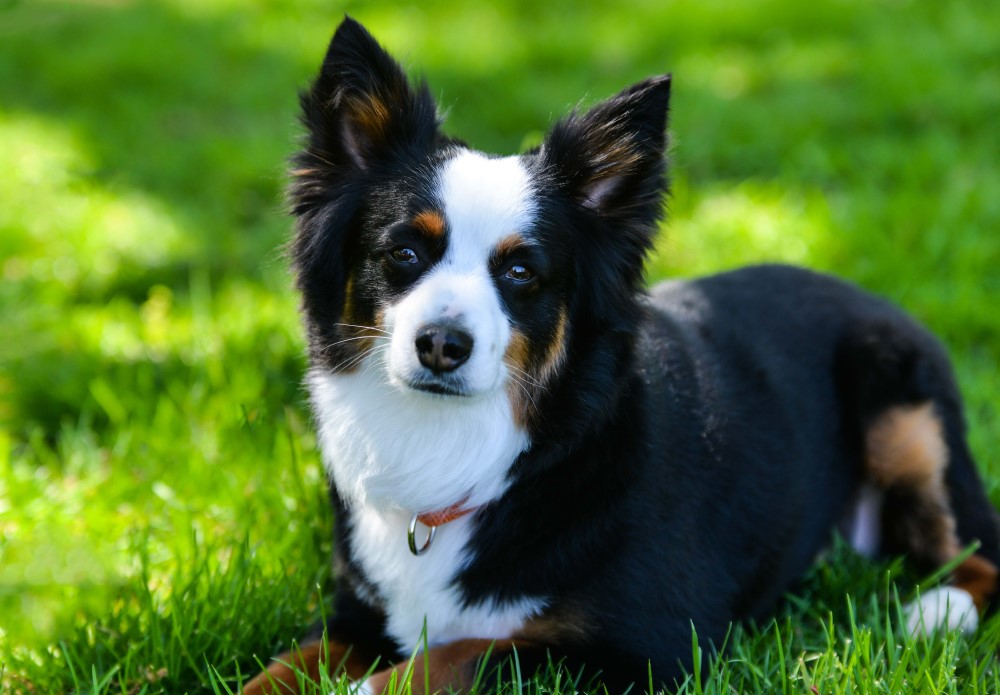 animal, especially a puppy-- malnourished, dehydrated and no human contact. We got him home, gave him a warm bath, fed and gave him plenty of water. At his first vet visit he weighed in at 3 pounds, but weighed a healthy 26 pounds by the time he joined Pete's Pet Posse. Oscar now has a loving home with his 2 year old sister Charlie, who is also a Mini Australian Shepard rescue. When Oscar is not playing ball in the backyard, or catching a performance at OSU's Department of Theatre, you can probably find him lounging on the sofa. Oscar and Charlie are wonderful additions to our family.
Oscar has earned the AKC Canine Good Citizen award and is certified with Alliance of Therapy Dogs. He and I enjoy being members of Pet's Pet Posse. You can find us in the Seretean Center for the Performing Arts in the Department of Theatrewing. Please, stop by and meet Oscar.
Otis is a nine-pound bundle of happiness! He's a Poodle Yorkie mix…is that a Yordle or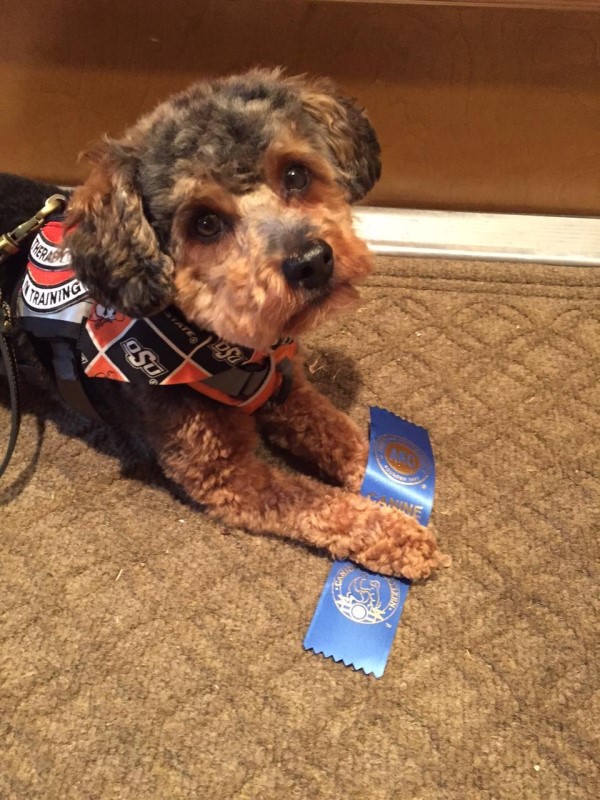 a Porkie or maybe a Yorkiepoo? He lives with his mom Carol Jones in Stillwater. He's a different kind of a rescue dog! He was the rescuer when he came to live with his mom. Dr. Jones had just lost her cat Gateway after 20 years of being best buds, and the house was too quiet and very lonely! In comes Otis weighing in at just 1.3 pounds and 6 inches tall at 9 weeks old. He totally revitalized the Jones household!
Otis's favorite thing in life is to sit on someone's lap and give kisses! He will jump from lap to lap looking for the person who needs the most love. Nothing is more important to Otis than being petted! His favorite toys are an empty water bottle and his stuffed squeaky skunk! He enjoys fishing, hiking, riding motorcycles and going to the barn with mom.
Otis's mom has retired but they still make visits all over campus. He can't wait to put on his Pete's Pet Posse vest and get to campus to see his Cowboy friends!
Otis is a Canine Good Citizen and is nationally certified with Alliance of Therapy Dogs. He has also earned his AKC Novice and Intermediate Trick Dog certification.
Penny is a chocolate and tan Dachshund, born on May 16, 2019 in Pawhuska, Oklahoma.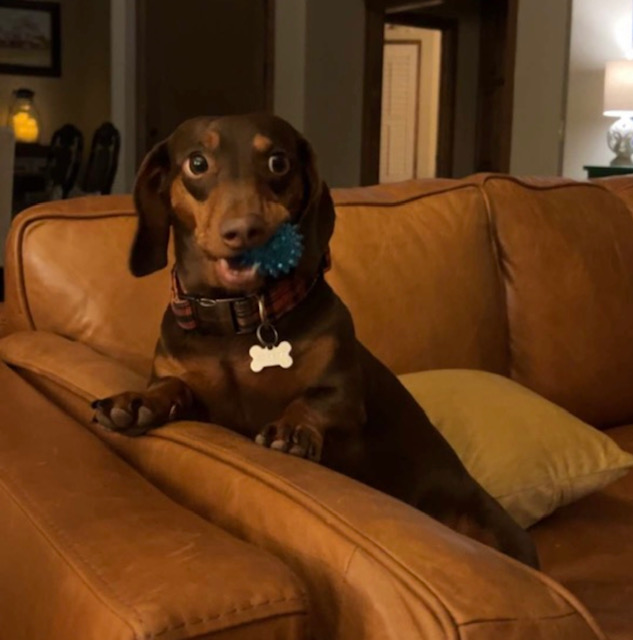 Penny came to live with her human family and two dog brothers, Abe and Harry on October 5, 2019. She's a very busy girl who loves to play ball and have regular zoomies, a true athlete. Penny has always favored toys that are orange, so Penny's mom knew her affinity for the color orange and funny, sweet disposition meant she would be a great Pete's Pet Posse pup. Penny is looking forward to serving campus by sharing her sweetness and making someone's day better. Penny works with her mom in Human Resources. Penny has earned the AKC Canine Good Citizen award and is certified with Alliance of Therapy Dogs.
Rigsby is a big ol' Mastiff mix born in January 2018. He was adopted in July of 2018 from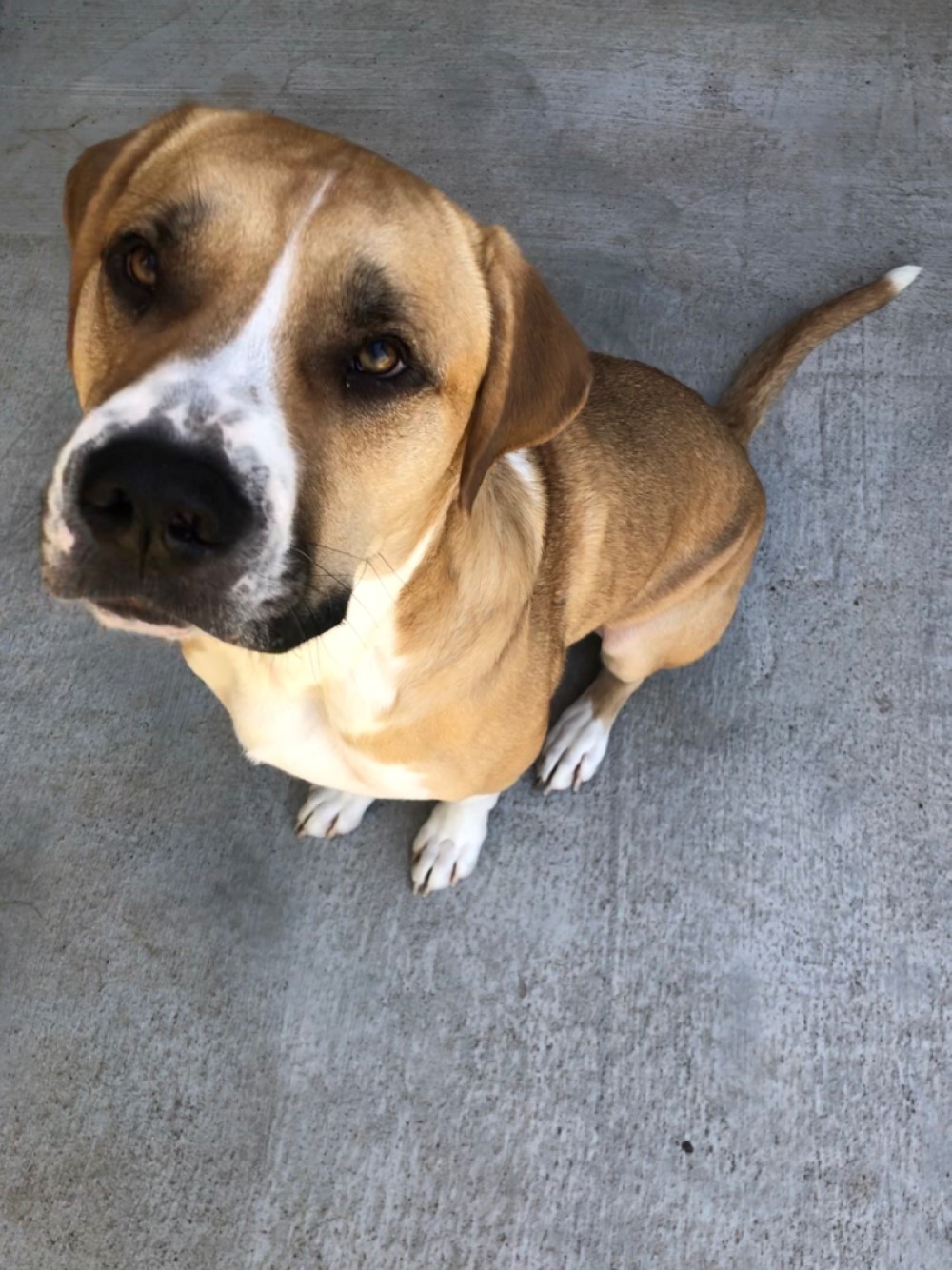 the Stillwater Humane Society. Rigsby goes by many names, Rigs, Rigsbert, Bertie, Big Bertha to name a few. When hanging around the house, he can be found on the couch snoozing and waiting for a cuddle. He utterly adores his backyard and spending time in his kiddie pool after digging and rolling in the mud, much to his mom's dismay. Rigs is known to don a hoodie when it gets a little chilly outside. He loves him some peanut butter and bananas. Rigsby is a pretty quiet boy, but if he's feeling excited and sassy, you may hear him "woo-woo" back at you when you chat with him; however, his woofs are reserved specifically for stinky squirrels and pesky rabbits…and the occasional chat with a neighbor pup. His favorite travel destination is anything called "dog park." He recognizes the phrase, and the utterance incites in him an excitement that cannot be rivaled. He is passionate about making new friends at the dog park, canine and human alike.
Bertie loves meeting and greeting anyone and everyone on campus during his visits down Monroe! He has earned the AKC Canine Good Citizen award and is certified with Alliance of Therapy Dogs. His mom works at the OSU Foundation where Rigsby will continue the tradition of Bella and Elsa by providing pet therapy to Foundation employees and visitors.
The Vandy Family cannot imagine life without our calm, affectionate, and attentive boy.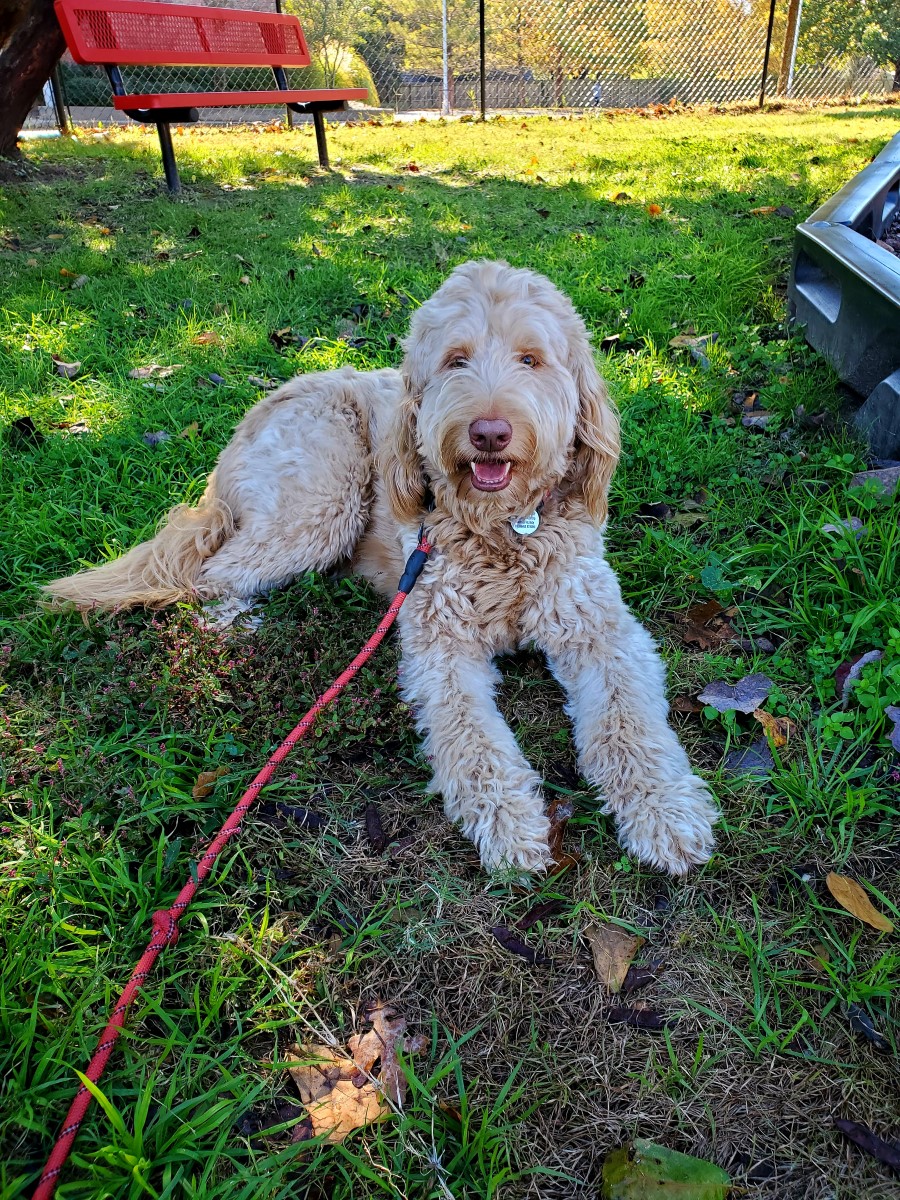 Roger truly is a fluffy ball of love and snuggles! He joined our family in April 2019 when he was about 6 months old. He came from a rough situation with a breeder where he didn't get much attention or exercise, but his new loving parents and four human siblings immediately showered him with love and affection. We are certain Roger was born to be a therapy dog: as soon as we got him, he would run to his human siblings when they were hurt or upset. While Roger does the occasional zoomie in the backyard and loves a good sniff around the block to search for squirrels, he is most happy napping and cuddling humans. Though quiet in social settings, Roger loves "working the room" when we have guests to say hello to everyone. Like Will Rogers, he's never met a human he didn't like. He will persistently ask for rubs and offer his paw as a way to say "more please!" Roger cannot wait to make new human friends within the OSU community! Roger works with his mom in Aviation & Space. Roger has earned the AKC Canine Good Citizen award and is certified with Alliance of Therapy Dogs.
Roscoe's story began in Oklahoma City as a homeless stray. It was a tough life on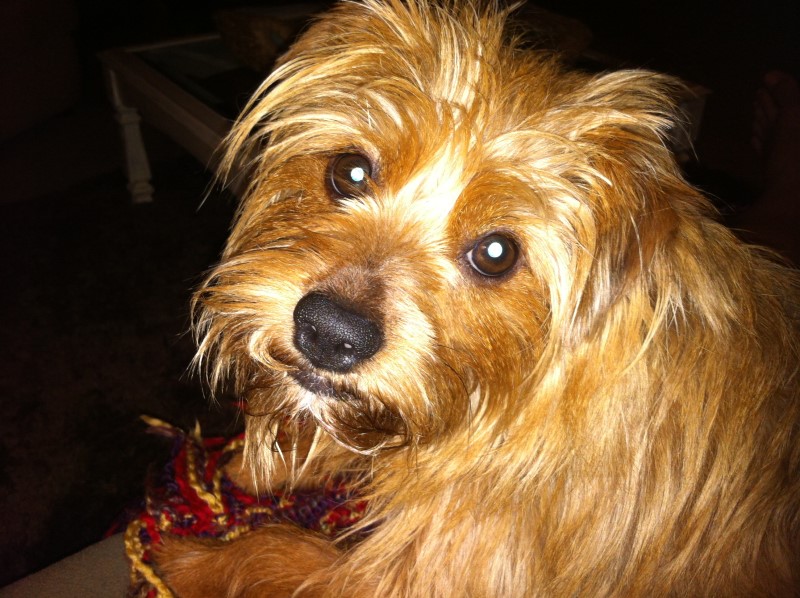 the streets for three months, but he soon found a home with Quinn and Leslie Baldwin in Stillwater and quickly became a member of the family. Roscoe has a fondness for swimming, playing with his two legged siblings and long walks in parks full of squirrels to work off all his treats. Without a mean bone in his fit, furry body, Roscoe loves canines and people alike and is excited to be on campus.
Roscoe has received his Canine Good Citizen award and is officially registered with Alliance of Therapy Dogs. You can find him and his mom in the Communication Sciences and Disorders department.
Rue is a Great Pyrenees mix and was adopted from a farmer on December 23, 2019. She "guards" the house by barking at birds flying overhead, circling the house barking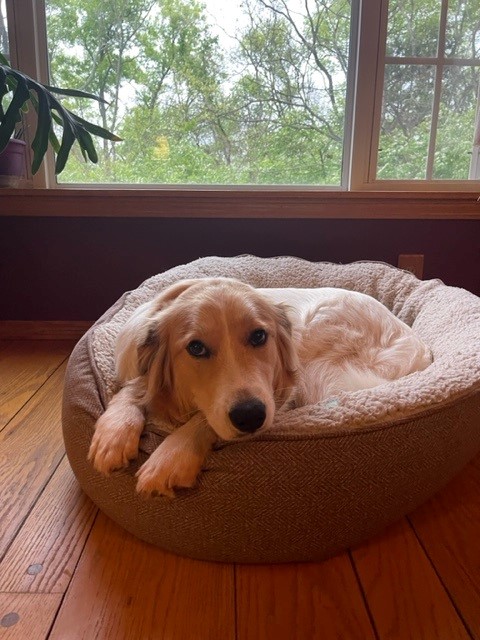 nonstop, or just calmly lying in the front yard. Watch out if you are a delivery driver or friend coming to visit…Rue will excitedly greet you and make sure you greet her too! Rue is a "leaner" and will gladly lean against your legs for attention or will lay her head on your shoulder if you get down on her level. You can tell when she is her happiest because her tail will go round and round and makes for a great fan when it's hot! She loves attention and seems to innately know when someone needs a little love and affection from her. We can't wait to meet everyone on our visits as members of Pete's Pet Posse. Rue's mom works in Academic Services for Student-Athletes and will be available across campus to visit all the friends! Rue has earned the AKC Canine Good Citizen award and is certified with Alliance of Therapy Dogs.
Rue was born on a cattle ranch just east of Stillwater on September 24, 2019. Rue is a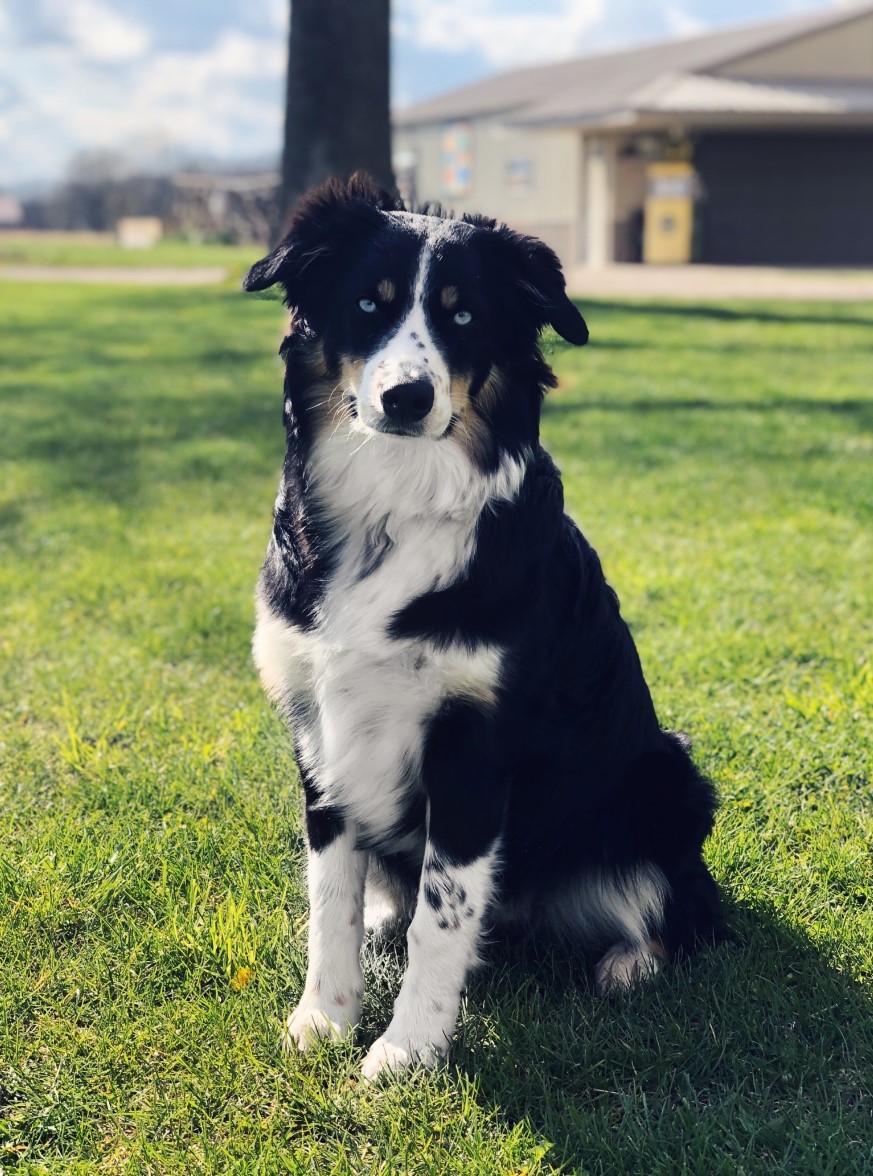 black Australian Shepherd with eyes that will make you fall in love! Rue loves to be outside and with her people. Some of Rue's favorite things are chasing squirrels, going on walks, playing in any water, hanging out with her cousin Ollee and visiting her grandparents in Illinois. Rue has the most beautiful blue eyes and is one of the most loving dogs you will ever meet. She loves belly and butt scratches and her favorite place to sit is in your lap! Rue loves her people just as much as she loves ice cream and peanut butter! Rue works with her mom in the Office of the President. Rue has earned the AKC Canine Good Citizen award and is certified with Alliance of Therapy Dogs. Rue and her mom are so excited to be part of this amazing team and can't wait to meet all of you!
Scout is a super lovable mutt who had a bit of a rough start to life but if you've ever met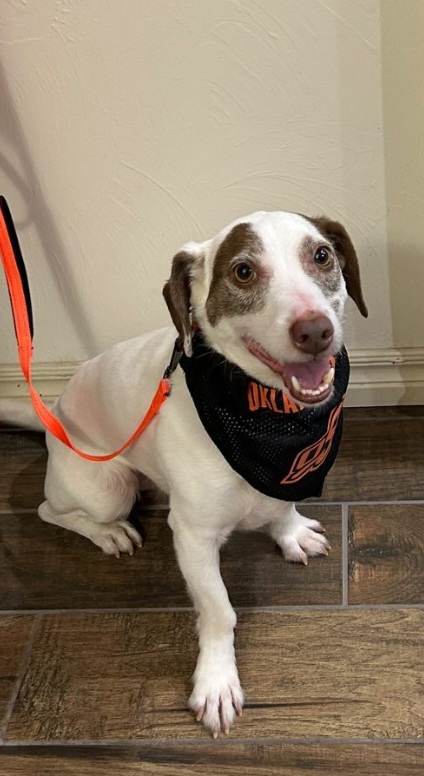 him, you'd never know it! He came to his furever home when his mom came across his sweet face online while a foster family was trying to find him a good home. It was very clear he had been abused by humans at some point, but he had so much sweetness behind those big golden eyes. After earning his trust through love, affection and lots of snacks, Scout has proven that love conquers all. He adores being the center of attention and almost always has a smile on his face. His tail never stops wagging and he never misses an opportunity to make someone laugh with his silly personality. The only thing Scout loves more than being a therapy dog is his Oklahoma State Cowboys. His favorite color is orange and his biggest dream in life is to race Bullet down the field at Boone Pickens Stadium! He practices all the time in his own backyard when he's not playing with his fur siblings or human brothers. Scout works with his mom in the office of Student Accessibility Services. Scout has earned the AKC Canine Good Citizen award and is certified with Alliance of Therapy Dogs.
Scruff had a rough start to life. When he was young, he was abandoned by his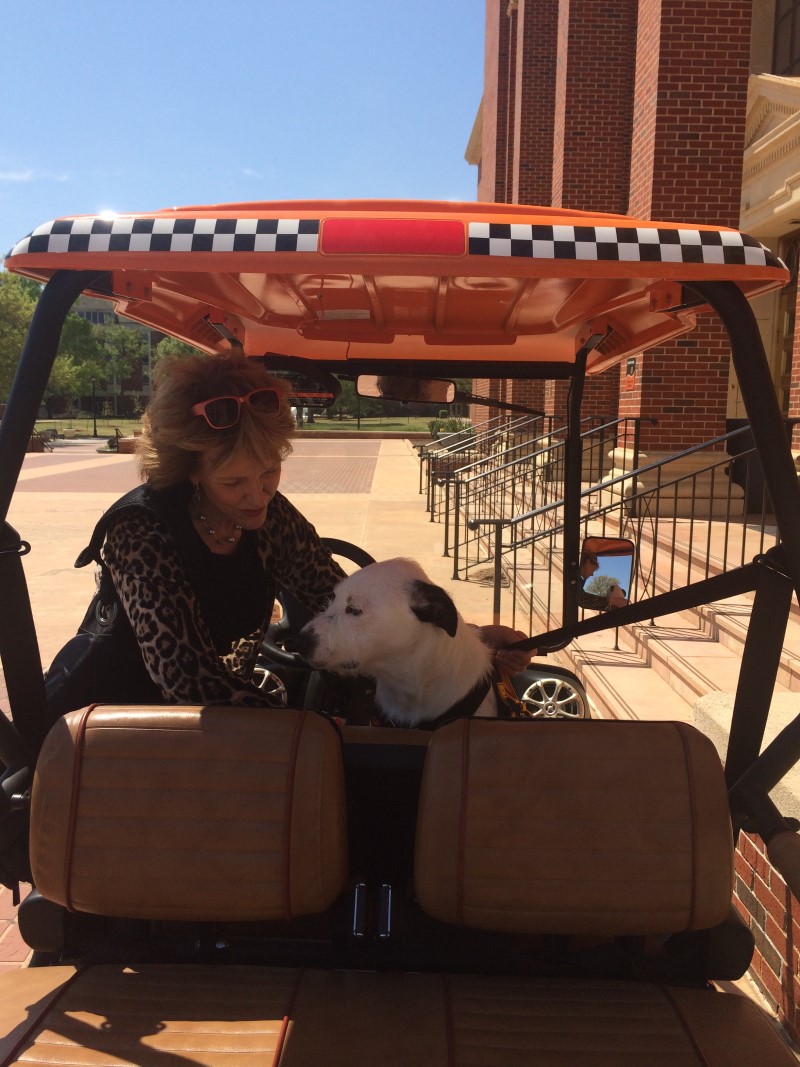 Stillwater owners and was left to fend for himself. He was abused by children and adults and was rescued by three OSU students in the fall of 2013. He was taken to the OSU Veterinary Medical Hospital where, among other things, it was discovered he had been shot and his front elbow was shattered. These creative and innovative OSU students used social media to raise enough money for surgery. With the expertise of OSU veterinarian, Dr. Lara Sypniewski, acupuncture and a water treadmill, Scruff is now fully recovered and living his very best life.
The best part of Scruff's story? He was adopted by then OSU President and First Cowgirl, Burns and Ann Hargis, and spent most of his days on the Stillwater campus as the Presidential Pet. He loves nothing more than giving back to the community that rescued him, and his days have been spent greeting students, employees, and visitors.
"He is a terrier mix with a funny personality and absolutely adores people," says former OSU First Cowgirl, Ann Hargis. "Burns and I fell head over heels in love with this little guy and he has enriched our lives beyond measure."
Scruff's parents have retired, but he has not! He still serves the Stillwater campus and he can also be found making visits to the OSU-OKC campus when time allows.
Scruff is a Canine Good Citizen and is nationally certified with Alliance of Therapy Dogs.
Sebastian is a young (but ginormous for his breed) Yorkshire Terrier who loves nothing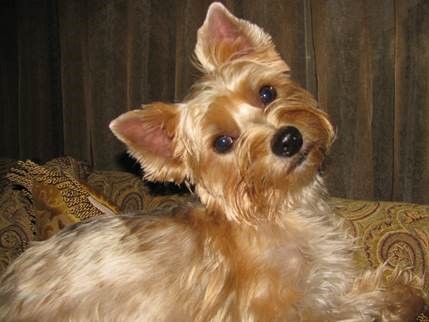 more than your undivided attention and to be loved; all the while not realizing his own size…he's just a big teddy bear. If you throw a tennis ball once for Sebastian, you've made a friend for life! He could play fetch for hours and can run at break neck speed. He will lay the ball directly at your feet so you don't have to make that extra effort to reach for it.
Sebastian is not your usual "rescue" dog. His mom did not rescue him; he rescued her! Sebastian is a loyal and faithful friend with his constant presence, energy, and spirit for life. He knew exactly what his mom needed and it was the unconditional love of a lop-eared benevolent loving four-legged furry tail-wagging pooch that became her rock!
He is a momma's boy and loves bringing his abundant energy to campus and meeting new visitors, students, faculty, and staff. He works with his mom, Shelby, in the Spears School of Business.
Sebastian has earned his Canine Good Citizen certificate and is officially registered with Alliance of Therapy Dogs.
Sweet Sophie is a Miniature Schnauzer who lives with her family in Stillwater. She is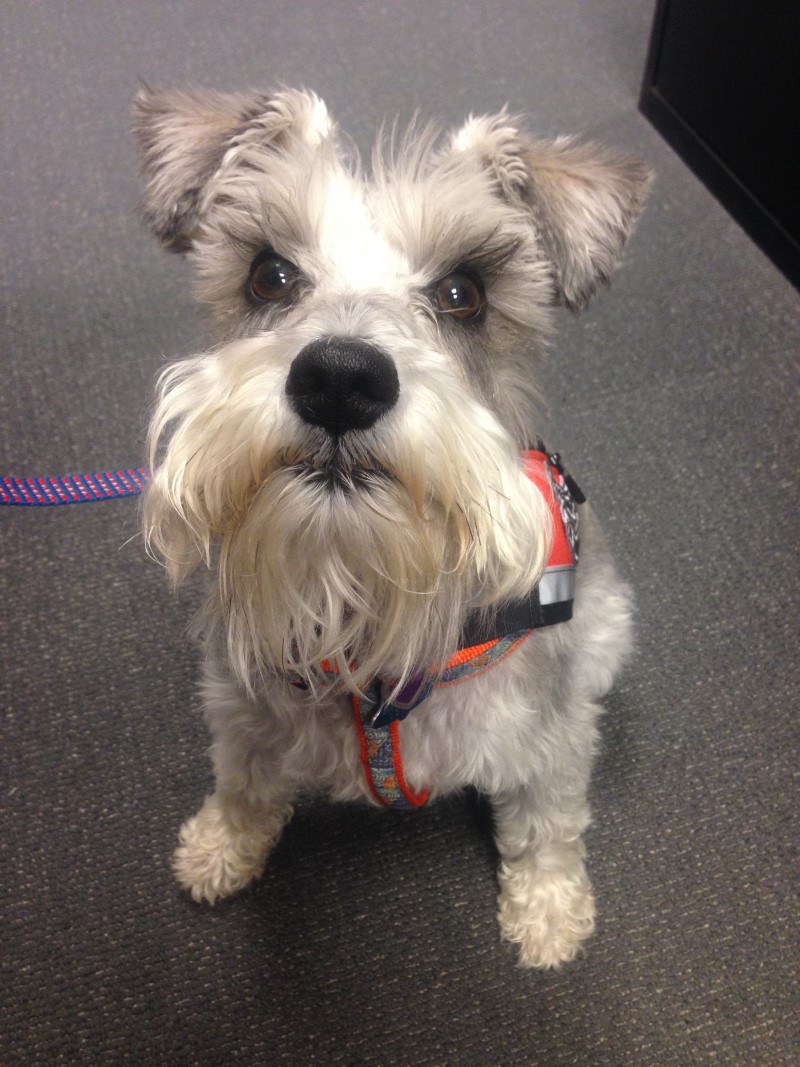 very social and has never met a stranger. Sophie is extremely vocal and lets people know that she wants some attention. When she enters a room she barks to let everyone know that she has arrived!! She loves to visit campus and make new friends. No matter how many people are in a room Sophie makes sure that she visits every single one of them. She works at the Alumni Association with her Mom Joy Fieldsend. She greets visitors and enjoys meeting students taking campus tours. Before she can start her day at work she has to visit every office at the Alumni Association to say hello! In her free time Sophie loves to cheer on her OSU cowboys in front of the TV and always wears her orange bandana on game days. Her favorite thing about being a member of Pete's Pet Posse is all the new friends she has made.
Sophie has received her Canine Good Citizen and is officially registered with Alliance of Therapy Dogs.
Strudel may be small in stature but he makes up for it with his big personality! He loves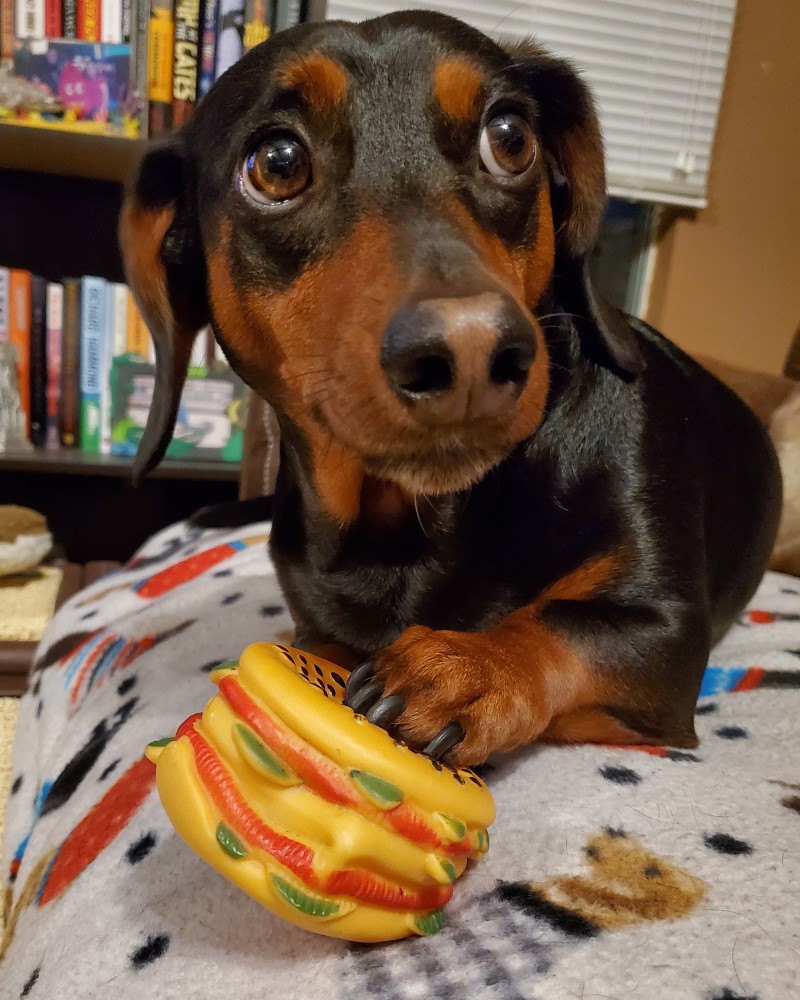 meeting new people, going for walks and car rides, and of course having his belly rubbed. Strudel considers himself a professional taste tester and loves fruits and vegetables, with strawberries and bell peppers being his favorite. He has an extensive toy collection, and he is never far from his favorite stuffed llama or chicken. His hobbies include squeaking toys through his parents' favorite tv shows, growling at nothing in the middle of the night to scare his mom, rolling outside and bringing his grass collection in through the doggie door, and working to prefect those adorable puppy dog eyes to get whatever he wants. His arch nemesis is a rolling trash can, and his life's work is to protect his family from the weekly trash truck. Strudel is gentle, smart, and true to his dachshund nature, a dash of stubborn. We are so excited for Strudel to be part of P3 and to share his sweetness across campus.
You can visit Strudel in his mom's office in the OSUTeach suite in 114 LSE. Strudel has earned the AKC Canine Good Citizen award and is certified with Alliance of Therapy Dogs.
Sutton Sue Cost was born in the Oklahoma City shelter on March 17, 2021. She was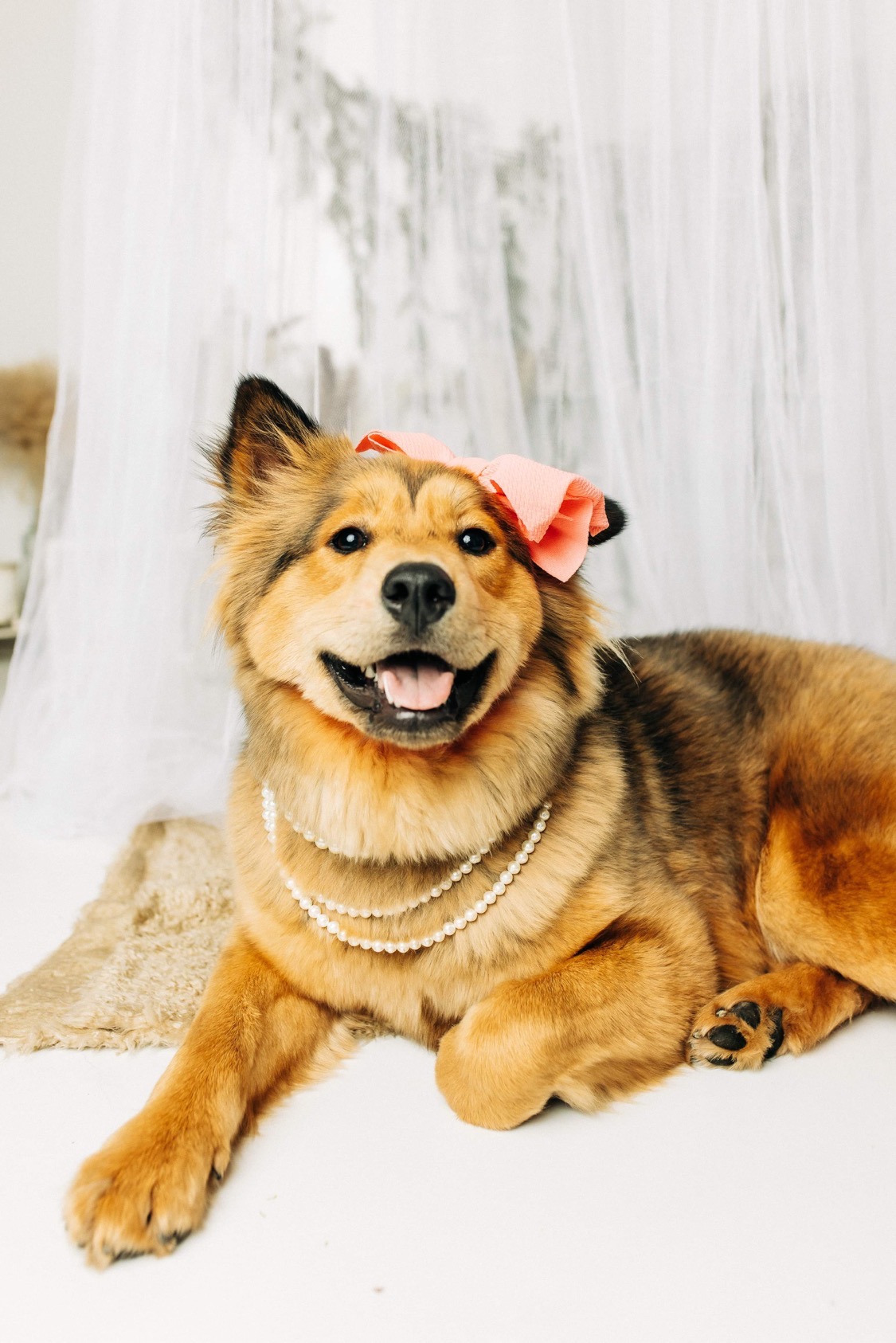 adopted as a puppy and then returned to the shelter. Her current and forever family adopted her from the OK Humane Society on March 4, 2022. She is the youngest of 4 rescued furry kids and brought the puppy party when she joined Scooter (17), Annie (14), and Charlie (11), who was in the first class of Pete's Pet Posse in 2013. She is an inquisitive, curious and busy little girl and loves her new life on the lake. She likes to play fetch and she loves to watch basketball on TV. She is named after former OSU men's basketball coach and Naismith Memorial Basketball Hall of Fame member, Eddie Sutton. She loves her Cowboys and honors Coach Sutton's legacy daily by adhering to his words of wisdom, "Always have faith in God, yourself, and the Cowboys."
Sutton works with her mom in the Ann Hargis OSU Center for Pet Therapy. Sutton has earned the AKC Canine Good Citizen award and is certified with Alliance of Therapy Dogs.
T is a beautiful, happy, strong, confident, and differently-abled Doberman. T was hit by a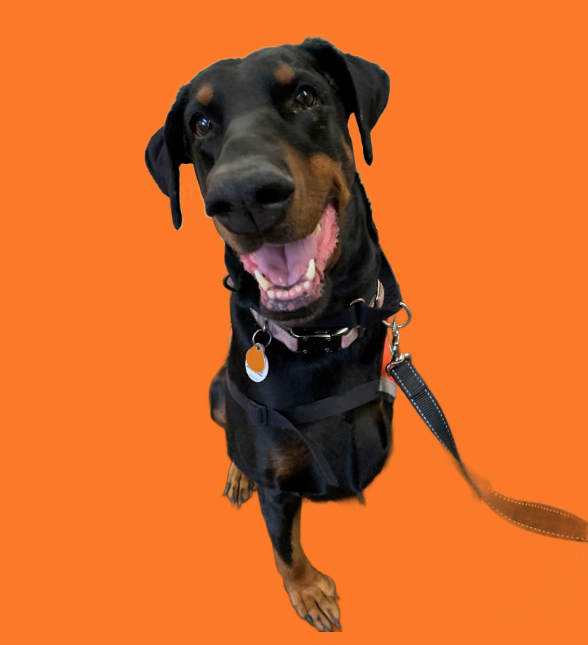 car and had her leg amputated in July 2021; she was taken in, cared for, and rehabilitated by the Doberman Rescue Group. Once healthy and mobile, T joined her forever home in Stillwater in May 2022 with her parents Kincy Madison and Kyle Ferguson and her brother Q (another special Doberman rescue). T loves to eat; she is quite good at counter-surfing for food and occasionally sneaking bites of leather couches, shoes, boots, and purses. She loves spending leisure time outside watching squirrels, geese, and ducks. She also loves roughhousing with her brother and teaching him new tricks. She is a sound sleeper (and snorer). But most of all, she is loveable, always has a smile on her face, and wants to make everyone around her happy. T is a proud member, and the first Doberman, of Pete's Pet Posse! She loves being part of the Cowboy Family and is always excited to attend events on campus to make new Cowboy friends. She earned her the AKC Canine Good Citizen award and is certified with Alliance of Therapy Dogs.
Tessa was born in August of 2014. She is ¾ Golden Retriever and ¼ miniature poodle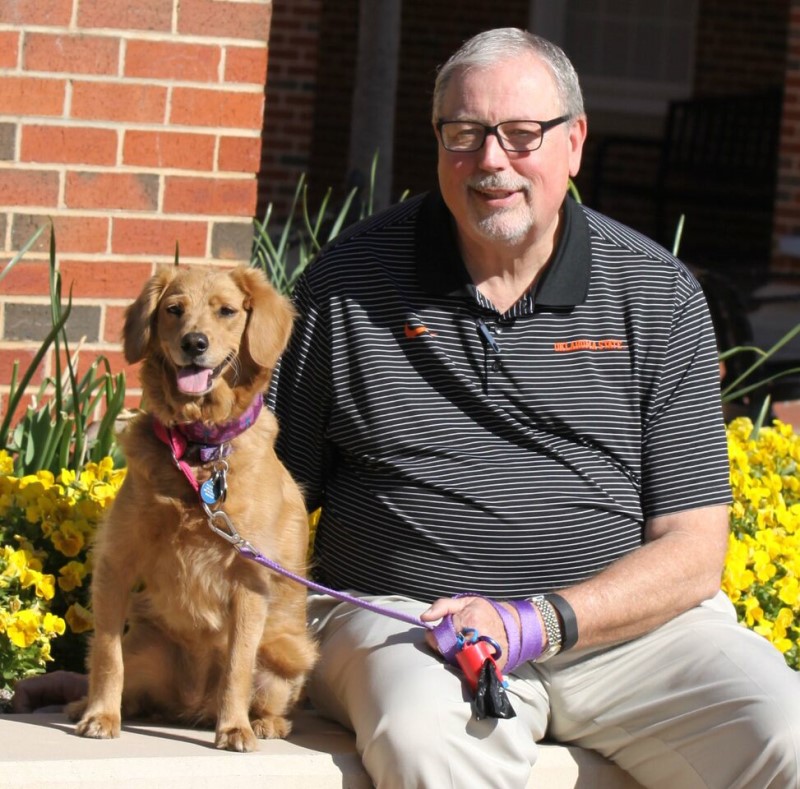 but she looks like a mini Golden Retriever. Tessa began her career as a therapy dog while her parents lived in Louisville, Kentucky. When they moved to Stillwater in 2016, she was thrilled to go through the Posse training program.
Tessa's favorite activity is retrieving a ball or toy. She gets excited and runs to the door when she sees her orange Posse vest. Her favorite food is anything edible, but she doesn't quite understand bananas. Like all the Posse dogs, Tessa loves to be petted, however she has one unusual habit: She will rollover for tummy rubs, but only from women… Sorry guys.
You can meet Tessa in Industrial Engineering and Management, located on the 3rd floor of Engineering North where her dad, Dr. Tim Hardin, is faculty
Tessa is a Canine Good Citizen and is nationally certified with Alliance of Therapy Dogs.
The timing of Theo's birth, New Year's Eve 2016, was symbolic. Six weeks after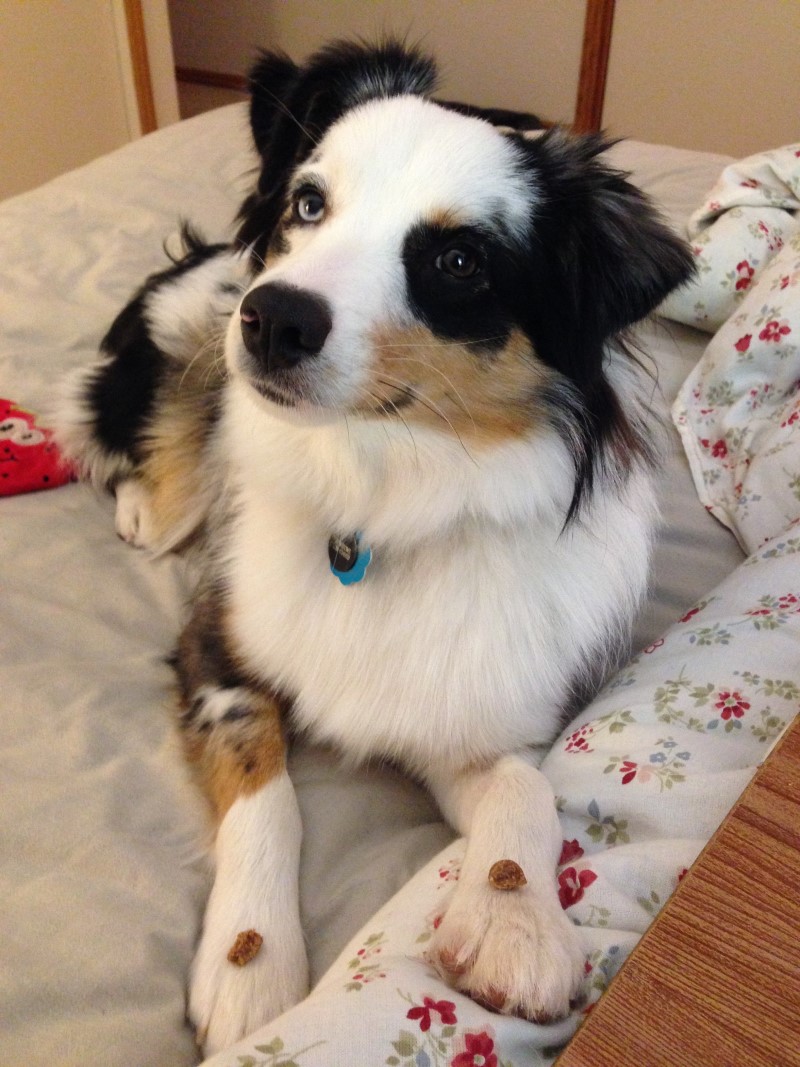 ushering in the new year, he would usher in a new era for his family—Andrea, Mike, and two feline sisters (Sylvie and Pogo). An adopted older brother Dax (a black Dachsador) would join the family a year later. His human parents appreciate the ways Theo reminds them of a few of the fundamentals of leading a good life. Theo wakes up every morning expecting that day to be the best day EVER, and he greets nearly everyone as a potential new best friend. He expresses deep gratitude for his daily kibbles, enjoys his relationships to the max, and is quick to share his affection. He lives fully in the moment.
Theo's three favorite pastimes are: (1) enticing Dax to chase him, (2) coaxing Dax to wrestle with him, and (3) actually wrestling with him. Theo also loves new people, places, and learning in general—so he loves being part of Pete's Pet Posse! If you meet him, you'll have to ask him how he feels when the Pokes beat their rivals.
You can meet Theo with his dad, Dr. Mike Yough, in the Educational Psychology Program on the second floor of Willard Hall (214) or at various campus events. Theo has earned the AKC Canine Good Citizen award and is certified with Alliance of Therapy Dogs.
Tillie is an Irish wolfhound. Born May 2022, she and her sister, Sorcha, came to their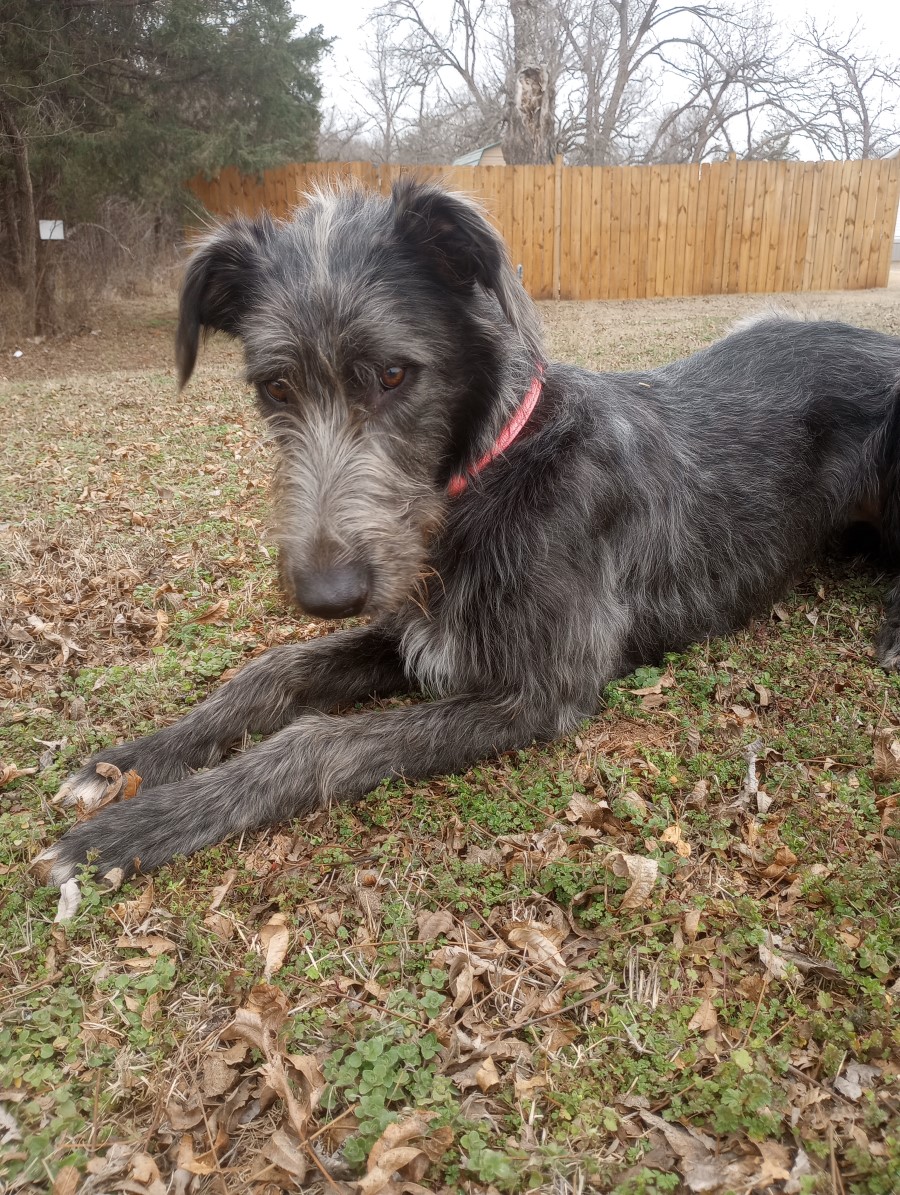 home 3 months later. Tillie's Irish name is Tuilelaith – pronounced Til-ah-lah. Tillie loves to play outside with her sister. Her favorite activities are chasing her kitty sisters (only to play, not to harm), chasing her tail, and flying over tall fences. Seriously, she thinks she is a superhero and can leap a 5-foot fence with a smile. Tillie's other favorite activities include scoping out kitchen counters to see if anyone left a dirty dish that might need cleaned and snuggling up for scritches. Tillie often thinks that she is a "small" puppy and if something scares her, she will try to wedge her way in between her mom's legs. This is a particularly bad idea as Tillie is tall and her mom… is not. Tillie is very quiet and enjoys loves and cuddles. She works with her mom in DASNR Human Resources. Tillie has earned the AKC Canine Good Citizen award and is certified with Alliance of Therapy Dogs.
Winnie, a Shih Tzu/Lhasa Apso mix, is a "rescue dog" in the way she rescued Sherri and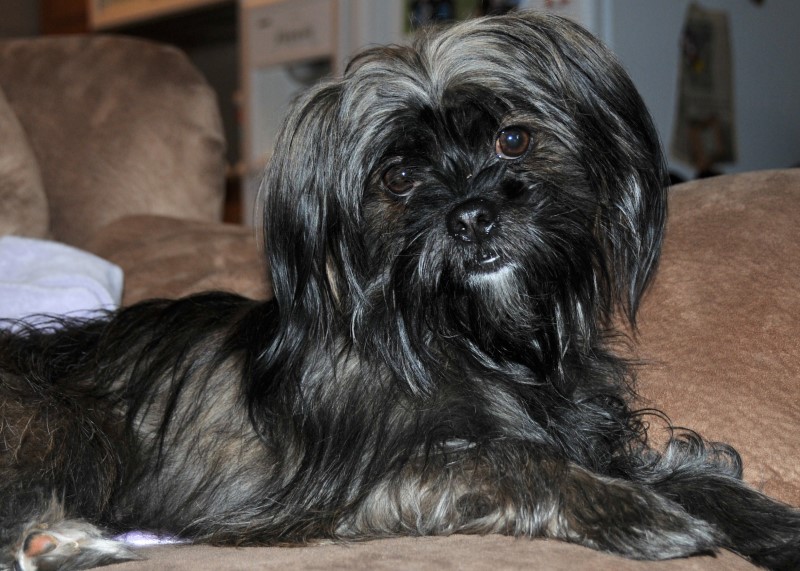 her husband after their daughters moved away to attend college. Her attentive personality and attitude put a smile back into their hearts when their world at home was undergoing drastic changes.
Her attentiveness is not directed solely toward her family; she has the same caring, "tuned-in" attitude toward everyone she encounters. If someone isn't feeling well, she's "on duty." If something odd's going on outside and she's inside, she immediately wants to go out to take care of business, even if her "sister" Chloe is totally disinterested.
Although Winnie is a "take charge" girl, she doesn't do it with any hint of aggressiveness (unless the wild turkeys near her backyard flap their wings and make too much noise; then she'd rather they just fly away). You just can't help falling in love with her, because she immediately falls in love with everyone. One look into those soulful eyes of hers and you'll be hooked.
Sherri and Troy Longan love this little girl so and wanted to share her with the OSU community. They say that when Winnie's people have all returned home for the evening, she runs to get her favorite toy and jumps onto Troy's lap, repeatedly squeaking her toy. They're sure this is her way of letting them know all is right with the world.
Winnie has received her Canine Good Citizen and is officially registered with Alliance of Therapy Dogs. She and her mom are part of the School of Kinesiology, Applied Health and Recreation.
"If you live to be a hundred, I want to live to be a hundred minus one day so I never have to live without you." ― A.A. Milne, Winnie-the-Pooh
Winston was born in October of 2015 in Sharpsburg, Georgia. After tons of research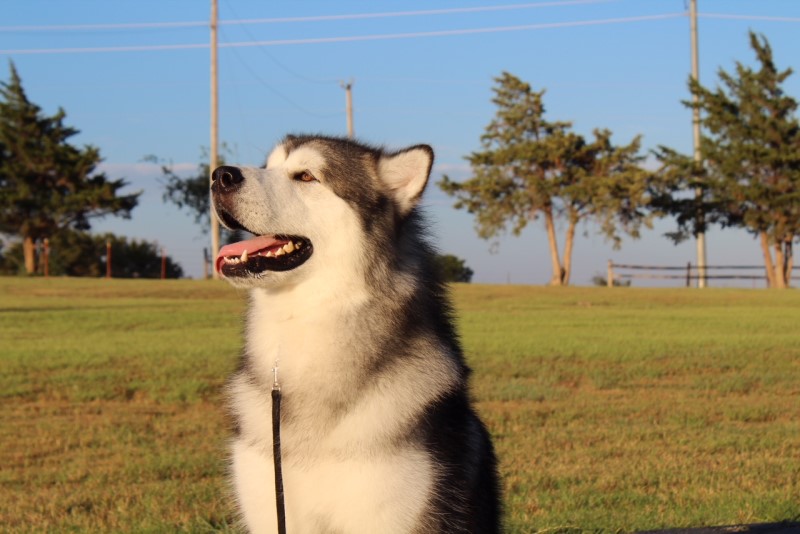 and searching for the right breed for our family, we decided we wanted an Alaskan Malamute. We wanted a large dog with a gentle temperament and Winston has been a perfect fit! His best friend at home is Saki, our 14 lb. Shiba Inu/Alaskan Klee Kai mix. She is small but mighty and can sound like a Tazmanian devil to keep Winston in line. He also has two other friends at home – Shiba Inus, Kuma and Miko. But, Saki is his BFF!
Winston is very used to lots of attention – he earned his AKC Conformation Championship when he was two-years-old, so he is accustomed to being touched and groomed. He even gets his teeth brushed three times a week and doesn't mind at all! Winston will do just about anything for a treat. Some of his favorite special treats are cheese cubes and beef jerky. His favorite toy is an oversized squeaky tennis ball, and he carries it around the house with great pride.
People wonder why he doesn't have a name that matches his breed like our other three dogs. The reason is that his dad, Enzo, was flown to Georgia from the United Kingdom to breed with his mom, Fiona. Since Winston is half British, we decided to name him after Winston Churchill. His AKC registered name is "Vykon's Amorak Their Finest Hour."
Winston loves meeting students all over campus! Please don't be afraid when he greets you with a friendly howl because he loves to talk! Winston has the Canine Good Citizen certification and is registered with Alliance of Therapy Dogs. You can find Winston on campus with his mom, Ragan, in her office in Department of Human Development and Family Science.