In Loving Memory
---
Pete's Pet Posse – Class 1
February 20, 2005 - January 15, 2015
Bella was born February 20, 2005. But her life really began in August 2009 when she found her forever parents, Kirk and Jan Jewell. Before her life as a Cowgirl, her name was "Doddie". She lived with a family who could no longer care for her and needed to find a home for her. Jan was still grieving the loss of her miniature schnauzer, Harley, and was determined she was NOT going to get another dog. That is, until she met Bella. It was love at first sight. Bella rode home in Jan's lap – her favorite place to be for the next five years.
Bella had many special gifts and she was at her best when she began sharing those gifts with others. She spent every weekend visiting her Grandpa Jewell in the Alzheimer's Unit at the Veteran's Center in Claremore. His face would light up as soon as Bella arrived and he would always say, "This is who I've been waiting for!" She would go immediately to him and sit quietly in his lap while he talked and petted her. No one knew at the time, but Bella was practicing for a much bigger role.
She loved everyone she met and made a difference in so many ways. Because of her sweet and kind spirit, she was selected as part of the first class of dogs trained in Pete's Pet Posse, the pet therapy program at Oklahoma State University. She bonded with her classmates (both two legged and four legged) and became a class favorite. She was quickly named the class diva and everyone in class could tell a Bella story. Perhaps it was practicing the "leave it" command – when she was performing perfectly but suddenly turned into the ninja pup and stole treats off the pile – and then continued to walk as if nothing had happened. Or maybe it was when she realized she had to perform "leave it" and she refused to even look in the direction of the treats. And everyone knew Bella did not like walking on tile or concrete or brick, she was a carpet girl!
Bella LOVED her role as a Pete's Pet Posse pup and she loved her visits on campus. And the students, faculty, and staff loved her right back. She brought comfort to a sorority as they grieved the loss of a sister. She brought peace to students as they prepared for an exam. She brought smiles and joy to everyone she met, whether it was in the Student Union, the Library, or just walking around campus. She often made campus visits with her buddies Charlie or Scruff, the First Cowgirl's dog. Ann Hargis affectionately called the Bella and Scruff team, "Lady and the Tramp."
January 9, 2015, Bella suffered a seizure and was taken to the OSU Veterinary Medical Hospital. After testing and evaluation, Bella was diagnosed with cancer of the spleen. Additional testing revealed it was too advanced to treat, and the greatest gift they could give Bella was to end her suffering. Just as she had given so unconditionally during her lifetime, her parents gave her the gift that she needed. On January 15, 2015, Bella peacefully left us. Surrounded by doctors and student residents who provided comfort and compassion to Kirk and Jan, Bella left this world surrounded by love. She will be missed by not only her "real" family, but also by her OSU family and all of those who loved and adored her. When she left, she took a little piece of all of us with her.
Donations may be made in Bella's memory to Pete's Pet Posse by contacting the OSU Foundation at 405.385.5607 or by clicking here.
---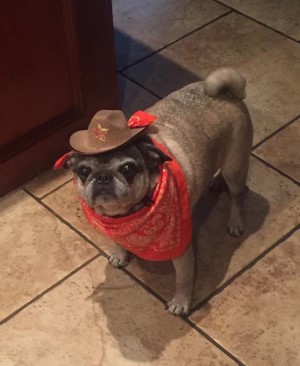 Bugsy "The Pugsy" Shreffler
January 2009 – November 25, 2019
Bugsy was born in January 2009, but his life really began on September 9, 2009, when he was adopted by Rachel and Tommy Shreffler.
Bugsy arrived at the Stillwater Humane Society in 2009 when he was approximately 8 months old. The Shrefflers heard him crying in a kennel and found him sad and scared. They still don't understand why he was there, but they are grateful he became part of their family that day.
Bugsy was a laid-back fawn pug who never met a stranger. He always greeted people with a smile and a tail wag. He welcomed a good back scratchin', never turned down a treat, and would usually crawl right up in your lap. He also loved to be in the middle of all the action! He enjoyed napping, taking leisurely walks and following his mom everywhere she went.
Bugsy served as a member of Pete's Pet Posse. He graduated with his friends in Class 6 in June 2018. He had his Canine Good Citizen and was nationally certified as a pet therapy dog through Alliance of Therapy Dogs. He proudly served Oklahoma State University alongside his mom, Rachel.
He was the furry brother to his human sisters, Abigail, Addison and Emory. He was also brother to Cooper the Cat, and his rescued Pug sister, Lucca.
Bugsy may have been small, but his heart was big. He made a big difference in a lot of lives, and he will be missed.
---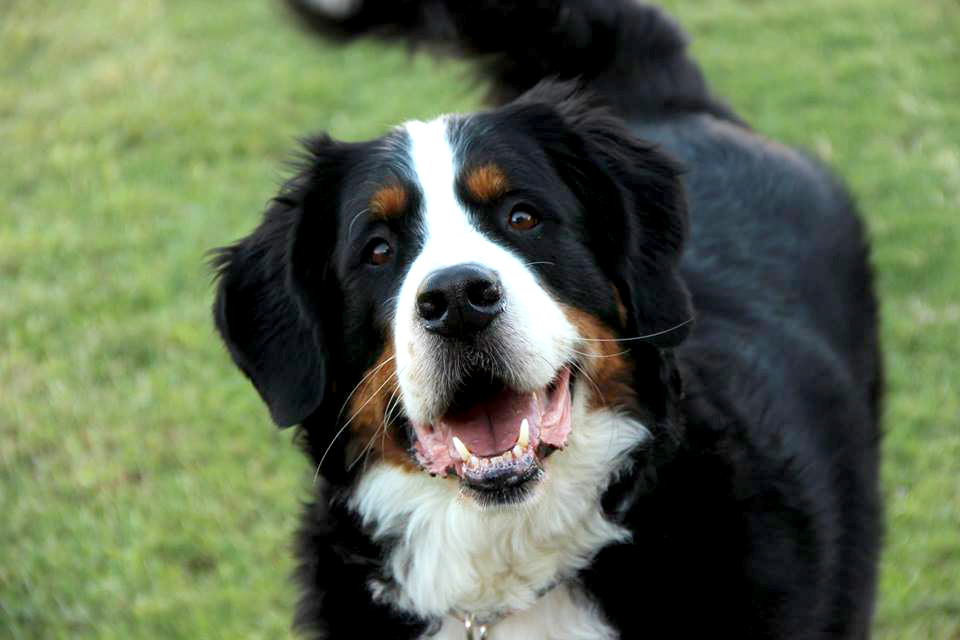 November 22, 2009 - March 22, 2019
Liam James Sherin was a Bernese Mountain Dog who was part of Pete's Pet Posse at Oklahoma State University. He was born on November 22, 2009 in Lander, Wyoming, and found his forever family living in Casper nine weeks later. He grew big very quickly, and sometimes didn't realize how large he was until after he had knocked over books, lamps or food off of the dining table. He loved to go for long walks in the cold and snow, loved eating rawhide bones, and loved cuddling with his family whenever he could. He was incredibly sweet, and loved every person he met, although he scared at least half of them when he got excited to see them.
He moved with his family to Stillwater, Oklahoma in November of 2013, and became an official member of Pete's Pet Posse in 2016. He loved to visit campus and meet students, staff and faculty, and always seemed to be smiling when he would pose for pictures. It was on the OSU campus that Liam discovered what he thought was the most intriguing thing on the planet: the squirrel. Liam desperately searched for any and all squirrels every time he got to walk around campus, and would circle and search trees he had seen squirrels climb weeks before in an attempt to find them once again. Even when he was ill, Liam was always eager to greet people, and it was a telling sign of Liam's sweet nature that he always wanted to make people happy, and never wanted to let his family down.
He died of liver cancer on Friday, March 22, 2019. He was surrounded by his loving family when he passed, and he will be greatly missed by all who met and loved him.
July 20, 2009 - May 27, 2018
Nellie was a beautiful Bullmastiff and consistent with her breed, she was a gentle giant. She joined Pete's Pet Posse in 2015 and spent her days serving others with her mom, Dr. Dianne McFarlane. She especially enjoyed visiting with the veterinary students, and although a trip to the classroom or study hall was "The Best," she also loved to visit vet students in the OSU Veterinary Medical Hospital, even if it might mean getting a shot. Nellie was a really good sport. She was known to dress up in costumes around finals to help lift the spirits of the weary students and staff. It didn't matter to her if she looked a little silly dressed as Mrs. Santa or the Easter Bunny.
Nellie was a Canine Good Citizen and was nationally registered with Alliance of Therapy Dogs. Her hobbies included traveling to dog agility and obedience events across the country. While she had successfully gathered titles in both events, she didn't really take either very seriously. She was in it to please the crowd, and could be a bit of a clown when in the ring. She was a big happy girl with a big heart and a bit of slobber.
Nellie will be missed by her mom, all of her friends on campus and her furry siblings Natty and Jax. Her sister, Natty, became part of Pete's Pet Posse in 2018 and will continue the good work started by Nellie.