In Loving Memory
---
Pete's Pet Posse – Class 1
February 20, 2005 - January 15, 2015
Bella was born February 20, 2005. But her life really began in August 2009 when she found her forever parents, Kirk and Jan Jewell. Before her life as a Cowgirl, her name was "Doddie". She lived with a family who could no longer care for her and needed to find a home for her. Jan was still grieving the loss of her miniature schnauzer, Harley, and was determined she was NOT going to get another dog. That is, until she met Bella. It was love at first sight. Bella rode home in Jan's lap – her favorite place to be for the next five years.
Bella had many special gifts and she was at her best when she began sharing those gifts with others. She spent every weekend visiting her Grandpa Jewell in the Alzheimer's Unit at the Veteran's Center in Claremore. His face would light up as soon as Bella arrived and he would always say, "This is who I've been waiting for!" She would go immediately to him and sit quietly in his lap while he talked and petted her. No one knew at the time, but Bella was practicing for a much bigger role.
She loved everyone she met and made a difference in so many ways. Because of her sweet and kind spirit, she was selected as part of the first class of dogs trained in Pete's Pet Posse, the pet therapy program at Oklahoma State University. She bonded with her classmates (both two legged and four legged) and became a class favorite. She was quickly named the class diva and everyone in class could tell a Bella story. Perhaps it was practicing the "leave it" command – when she was performing perfectly but suddenly turned into the ninja pup and stole treats off the pile – and then continued to walk as if nothing had happened. Or maybe it was when she realized she had to perform "leave it" and she refused to even look in the direction of the treats. And everyone knew Bella did not like walking on tile or concrete or brick, she was a carpet girl!
Bella LOVED her role as a Pete's Pet Posse pup and she loved her visits on campus. And the students, faculty, and staff loved her right back. She brought comfort to a sorority as they grieved the loss of a sister. She brought peace to students as they prepared for an exam. She brought smiles and joy to everyone she met, whether it was in the Student Union, the Library, or just walking around campus. She often made campus visits with her buddies Charlie or Scruff, the First Cowgirl's dog. Ann Hargis affectionately called the Bella and Scruff team, "Lady and the Tramp."
January 9, 2015, Bella suffered a seizure and was taken to the OSU Veterinary Medical Hospital. After testing and evaluation, Bella was diagnosed with cancer of the spleen. Additional testing revealed it was too advanced to treat, and the greatest gift they could give Bella was to end her suffering. Just as she had given so unconditionally during her lifetime, her parents gave her the gift that she needed. On January 15, 2015, Bella peacefully left us. Surrounded by doctors and student residents who provided comfort and compassion to Kirk and Jan, Bella left this world surrounded by love. She will be missed by not only her "real" family, but also by her OSU family and all of those who loved and adored her. When she left, she took a little piece of all of us with her.
Donations may be made in Bella's memory to Pete's Pet Posse by contacting the OSU Foundation at 405.385.5607 or by clicking here.
May 11, 2010 – September 13, 2020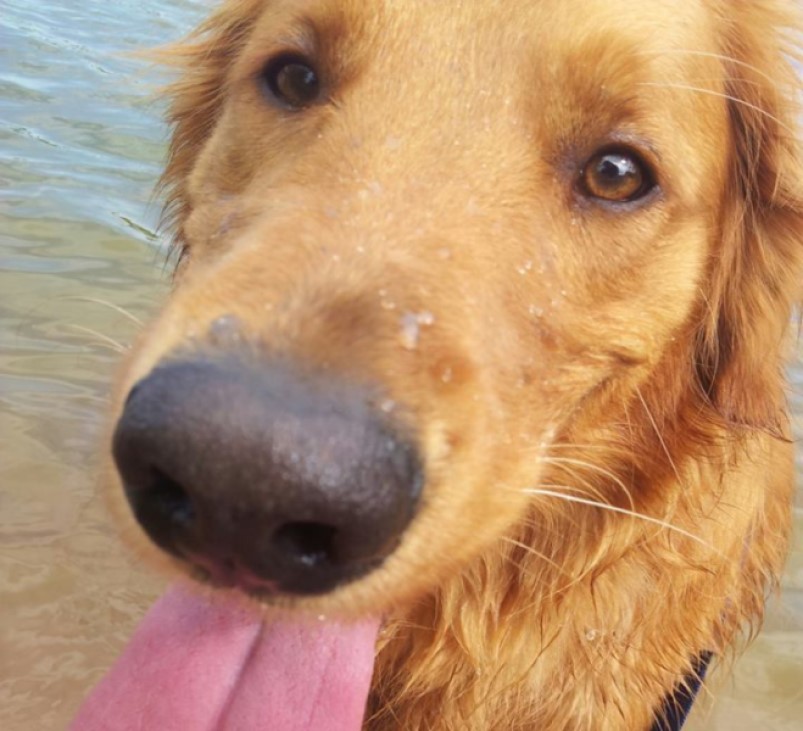 Brisket was a ten year old Golden Retriever who never met a stranger. His parents met him on the day he was born, and almost immediately they knew he was the puppy for them. Brisket came from a big family— a dog brother, a cat sister, two horse siblings, and a pig sister. He loved them all, but he loved the pig from afar because he found her a little scary. He also had a little human brother, Max, that he loved fiercely and unconditionally.
In his spare time, Brisket enjoyed eating breakfast, taking long walks, playing ball, eating dinner, and patrolling the fence line for any squirrels that may be passing by. Brisket also enjoyed his visits to the dog park—not necessarily to play with other dogs, but mostly he wanted to meet some new humans who may be up for petting him.
Brisket proudly served in Pete's Pet Posse with his mom, Lauren. He started working in Nutritional Sciences in 2016, and he brightened the lives of others every time his furry feet walked through the door. Becoming a pet therapy dog made him incredibly happy and changed his life. He was so excited to join his mom on campus and be part of OSU. Brisket had a lot of love to give and he loved to share it with others.
Brisket had his Canine Good Citizen Certificate and was officially registered with Alliance of Therapy Dogs.
He made a big difference at Oklahoma State and we will miss him.
---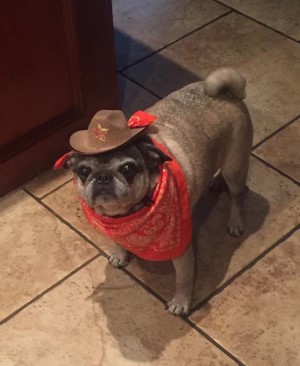 Bugsy "The Pugsy" Shreffler
January 2009 – November 25, 2019
Bugsy was born in January 2009, but his life really began on September 9, 2009, when he was adopted by Rachel and Tommy Shreffler.
Bugsy arrived at the Stillwater Humane Society in 2009 when he was approximately 8 months old. The Shrefflers heard him crying in a kennel and found him sad and scared. They still don't understand why he was there, but they are grateful he became part of their family that day.
Bugsy was a laid-back fawn pug who never met a stranger. He always greeted people with a smile and a tail wag. He welcomed a good back scratchin', never turned down a treat, and would usually crawl right up in your lap. He also loved to be in the middle of all the action! He enjoyed napping, taking leisurely walks and following his mom everywhere she went.
Bugsy served as a member of Pete's Pet Posse. He graduated with his friends in Class 6 in June 2018. He had his Canine Good Citizen and was nationally certified as a pet therapy dog through Alliance of Therapy Dogs. He proudly served Oklahoma State University alongside his mom, Rachel.
He was the furry brother to his human sisters, Abigail, Addison and Emory. He was also brother to Cooper the Cat, and his rescued Pug sister, Lucca.
Bugsy may have been small, but his heart was big. He made a big difference in a lot of lives, and he will be missed.
May 10, 2013- July 6, 2022
Cali, lovingly called Cal-Pal or Cal-zone by most, was rescued by the OSU Rodeo Coach
when she was just two-years old. She was malnourished and scared of people.
Shortly after her rescue, she adopted her mom, Sara, who was a member of the rodeo team and a student at Oklahoma State University. They became inseparable and traveled all over the country for college rodeos, which became Cali's very favorite activity. She also enjoyed playing at the beach when visiting family and also going for runs. But her very favorite place was always with her mom. During the last ten years, they had many fun adventures and created many special memories. When Sara graduated from OSU and became an employee, she applied to be part of Pete's Pet Posse with Cali. Sara realized Cali's special gift of giving back and loving others, and Cali embraced her role and made a difference in the lives of many. She really thought she was a person and could draw people in with her sweet eyebrows and kind gentle spirit. She stole many hearts as a member of Pete's Pet Posse. She spent time at the OSU Stillwater campus, but the last few years the majority of her time was spent at OSU-OKC, where she was loved and adored.
September, 2011 – August 11, 2022
Chunk was a very energetic Blue Heeler Mix. She was adopted by Tyrrell and Sharri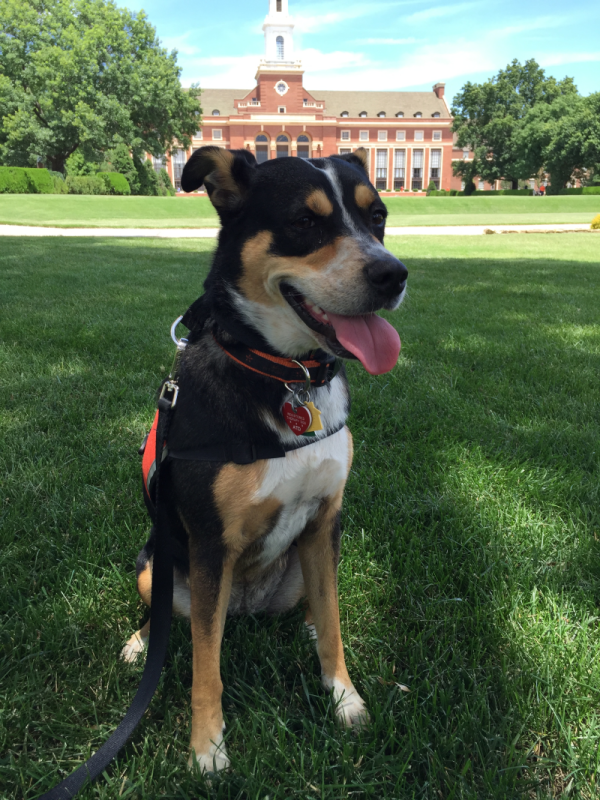 Conway in September 2015 from a family member who could no longer care for her.
Once Chunk was adopted, life became one big adventure! She loved going to the vet and she loved Pistol Pete. She took several hundred walks and retrieved countless balls, bones, stuffed toys, etc. during playtime. She enjoyed having "jobs" to do. Each morning, she relocated all of her toys and bones. She constantly tried to "herd" her family, following her Mom around the house all day. The love of a new family brought remarkable changes in Chunk's life.
Chunk's new family recognized something special in her. They applied to be part of Pete's Pet Posse and she became a therapy dog at Oklahoma State University. She began going to school with her dad and she quickly became the Microbiology Mascot. She spent time with her mom attending events across campus and she met thousands of people through her pet therapy work. Her parents loved sharing her boundless energy and enthusiasm with others through the Pete's Pet Posse program. Chunk was a dog with many passions, among them chasing squirrels and swimming, but her chief passion was serving humans. She was the leader of a large pack, and if you met her, you were part of it.
Chunk was a Canine Good Citizen and was nationally certified with Alliance of Therapy Dogs.
Chunk was recently diagnosed with cancer and she passed away peacefully after a very quick fight. It was the only fight she ever lost and she was brave to the end. Her memory will continue to live on through the impact she made through her therapy work and she will be missed by many.
Cooper was rescued from a cornfield in Iowa. He was abandoned outside his future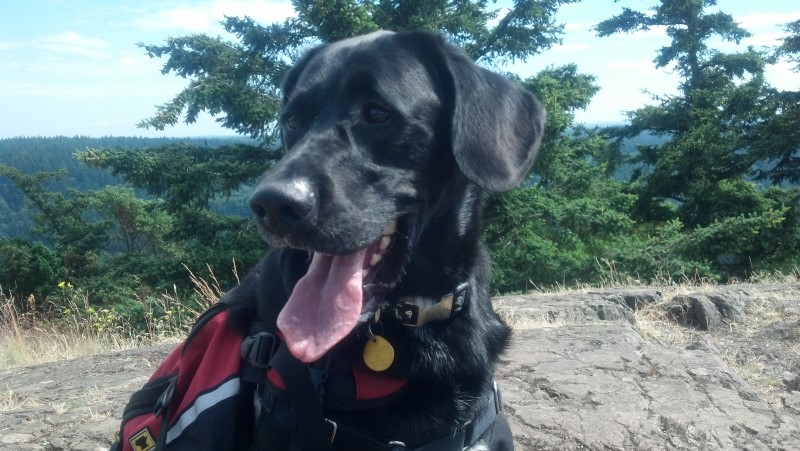 grandparents' farm and was just a few months old when he was found. He was emaciated and malnourished, but even then he was a sweet, gentle, and well-mannered puppy. He adopted his parents, Stephen and Holley, and that is when life began!
After spending a few years living and adventuring in Tacoma, Washington, Cooper made his way to Oklahoma and set up permanent residence in Stillwater. He was a Labrador Retriever mix who enjoyed hiking, tummy rubs, and swimming (as long as it wasn't disguised as a "bath"!). He was an easygoing dog who was always ready to show off some of his tricks. Sit, high-five, or play dead – he was a smart dog who liked performing for a crowd and for treats. He never did learn to fetch and he may have been one of the worst retrievers you ever met! But his other endearing qualities more than made up for it.
He was a Pete's Pet Posse veteran, graduating with Class 2, and proudly served the Department of Political Science with his parents, who are both professors. In addition to his work as a therapy dog, Cooper traveled the country with his mom and dad. Some of his favorite travels included his visits to Yellowstone, hiking in the Olympic Mountains, and swimming in the Pacific Ocean. He loved traveling, but he was always glad to get back home where he proudly wore his OSU tartan vest and greeted people all over campus.
When visiting the vet for the first time, it was estimated Cooper was born in February. His grandpa suggested, in true dad joke form, they celebrate Cooper's birth on Ground-dog Day! It became a family event and Ground-dog Day became Cooper Day. He recently celebrated his 12th Ground-dog/Birthday and enjoyed his own salmon filet – one of his very favorite meals.
Cooper was diagnosed with cancer just two weeks ago and the disease progressed very quickly. His parents are grateful for the excellent care he received at the OSU Veterinary Medical Hospital. Cooper spent his life caring for Cowboys, and in the end, a wonderful group of Cowboys cared for him.
Cooper was a Canine Good Citizen and was nationally certified with Alliance of Therapy Dogs.
He was loved by many and he will be missed.
Adopted July 3, 2013 – December 28, 2021
Evie arrived at Oklahoma State University's Veterinary Medical Teaching Hospital (OSUVMTH) in May 2013. She was found wandering the streets of Shawnee, Oklahoma after a tornado blew through leaving a trail of destruction. The 2-year-old spayed black and tan shepherd was full of ticks and tested positive for heartworm.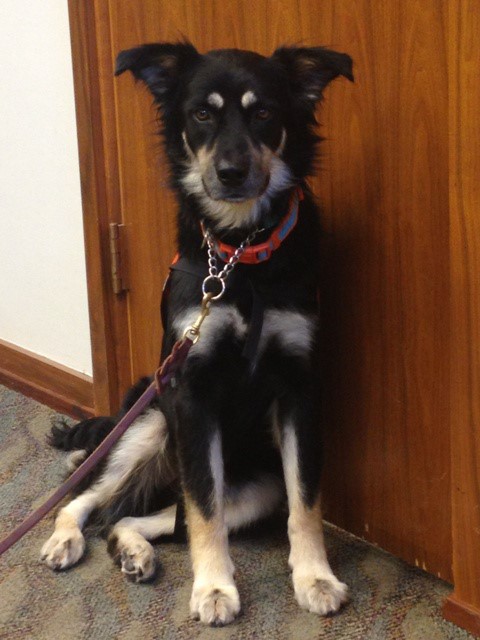 Thanks to many generous donors who contributed to the OSU Animal Relief Fund, Evie was treated at no charge at OSUVMTH and every attempt was made to find her owners. However, no one ever claimed this sweet girl.
Instead of giving up, Evie gave back! She became part of the first class of Pete's Pet Posse and helped lay the foundation for the pet therapy program.
She was adopted July 3, 2013, by OSU employee, Lorinda Schrammel, and she lived the good life with her mom, her dad, David, and her two legged siblings, Gage and Allie. Evie was her mom's shadow and her very best co-worker. She spent her time brightening the lives of others in Human Resources. She welcomed new employees to OSU during New Employee Orientation and she served as a greeter to those who visited the office. She had her own fan club and had visitors on a regular basis, some of which brought her treats in addition to lots of pats and hugs. And after all this sweet girl had been through, she deserved it.
In exchange for all the love she received, Evie kept her corner of campus squirrel free. She loved nothing more than to take a squirrel patrol break and she took much pride in showing those squirrels who was in charge. She and her mom participated in countless pet therapy visits across campus and Evie touched too many lives to count. She was the ultimate example of forgiveness and giving back, and she helped many students and employees through difficult times. Her tail never stopped wagging and she never stopped loving.
Evie was a Canine Good Citizen and was nationally registered with the Alliance of Therapy Dogs.
Evie passed away Tuesday, December 28, 2021. She will be missed by many and she will be remembered always.
---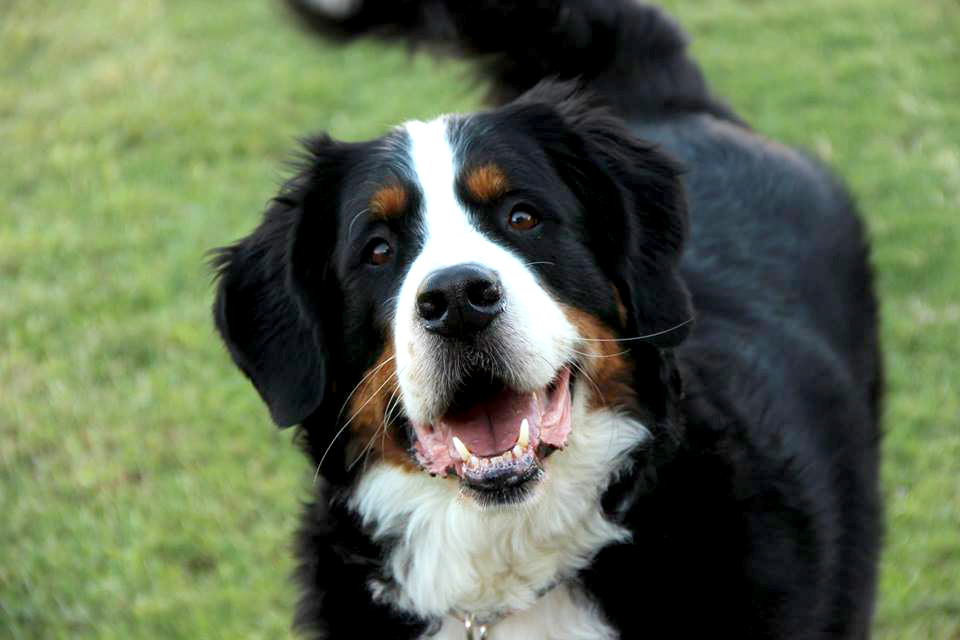 November 22, 2009 - March 22, 2019
Liam James Sherin was a Bernese Mountain Dog who was part of Pete's Pet Posse at Oklahoma State University. He was born on November 22, 2009 in Lander, Wyoming, and found his forever family living in Casper nine weeks later. He grew big very quickly, and sometimes didn't realize how large he was until after he had knocked over books, lamps or food off of the dining table. He loved to go for long walks in the cold and snow, loved eating rawhide bones, and loved cuddling with his family whenever he could. He was incredibly sweet, and loved every person he met, although he scared at least half of them when he got excited to see them.
He moved with his family to Stillwater, Oklahoma in November of 2013, and became an official member of Pete's Pet Posse in 2016. He loved to visit campus and meet students, staff and faculty, and always seemed to be smiling when he would pose for pictures. It was on the OSU campus that Liam discovered what he thought was the most intriguing thing on the planet: the squirrel. Liam desperately searched for any and all squirrels every time he got to walk around campus, and would circle and search trees he had seen squirrels climb weeks before in an attempt to find them once again. Even when he was ill, Liam was always eager to greet people, and it was a telling sign of Liam's sweet nature that he always wanted to make people happy, and never wanted to let his family down.
He died of liver cancer on Friday, March 22, 2019. He was surrounded by his loving family when he passed, and he will be greatly missed by all who met and loved him.
July 20, 2009 - May 27, 2018
Nellie was a beautiful Bullmastiff and consistent with her breed, she was a gentle giant. She joined Pete's Pet Posse in 2015 and spent her days serving others with her mom, Dr. Dianne McFarlane. She especially enjoyed visiting with the veterinary students, and although a trip to the classroom or study hall was "The Best," she also loved to visit vet students in the OSU Veterinary Medical Hospital, even if it might mean getting a shot. Nellie was a really good sport. She was known to dress up in costumes around finals to help lift the spirits of the weary students and staff. It didn't matter to her if she looked a little silly dressed as Mrs. Santa or the Easter Bunny.
Nellie was a Canine Good Citizen and was nationally registered with Alliance of Therapy Dogs. Her hobbies included traveling to dog agility and obedience events across the country. While she had successfully gathered titles in both events, she didn't really take either very seriously. She was in it to please the crowd, and could be a bit of a clown when in the ring. She was a big happy girl with a big heart and a bit of slobber.
Nellie will be missed by her mom, all of her friends on campus and her furry siblings Natty and Jax. Her sister, Natty, became part of Pete's Pet Posse in 2018 and will continue the good work started by Nellie.
February 1, 2012 - August 19, 2021
Sandy Hargrove began her life in Missouri. Her earliest memory was being a very tiny puppy attached to a very heavy chain that was padlocked to a tree. She spent the early part of her life cold, hungry and thirsty. She was physically abused. When her humans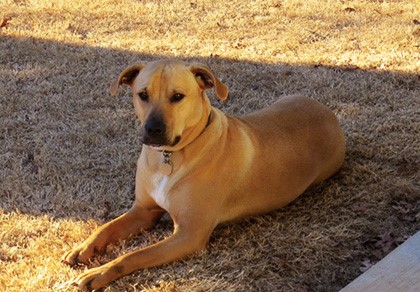 were evicted and moved to the country, her treatment only got worse. When her furry siblings started dying as a result of the abuse, Sandy knew she had to escape.
She found a way to leave and she ran to the only place she had ever felt kindness. She ran into town and found a neighbor who had fed her during the night when she was a tiny puppy and chained to a tree. The neighbor took her in and treated her injuries. Sandy was infested with fleas and ticks and her eyes and ears were swollen from the abuse. A few months later, the nice lady who helped Sandy had a visitor. For the first time in her life, Sandy fell in love with a human. She had never tried to sit in anyone's lap until she met Gaylene. In fact, Sandy would sneak into the guest room at night and climb into her bed – just to be near her. At the end of the visit, Sandy left with Gaylene and they made the 500 mile journey to Stillwater where Sandy would have the most wonderful life. After Sandy left with Gaylene, the kind lady in Missouri (who majored in Journalism at OSU) used her skills to share Sandy's story of abuse. As a result, Sandy's former owners were convicted of animal cruelty.
Sandy lived her new life with her furry siblings (both canine and feline) and her mom and dad (Gaylene and David) on an acreage outside of Stillwater. She didn't have a care in the world. Her new family showed her so much love and she blossomed as a member of the family. She learned she was a terrier/lab mix. She loved to run, play in the creek, chase rabbits, and she loved playing with the grandkids. She became a member of Pete's Pet Posse and was part of the first class of therapy dogs in 2013. Sandy never wanted anyone to feel sad, alone, abandoned or unhappy. Her very favorite thing was to visit campus and bring love to those who needed it. Her whole body would wiggle with excitement when her mom would show her the "go to town" OSU vest and collar. She spent her days in Stillwater bringing happiness to others and she made sure no one ever felt unloved or unwanted when she was around.
Sandy was a Canine Good Citizen and was nationally registered with the Alliance of Therapy Dogs.
In spite of her history, Sandy saw the good in people. She spent her life bringing joy and unconditional love to others. She will be missed, but her story and her memory will live on in the hearts of all who loved her.
June 23, 2008 – August 15, 2021
Toby (or "Tobiwan Kenobi" as his family often called him) was a Golden Retriever who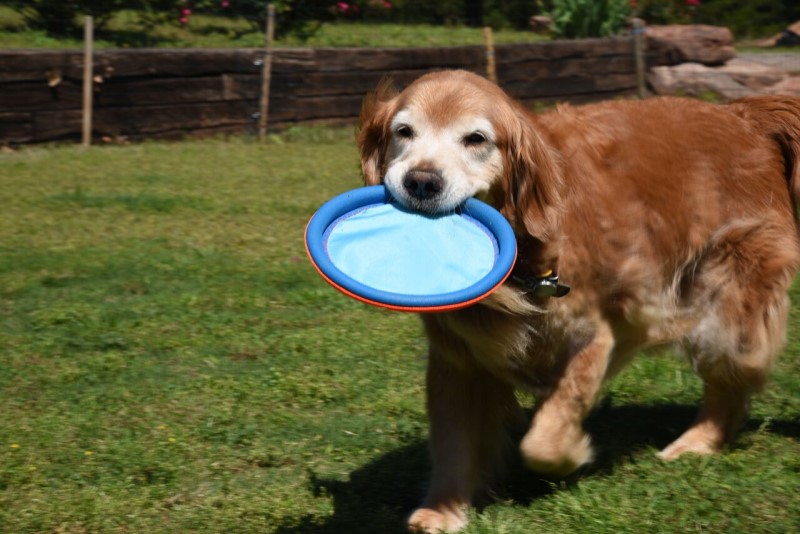 thought he was a Teddy Bear. He was born in 2008 in Virginia and raised in Michigan, where he helped his mom and dad get his two human siblings through the teenage years. He moved to Oklahoma in 2012 with his family when his dad, mom, and both human siblings all became OSU Cowboys. Toby's human siblings have now graduated from OSU, one from the School of Architecture and one from the College of Veterinary Medicine. The family bleeds orange so Toby did too!
Toby was a member of Pete's Pet Posse and served his Cowboy family with pride. He loved being on campus and meeting all the Cowboys and Cowgirls. He often went to work with his dad, Mike, in the Geology Department and he made a variety of visits across campus with his mom, Susan. He especially loved the ReBoot Center, where he would take a good long snooze while students loved on him. He also loved the excitement of the OSU Coaches vs Cancer Birthday Bash, the Homecoming Tailgates and the Geology Department summer BBQ's. In fact, there just wasn't a visit Toby didn't like. When he wasn't seeing his friends on campus, he could be found spending time in the community visiting a variety of organizations from pre-schools to nursing homes.
In addition to therapy work, Toby loved to play with his younger canine brothers, Jackson and Finn. He loved to track deer and rabbits and go on vacations to play in the snow in Colorado. Toby never met a stranger and he loved getting bear hugs.
Toby was a Canine Good Citizen and was nationally certified with the Alliance of Therapy Dogs. He had also earned his AKC Therapy Dog Title. Toby was a good pup and will be missed by many.